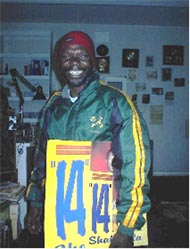 14 Shabalala Springbok Supporter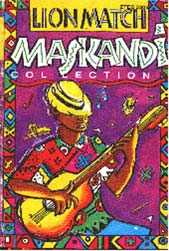 14 Shabalala Winner of the Loin Match Maskandi Competition 1989

Is'Tofu Esisha (New Hot Stove) My wife gives me a problem by looking at other peoples' properties, especially my neighbours. My neighbour bought a new stove. Man a new stove can destroy another man's home. My wife now wants a new stove in my father's house.

Nkulunkulu Kaminayza ( God is mine) God is mine. God of my father. You are powerful my Father. You save people when they have problems. If you believe in God - God is powerful. We will one day lie down. We will one day die. My father once said, believe in me because my father's house has got many rooms.

Siziwe (A Beautiful Girl) - You Siziwe the child of the African soil, people with whom you grew up together have left you behind. Do you think you will start to respect other people after you are married? Where are your beautiful eyebrows? Where are your beautiful teeth? Where is your beauty?

Ijuba (Pigeon) The song says: Mandla and you Sipho - Let us go look for a spring. A spring for iJuba. iJuba is the Zulu Nations' beer. Before I climb the mountains; Before I climb our mountains, The Drakensberg mountains, I start by drinking iJuba.
Song Note: iJuba is a popular commercial SAfrican beer that is Based on a traditional home-brew recipe. iJuba Breweries & Lion Match sponsered the University of Natal's Music Department's 1980's Masskanda competitions, directed by the late Prof Bongani Mtetwa. The festivals would run from morning until late into the night over a number of weekends at the UND - with each participant performing only 2 quick tunes. More than 3 000 performers would converge on the Sanlam Gymnasium from all over kwaZulu Natal. Unlike the regular iSicathimeya (Acapela Choir competitions) - that would also attract thousands of participants and run non-stop for 2 days and a night, throughout the night - the Maskanda judges were not unsuspecting novices hauled off the streets. They were invited judges; always a popular Radio Zulu announcer - usually Bhodloza Welcome Mzimande or Kansas Mchunu, one of the University Professors - Bongani Mtetwa or Jurgen Brauninger, always Sipho Mchunu (from Juluka) and Henry "Juba Special" Dlamini from iJuba Breweries. This song was comoposed by 14 especially for the festival that he won in 1989.

*Wake Wambona Umfundisi Eph Ethe Ipiki (You Don't see The Preacher carrying a Pick.) - People in the village always (politely) comment that 14 only seems to concentrate on his music; he does nothing else! Have you ever seen a preacher with a pick? The preacher, like myself has a gift (a talent) to conduct the sermon ? he doesn't have to dig the hole.
Song Note - Splashy Fen MC for the Amphitheatre stage that day in 1995, Theo Coetzee, was so moved by 14's set that we had to keep this back-announcement as the Maskandi musician walked off the stage to the accompaniment of Pedro Espi-Sanchis' Umphe Mouth Bow; Pedro was getting ready to follow 14 - and that outro says it all. (The Umphe Mouth Bow is a one string Xhosa / Zulu mouth bow instrument, played with a reed. I take it that these bows were fashioned from weapons of war - bow and arrow - way back when? The Troubadour has since forged these into instruments of love & peace - through the ages & many cultures.) Pedro is Spanish and an Afro-Musicologist in SAfrica.

Is'Tofu Esisha - Solo Acoustic version of this domestic drama.

Ngihamba Ngiyafuna (I go looking) I go looking. I don't see anyone. I don't find anything. I looked on the mountains I looked in the veld. I looked in the forest. I don't see anyone. Where is Jesus? Where is my Father (God)? He is up in the sky. The Holy spirit is coming. You won't see it. Open your heart, Jesus is coming. He (Jesus) wants your being. He wants your life.

Uphumaphi 14? (Where do you come from 14?) Where do you come from 14; child of the African soil? I come from my home Bergville. Our mountains, the Drakensberg, where there is money. People are waiting for me at the Parliament across the sea.

Ungaboyingena Eyababili (Do not interfere) This problem is between these two people. Don't interfere as this problem involves two people only. When two people have a fight, they might also forgive each other.

Washo Nolindiwe (You said it, Lindiwe) My Baby, the one I believe in, my property, my Fohloza (Zulu word meaning someone in my heart), my chocolate. You fail to obey my first rule. The only rule I have given you. How will you obey the second one? You said it Lindiwe, Ntuli's daughter. You said don't be left behind.

# Umandela Umose Wesibili (Mandela is the second Moses) The song says - It is nice in South Africa. We are now out from Faros (Pharaoh's) prison. Mandela brought freedom to us. Mandela is the second Moses. He took us out from Faros' land. You (Madiba) are a hero. A Hero amongst Heroes. You are like Jesus who was crucified on the cross. Maria cried and Jesus said Mother don't cry these are my people and I will die for them. And Mandela suffered too.
Song Note - This track was included in the Nelson Mandela Diakonia recordings of the legendary KwaZulu-Natal Peace Rally held at (or rather outside) Kings Park Rugby Stadium in Durban, on the 26th February 1990 - 2 weeks after Madiba's release from 27 years in prison. KwaZulu-Natal was at war with itself and the nation was expecting a Blood River; throw your spears and guns into the sea, Madiba pleaded with over 100,000 warriors. And peace reigned. The rest is history.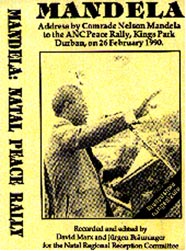 Nelson Mandela released - Durban Rally to 120 000 warriors
26th February 1990 - 14's Tribute could have cost him SABC airplay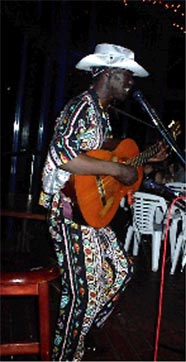 Urban Cowboy does a GIG at the Blues Bottle, Durban Harbour 2003

Uyamazi U 14? (Do you know 14?) Do you know - 14? How do you know -14? You go around telling people that you know 14. If 14 can be angry things wont be right. When 14 lies down another 14 will wake up. Will you be able to defend yourself? How far is 14 known? 14 is known even in Soweto.
Thanks to:
Neville Dube - A School Headmaster from the midlands who is 14's part-time-manager, advisor and full time friend.
Graham Boyle - Executive Producer - Afro Music Productions 1990.
Val Adamson - Original Main Cover Photo.
Artworks - Original Cover Design.
Additional Photographs - Stephen Hilton-Barber (RIP) and David.
Special thanks Prof Bongani Mtetwa (Rip) Marianne Evens Music Department University Natal 1989 for reviving Maskandi Music in the 80's Joseph and Mzisi Shabalala for reviving 14's career and taking him on tour.
Zulu song lyrics translated into English by Joyce Mtembu — Sleeve design by Evad Skram for the HYMAProject.
Mlahleni James 14 Shabalala - The Hidden Years revival of his classic early recordings 3rd Ear Music Archive Project Notes: Bergville in KwaZulu?Natal is a renowned home to many great Maskandi - but James 14 Shabalala is like no other. This 6 time Splashy Fen Mountain and Music Festival Vet is unique - 14 plays and sings in a style all his own. 5?string, self?tuned nylon strung guitar - the top (high) E string is missing - and he personalizes each song with a string of singing clicks and whistles which cannot be defined.
In the true tradition of the Maskandi (Travelling Zulu Troubadour / Minstrel), he wonders around the Drakensberg Mountains sharing his poetic observations and songs backed with rhythms and sounds that range from American Country Rock type-strumming, to strains of Flamenco, mixed into the familiar Zulu walking-pick (with the main tune slapped out on the bass strings), across the rhythms of Hi Life (East African) and Zimbabwean Chimurenga. And 14 has never been to any of these places - in person. He travels, word-of-mouth & mind-and-heart over-matter wherever he goes.
Perhaps the best way to define 14, if you have too, is that he is a poet entertainer that enthrals everybody within earshot, no matter that you may not understand Zulu. His Christian religious upbringing has also inspired his lyrics and content style - biblical in delivery and philosophical in tone - with a sense of humour and enjoyment that must be seen to be appreciated.
14 Shabalala's recent re-discovery (in 2002) by Ladysmith Black Mambazo leader, Joseph Shabalala (no relation) resulted in a recording contract with Joseph, who is currently producing a new album of 14 songs at the Playhouse Studios in Durban - with backing vocals by members of Ladysmith Black Mambazo. A brief tour of the USA and Britain with the world famous iSicathemeya group followed, in April and May 2003. 14 had never been on a plane before; and we have a feeling, 15 years after he made his first recording (with 3rd Ear Music), that this trip will not be his last.
Why has it taken all these hidden years for a renowned, talented and committed Maskandi musician to start getting wider national (and perhaps international) recognition? Having appeared in so many local festivals and received numerous awards, since the mid 80's, the 10 tracks from his debut 1990 album - Is'Tofu Eshisa (The New Stove is Hot) - were ignored and avoided by the SABC's Radio uKhozi (Radio Zulu) in those days.Photo - 02 G
Caption -


Perhaps singing praises to Nelson Mandela - within days of his release (in 1990) - may have had something to do with it? Or was it because 3rd Ear Music refused to oblige with what we were told are customary radio sweeteners? So another great SAfrican musician gets forgotten because some button-pusher decrees it? But all is not lost, thanks to technology and 14's enduring spirit; the magic of his music and his hidden years, speak for themselves.
Like most Maskandi musicians his songs reflect personal observations & experience - centered mainly around his community. But 14 is a special, highly observant poet, who does not read or write. Yet he more-often-than-not has an answer for everything - with his guitar in hand.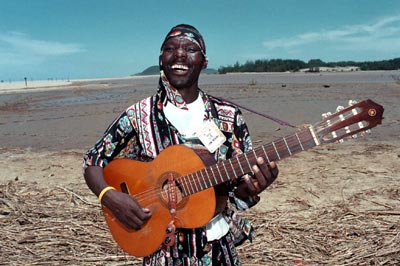 14 Shabalala - Living Treasure - Photo Steve Hilton-Barber

And therein, most probably lies the truth of why 14 was never allowed to become part of the SAfrican mainstream. No compromise! No matter - He knows, like all those who have grown to know him and love his music, that it's never too late! However; it will be interesting to see if Radio gives this talented and Magic Maskandi Music Man his rightful due, in 2003 /2004.

David's Recording Session Notes: Zet Mathebe (Bass) and Sipho Duma (Piano Accordion & Drums) were part of Sipho Mchunu's band; Sipho was 3rd Ear Music's resident A Studio Producer at the time - 1989 to 1990 - and although he only works solo, I suggested to 14 that these musicians sit in with him on some sessions. Queen, Winnie, Thokoza & Vika were Roger Lucey's backing vocalists for Running For Cover and for a few live concerts and festivals; they were also in the studio at the time. They all got caught up with the magic of 14's Maskanda songs; he liked the feel - and the 1st album was born.


3rd Ear Music Company est. 1969 (Pty)Ltd.

P.O.Box 50633
Musgrave 4062
Durban
KwaZulu-Natal
South Africa
email: thirdear@iafrica.com

The Contents of this Letter/Fax/eMail do not constitute a contract & the views expressed herein are not necessarily those of 3rd Ear Musicians & Funders
All Material (p)© 1969 - 2004 David Marks / 3rd Ear Music (Pty) Ltd reg: 89/06695/07
---