- Playhouse, Durban 15 May 2001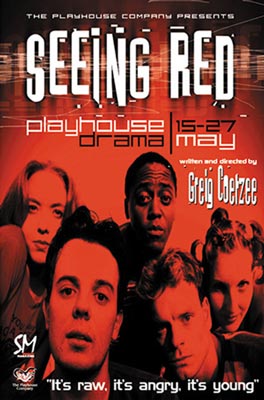 Seeing Red - By Greig Coetzee
Greig Coetzee
has been active as a playwright and performer since leaving teaching in 1995. He has been involved in 12 productions in the past five years - ten of which he wrote or co-wrote. He has received 17 local awards and two international awards for acting, writing and directing. Last year he presented White Men With Weapons at the Edinburgh Festival Fringe, where he received a Fringe first and the Best Actor Award. Coetzee has performed all around South Africa, and in New York, Belgium, Holland, Singapore and Australia. During 2000 he worked with the Internationale Nieuwe ScËne in Belgium, where he co-wrote and performed a piece based on Joseph Conrad's An Outpost of Progress. He will be touring several European countries during 2002. After about 700 performances of his various solo pieces (White Men With Weapons, Breasts etc) SEEING RED marks the beginning of a new phase in Coetzee's career. This will involve a move towards larger works (using other actors) and spending more time writing.
A note from the playwright:
In 1986, after the stagnant safety of a suburban childhood, I moved into a draughty room in a rotting wood-and-iron student digs in 'Maritzburg. Supper was usually something brown with lentils. My bed was a mattress on two forklift pallets. Sticks of cheap incense only thinly veiled the smell of dagga. Live jorls featured Juluka and Sipho Hotstix Mabusa. AIDS was a rumour, the Internet was unheard of, Nelson Mandela was a faceless name and golf-ball typewriters were cutting-edge technology.
This is my tribute, my tantrum, and my lament about that time. Young people trying to make sense of their fear, anger, laughter and lust in the midst of an ugly, bloody revolution. Some of it happened; all of it could have happened. It is a love story, a loss of virginity, and an ironic look at the madness of the eighties from the distance of this new century.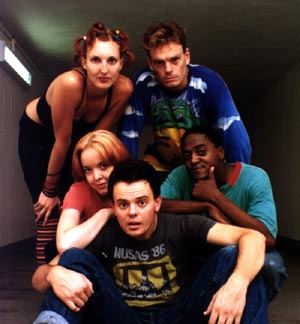 Seeing Red - By Greig Coetzee
All three houses I stayed in as a student have since been demolished. One is a vacant stand, one is a parking lot and the one in which this play is set was rebuilt as a funeral parlour. I decided that, before the vacant stand becomes a McDonalds and all the evidence of my student years are destroyed, I had better record those crazy days and try to make some sense out of them.
I'm told that, at the time, the area around Pietermaritzburg was the most violent place in the world outside of a war-zone. Those were days of waving placards with slogans like ìTroops out of the Townshipsî and ìMrs Botha's Got A Horrible Husband.î Days of suddenly realising we lived in Africa. Drinking Carling Black Label in a shebeen in Sobantu. Dodging potholes and cops and Inkatha Impi's in Imbali. Black and white, lucky enough to be at ëvarsity together, trying to connect for the first time in their short lives - trying to make sense of Botha and Freud, of Beer fests and Tear-gas, of Rag Princesses and States of Emergency.
Although the social climate of the time is an integral part of the play, it isn't a political statement. It's a Natal story that speaks intimately of this place and it's people.