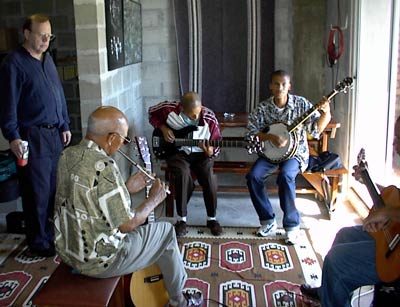 Julian, James, Oscar, Ziggy and Joey Paris Studio Capetown
Born near Umtata in the Transkei James lived there from 1942 to 1959. He attended school at the All Saints Mission, which he left in 1957. Before settling in Capetown in Elsie's River with a friend, James used to help the family in the Transkei, plough the lands and work with the cattle. James' father pawned one of the cattle to get money for his son's train fare to Cape Town. James has lived & worked in Wyndham & Bonteheuwel & in 1983 settled in Mitchell's Plain, where he lives today with his wife & 9 Children.
James worked as a labourer on construction sites & later as a welder & a driver, travelling up country. In 1990 he was diagnosed with a herniated disc and severe eye damage caused by the failure of the people he worked for to supply him with the correct welding safety glasses. He had major surgery to place plastic lenses at the back of both eyes & was laid off work on a disability grant of R500 per month.
James first heard pennywhistle players Spokes Mashiyani and Lemmy 'Special' Mabaso on the old 78's in the Transkei. He fell in love with the pennywhistle sound & bought his first whistle in 1959 for 5 shillings and sixpence in Elsie's River and taught himself how to play. He also started busking in downtown Cape Town on weekends. On Saturday nights he played for parties. His first band was named the Havana Kids. James then went through a heavy drinking stage & got involved with bad elements & getting himself arrested. After this ordeal he decided to go straight & started going to church. He and his family are very involved with Gospel Music & the Church in Mitchell's Plain.
James's 9 are excellent musicians - having taught his sons to play kwela. They all sing & play a variety of instruments, swapping between them. James went back to busking in Cape Town with the family group, the Kwela Octaves, his sons on guitar and banjo and a grandson on bongos. They busked to survive and have, over the years become very well known at many Capetown busking spots - at the Waterfront, Greenmarket Square, St. George's etc. The Kwela Octaves have also featured as backing musicians for commercials & they recorded a demo for Des and Dawn Lindberg. In 1996 during Nelson Mandela's official visit to England, the group was invited to represent South Africa in London; they performed in the art galleries, museums and on the River Thames - the pennywhistle, Cape Kwela style, being a major attraction. They have also played in Germany - with one guy travelling 500 miles to hear James play.
James' dream is to hear pennywhistle taught in schools - suggesting that music is a discipline that could help keep children off the streets and reduce crime. He wants to broaden the appeal of the pennywhistle & believes that the sound & instrument should not just be limited to Kwela music but can be used in many other forms of music as well. As Tony Bird & Morris Goldberg have so aptly shown.
The Kwela Octaves:
James Armoed - Pennywhistle, Ziggy Armoed - Bass Guitar & Banjo, Oscar Armoed - Rhythm Guitar, Joey Armoed - Rhythm Guitar, Grace Armoed - Vocals - On the CD Demo recording Kevin Gibson played Drums & Jonny Blundell percussion Photos by Julian Burnett / Sleeve Design by Justin Sherwin / Recorded by Paris Lucas at his Capetown Studios / Produced by Jonny Blundell & David Marks for Julian Burnett Productions.