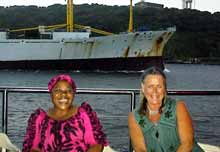 Nellie Shabalala & Fran Marks with a Rusty Boat - A View from the Blue Bottles Sunday Show
The Blue Bottles Sunday Music nights was launched on the 9th December and has since heard nearly 2 months of packed out evenings. This must surely be one of the world's great music venues - a magic spot down on the Durban Harbour Waterfront. If the last few Sundays have proved anything, it is that Durban people are thirsty for something different & adventurous. Not all music has to be finger & computer-driven to be appreciated.
The 9th of December was a magic packed-out evening with a mix of singer songwriters, some folk & the odd light rocker - Ken E Henson, Richard Ellis, Fiona Tozer, Mim Erasmus, Will Wallace, Richard Haslop & Rob van der Linde & DAD.
Sunday the 16th - the day of reconciliation - we heard guest ace guitarist Guy Buttery & poet Dave Nicoll followed by an evening of Maskandi Music Magic with Zamakile Nkomo & a special surprise guest, the legendary 14 Shabalala. Joseph Shabalala - Ladysmith Black Mambazo's leader & producer, brought 14 down to the Blue Bottles, from Bergville.
Joseph brought about 30 friends down to the BB and 14 Shabalala took to the stage for a 2nd set in what Joseph describes as a genuine African Country Musician; utterly unique, with his whistling tunes, 5 steel-strung battered Nylon Guitar & body language that speaks volumes - whether you understand Zulu or not.
Shabalala 14 - Country Maskandi
Joseph is in the process of producing the long-awaited 14 Shabalala CD at the impressive new Playhouse Recording Studios in Durban - with some members of Ladysmith Black Mambazo, before the group returns to the USA to perform with Paul Simon at a Mohamed Ali Charity Concert in New York. 14's CD should be released mid 2002.
3rd Ear Music also plans to re-issue 14 Shabalala's 1990 album of songs "Is'tofu eSisha" (which will include his classic MANDELA) - for the Hidden Years Project in 2002.
Unplugged, acoustic, singer songwriters, poets & stand-ups: Bring your instrument & attitude & get down to the Point & join in on any Sunday. Those acts who are not booked or featured, but who wish to perform must arrive before 6pm, put their names down & do a quick sound-check; we are limiting the evenings to 2 maybe 3 acts. First come first served.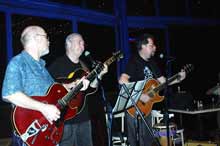 Delta Blues Band Will Rob Rich
6th January 2002 - The Delta Blues, Mississippi Mud Music & New Orleans heartache, Durban style with WILL WALLACE, RICHARD HASLOP & ROB VAN DER LINDE. Richard is not just a pretty radio voice with an encyclopedic head & heart for great blues, rock & folk music, he is also an accomplished slide guitar player, a mandolinist & singer. Will Wallace, as always, provided his unique laid-back Electric Guitar style & Vocal harmony while Rock & Ready guitarist / vocalist & instrument virtuoso Rob Van der Linde read the Rock 'n Riot act .
16th December was a magic gig with the Full Moon beaming over Durban harbour while maskandi magician JOHN GCABA waved his nDloko wand (One-string Castrol Oil Can Violin) & D-Tuned Maskandi guitar over the audience. Then he went back to his gardening duties on the Berea.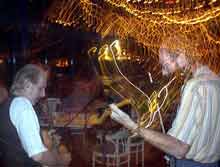 Ken E Henson with Dave Tarr
DAVE TARR (conventional 5 string Blues Fiddler) was not well enough to join Gcaba ...but he did put in an appearance the Sunday before with legendary guitarist KEN E HENSON and percussionist RICHARD ELLIS. Dave goes for specialized treatment on the 10th January. (Please see the Trust Fund details).
DAD (David Marks, Alan Judd & Dan Chiorboli) did their original song-thing to a full house & full moon. A yachting crew visiting from Oz was delighted to stumble onto the BB - after searching the coast by sail, to no avail, for local music. Even taking an inland Journey up to visit Ladysmith Black Mambazo in Ladysmith. Alas there was no Ladysmith Black Mambazo, whom they had heard in Concert in Australia last year. We avoided discussing the Cricket & together with a few Cape & Botswana guests, they were thoroughly enthralled & entertained by John Gcaba - in fluent Zulu.
(Take note ICASA & The Home of the Hits: Despite being one of the world's great maskandi players, John Gcaba returns to his gardening duties on the Berea. So much for the ICASA's local music development campaign - focused as it is on recorded content only. Roll on the SAMA & KORA awards & flatten this great indigenous music forever. However, all is not lost. However we learned & took heart in how the USA developed & preserved the magic of their roots music & heritage by listening to American Bluegrass from the Valley of a 1000 Hillbillies; THE BANDITS pulled into town with their cousins & chickens on hang-gliders, 4 by 4's & micro lights.
The Bandits with Eric Weisberg
13th January - American Bluegrass from the Valley of a 1000 Hillbillies;
THE BANDITS pull into town with their cousins & chickens on hang-gliders, 4 by 4's & micro lights. What is interesting about this band is the spread of the ages: CARA MALAN is only 15 years old, and she has already become a musician & violinist of note.
The BANDITS recently hosted legendary American Acoustic Guitarist, Mandolin & Banjo performer, ERIC 'Deliverance' WIESBERG, up at Emoyeni in the land of the 1000 Hillbillies. Eric - who has performed & recorded with every major USA act from Bob Dylan to Barbara Streisand & Stevie Wonder - was out here with ART GARFUNKLE'S band recently. He did a wonderful set at Emoyeni & joined the Bandits in their set. He was duly impressed with the band & had nothing but praise for them, & for Carlo in particular.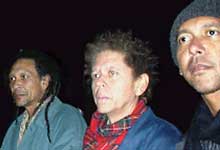 Steve Fataar with Blondie Chaplin (The Beach Boys) & Ricky Fataar (Drummer & Producer for Bonnie Raitte, Crowded House etc) seen recently in Durban at the Awesome Africa Awards
Other dates to pencil in are: 20th January - FLAMES legend STEVE FATAAR and MPUME will set the Point alight. The whole soul nothing but the soul.
27th January - To be confirmed - LANDSCAPE PRAYERS - Say no more as Nibs van der Spuy & partners part the harbour with their music sculptures.
3rd February - LADIES of FOLK - Mermaids & Sirens with MIM ERASMUS, FIONA TOZER, CAROLINE SMART & ANNAMARIE PIEK - turned into a packed house magic calm warm harbour evening...with Caroline doing the entire Lady in White - Perla Siedle Gibson tribute - using the very same "sound system" that Perla used over 50 years ago - a 2 Lip RMS Lung Powered Megawatt megaphone - on the actual spot where the BB now stands. The spirit of Perla must surely have been hanging around the Gun Battery on Sunday. Mermaid Mim soothed & crooned with her impeccable Folk voice & kept the locals & a whole bunch of British tourists extremely content, while Fiona made no bones about who wears the pants in the new millennium house - this was indeed lady's night tribute.
10th February - THE HAIRY LEGGED LENTIL EATERS will invade the harbour this Sunday. If you missed this mixed match music act from Sleepy Hollow, do yourself a favour & book a table early. These guys, as their namesake suggests, put on a magic show that doesn't only include songs about hobbits, goblins & vegetarian leather workers - they are the most eclectic Folk Band this side of the Limpopo....mainly performing their own tunes - performance is the operative word here. They will have their CD for sale. Call the BB (031) 332-2787 to avoid utter disappointment.
17th February - SYD KITCHEN dishes up his unusual menu of Jazz Poetry Voice & Guitar to promote his big Birthday & another great CD release.
Proceeds from all the BB Sunday evening shows will to the Hidden Years Music Archive Project. (*BB does not stand for you know what! It's Blue Bottles.)
---
If you have any comments about this article, please drop us a line.