The Hidden Years:
A Special Music Archive Project Feature & Focus on Songwriters Roy Clarke & Alison Lowry.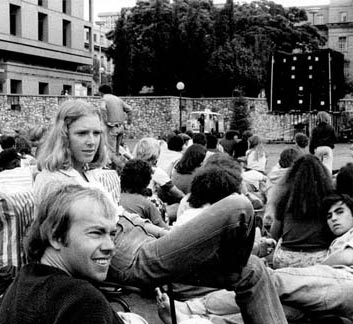 Roy Clarke & Alison Lowry
Censorship through association & trains of thought - 1970 to 1985
Unedited notes from the HY archives & extracts from The Hidden Years Story - part 2; ....it was not only the (so-called) protest singer songwriters who were banned or avoided...but a good song lives forever...no matter what!
Roy Clarke & Alison Lowry's successful music partnership came to a mysterious & grinding halt in the mid 1980's. At the time we were all pretty perplexed. Why suddenly, were these critically acclaimed, popular & melodic love songwriters rejected by radio & record labels after having had a string of crossover hits between 1970 & 1975? Their songs had been recorded by some well-known & extremely popular SAfrican singers - Lionel Peterson, Adele First & Neville Nash among many; & Neville even had a top 10 hit in Brazil courtesy of the Clarke & Lowry song-writing team.
The late Margaret Singana, heartthrob pop idol Richard Jon Smith & the platinum selling Steve Kekana were poised to record songs composed by Roy & Alison. Another Time Another Place was the theme song in the soundtrack feature film, the Sandgrass People. Recorded by Henry Supafrika, Another Time Another Place was short-listed on Ray Sawyer's solo album (he of Doctor Hook & the Medicine Show) in Nashville, Tennessee. What happened?
Roy & Alison's songs were not the deep angst, radical rants & raves of the usual 3rd Ear Musician at that time. The current mainstream pop-music media & industry will tell you that it's no good after the fact...but when we listen to songs like I Stand For Love & read the reason's for it's banning by the SABC - we wonder! (The story is in Muff Andersson's - Music in The Mix - The Story of South African Popular Music; Raven press 1980).
Roy & Alison were writing some of the most beautiful love songs to come out of South Africa at the time; and in retrospect this was no music publisher's idol boast. Especially not a music publisher like 3rd Ear Music who had astutely & purposefully avoided the mainstream pop & commercial record scene during the 60's; soon after Master Jack had become an international hit. Did 3rd Ear Music apply its own internal censorship by association? Time was to prove the point; those Clarke / Lowry songs - avoided and banned - are as strong today as they ever were. Modern Music Publishers may trade in current popular music trends to keep in touch & earn much needed super-market check-out income, but the bulk of any prestigious Music Publisher's catalogue & income is derived from the old songs. It's been like that through the ages. The standards & the established songs & song writers & ironically, even those unheard ballads, may have been lost for a time in the "don't-call-us-we-will-call-you" file of the publisher, but they often strike back 5,10,15 or 20 years later.

Old Roots & New Directions:
Given a new treatment the old soul sounds of the long-lost de-composing songwriter is often brought back to life; to haunt those who turned them down decades earlier. The classic examples are those tunes that made many 60's bands popular - The Rolling Stones & even the Beatles & most of the early British rock bands in those daze, dug deep into the publisher's vaults to re-do songs that were popular 30 years earlier. The dead 70's, the limp 80's & the lame 90's have only temporarily buried the art of music publishing. There is no doubt that musicians in the new millennium, bored stiff by the limits of technology & embarrassed by regurgitating the 60's hits, will start digging up a few unheard of hidden roots which may help them sing their own songs for a change. Watch...or rather listen to this space! You can never keep a good song down forever. That is a simple law of nature. If you get out there & sing your song to a few people often enough, no official banning or record company restriction can kill it. Small comfort for the composer who died a pauper - but that's life!
Roy & Alison, like many other unheard of SAfrican songwriters, will one day have their songs heard. Their (so called) protest pop song, I Stand For Love for example, still has a timeless international hint of hit written all over it. MNet TV revived this song 2 years ago for their ACT (Against Crime Together) campaign. So what did happen to those classic Roy Clarke & Alison Lowry songs (that may mean nothing to anybody who hasn't heard them) Sometimes a Sailor, Another Time Another Place, Trapped?
It's all very well for the pop music media in the New South Africa to claim - as they so flippantly have done from the safety & distance of hindsight - that a good song should survive no matter what we say today. We agree - that's precisely what's happened. These songs have survived! - Not because they were included in a nostalgic industry Top-40 commercial CD compilation, but because they stick in the hearts & minds of all those fortunate enough to have heard them during those silent & hidden years. For a song to live it has to be heard in the first place.

Love was still just another four-letter word!
Recording out of Pete Hubner & Ton Den Teuling's MC Studios in Hillbrow - we would round up a few pro-musicians & cook into the early hours of the morning. Memorable sessions on the TEAC 8 track after 3rd Ear Music's Market Theatre Cafe or the Chelsea Theatre Underground had closed for the night. Roy did all the vocals & harmonies; John Oakley-Smith or Roy played Piano; Jethro Butow or Mike Dickman on Guitar; Vusi Kumalo or Cedric Sampson on Drums; Bakithi Khumalo or Les Goode on Bass. (These were the first studio gigs by the Sowetan teenage Bass & Drum pair of Vusi Khumalo & Bakithi Kumalo; both have gone onto great international music status, playing with Paul Simon - among many - on tour & in the recording studios of the USA & Europe.)
3rd Ear Music demoed some 20 Clarke & Lowry compositions between 1977 & 1983. It wasn't until 1995 - 10 years after Roy & Alison gave up the depressing pop music scene & parted company that 3rd Ear, through the HYMAProject, managed to piece a strange turn of events together.
The protest scene was, 3rd Ear Musician's imagined, the only way to do political battle. We created our own censorship by shutting out the lovelorn fluorescent-lit plastic pop world & singing the blues. Those love songs looked & sounded too sweet & too clean & obvious for the average run-of-the-mill protesting & revolting rocker to come to grips with; too good to be true for the times. And although 3rd Ear Musicians did laugh a lot, it was not cool to sing love songs that didn't grow up in the ghetto. So we thought & believed.
But Roy & Alison's songs kept making an impression - not in the bored-room commercial industry - but on the Folk scene of Johannesburg & with a number of astute film & record producers. Their tunes continued to be used in documentaries & soundtracks, despite having the State controlled SABC shut the doors on them. The reasons for banning I Stand for Love - see Muff's book - were, to say the least, ridiculous. A reflection on the signs of the times!
Roy, an auditor, was helping 3rd Ear Music part-time - to keep us out of a tax tangle & our usual lopsided bank balance in the 70's. Alison, a book Editor & Publisher, was struck by the lyrical content & life-style of some 3rd Ear Musicians. Their classic boy-meets-girl-leaves-boy ballads, couched into melodic 4 part harmonies & heart-wrenching lyrical chords, reflected many unsung feelings that 3rd Ear's guitar slanging troops could not express, no matter how much they wanted to. (How's this for a song title: You Keep The Children & I'll Take the Pain? Classic!!!)

Paranoia - A heightened form of awareness:
Roy & Alison's musical approach also differed significantly from the mainstream Pop factory stuff being churned out at the time; almost as much as their politics did. Alison's poetic concern & lyrical depth mixed with Roy's melodic arrangements, hit a chord in the heart of the average listener. Roy used to master those analogue demo recordings in his bedroom on a multi-track cassette Porta-Studio, with layers of intricate harmonies; sounding for all the world like a Motown production - the reason why so many African musicians were attracted to their songs. So what did happen, really?
3rd Ear Music had often been accused of having inherited the 60's hippie paranoia thang; whether we were involved in a particular political event or not; race issues in South Africa permeated almost every note & move we made. But, our heightened form of awareness - in those daze - was not altogether groundless. A number of Musicians were being investigated or shadowed. (See Foot Soldier for Apartheid by ex-STRACOM Security Policeman, PAUL ERASMUS).
By 1973 the Troubadour in Doornfontein, the Nite Beat in Hillbrow & Totum in Durban had all closed. White city gigs were being banned or mysteriously cancelled - most notably those of newcomers, Roger Lucey, Johnny Clegg & Sipho Mchunu. Mangles in Braamies & the Oxford Hotel in Rosebank were only partial steps from the whites-only audiences to the mixed 3rd Ear / NUSAS / SAFMA Free Peoples Concerts at Wits - before they were closed in 1976; for the white-city songwriters that was about it!
The commercial clubs would not book bands that did not cover the American & British pop charts; very few pop artists - outside of the mainstream Ethnic or Tribal commercial recording industry - recorded original songs. From 1974 The Arena Theatre in Braamfontein & 2 years later the Market Theatre in Newtown, were the only (seemingly) creative outlets for SAfrican music - couched as the music & musicians were in amongst the angst, actors & the sets. The Folk Festivals in Johannesburg, Port Elizabeth & Durban - between 1970 & 1980 - were extremely well attended & popular platforms for many SAfrican singer songwriters. These festivals were avoided & ignored by radio - and TV (when TV finally did reach South Africa in 1975) but they were no place for serious minded minority pop-song writers or the ethnically divided majority.
By the mid-80's the Folk Festivals - supported only by the progressive Print Media - were disappearing from the cultural landscape & falling into the record industries fashion conscious age-gap & political void. The only SAfrican Folk songs one could hear - outside of the occasional Market Theatre, Shifty Records & 3rd Ear Music Concert or live recording - were at the UDF rallies. South Africa was spiraling into a political quagmire. Chances of having a (so called protest) song of content or concern commercially recorded were nil; at the time we didn't really want to think like that. The songs & singers were still drawing crowds - filling theatres & the odd club; this without a minute's airtime? Roy & Alison's integrity & talent held; despite having had their songs questioned by the left & avoided by the right at the same time; not because their lyrics did or didn't have a tint of dissatisfaction with the government of the day - but because of who they chose to mix & make music with.
Despite a 20-year lapse - a political lunch-break, as it were - most people who hear Roy & Alison's songs today agree: they will outlast the forces that tried so desperately to silence them & those at the SABC who still refuse to listen or hear SAfrica's wonderful, colourful hidden history. We wonder why!