3rd Ear Music's Hidden Years Archive Project is a unique collection of alternative SAfrican music. Live Recorded desk-mixes from Township to City Festivals, Concerts, Clubs & independent Studios - 1964 to date. For archive re-issues & current 3rd Ear productions speak to us! - we can customize copies provided all the necessary permission, copyright & licensing is cleared. See copyright note below >>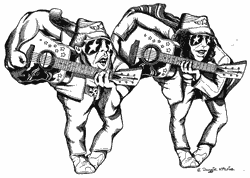 SAfrican Folk 'n Rock Art - illustration created by long-time 3eM friend, singer songwriter and graphix designer, Dougie McAlpine.

3rd Ear Music Website has not been updated for sometime - apologies for that. However, there is more than enough information and music material to keep the average SAfrican music watcher and listener busy for months on end. We would like the site to be more inter-active - funds and income permitting; once a week or once a month at least.Apart from all the interesting hidden years or historic material and information that 3rd Ear Music and friends have been fortunate enough to have collected, there are also a number of current events and issues that we would like to share with you. Having been in the right place at the wrong time pre-1990, labels us in the old bones box. Like any good music The HYMAProject is ageless, timeless & alive - we collect music and material by being proactive - regardless of fashion, friction or fancy. Like most SAfrican Heritage and Archive projects we desperately need formal funding, but we also realise that there are more important funding priorities at this time. And besides, although we haven't cracked it yet, we remain convinced that that this HY Archive and its wealth of music and information collected - with fair music media access - will eventually become self-sustainable. Busking and passing the hat had its place pre-1990. But how to keep interactive and functional in the meantime? Should we consider taking on adverts!!!!? Personally I would not like to go there. Advertising recorded music is not unlike busking for handouts or passing the hat around; instead of asking, you invoice. It's all a busk really; depending on how many passers-by you think you can attract to the product. We'd rather use sponsor or donor money to make music - go out there on tour with a Hidden Years Music Tour and Exhibit; produce a festival or series of concerts. Any other suggestions, advice?

What about re-visiting the idea of a series of Acoustic Music shows in 2004, featuring musicians from the Hidden Years and introducing a few new young ones? Would you be interested? Talk to us!

> If it murmurs or moves... tape it! You may recall 3rd Ear Music 60's and 70's credo? It was about being in the right place at the wrong time - finger on the tape trigger and the record button. 3rd Ear Music and HY Archive CDs and CD-Rs now available @ Look and Listen Record Stores as well as through One World On Line.
...read more >>

Current Events and News:


> Sound People of SAfrica; Testing, Testing, Check!! 1 -2 -3! The message is MUSIC. The medium is immaterial …why getting back into the future by untying the past and rapping up the present is important to the HYMAProject and David Marks. It's not about Retro or re-creating the past…it's about timing, truth and reconciliation in the music, record and broadcast industries.
... read more >>

Recent HY Archive Re-issues:


> 14 Shabalala - Maskandi Magic & BRIAN FINCH's 1974 classic: bringing back the good times. Not quite ready but almost there - place your orders: COLIN SHAMLEY (Double CD-R), HUGH MASEKELA & JOHN OAKLEY-SMITH (Double CD-R).
> Mapseeta's Music Business Learnership- Bat Centre; Learning The Learners - SABC Submission query & some letters to those who are supposed to help shape the nation: SAfrican Content on Regional Commercial Radio - an open letter (2a) LOCAL CONTENT NOTES for The Constitutional Court MUSIC AS A HUMAN RIGHT - so say Freemuse, Denmark.

> Respect in decomposition - In real-Life there never seems to be enough media space & time and the experts don't seem to have big enough SAfrican names to drop. Yet they always seem to find the room to applaud or kick a couple of obscure and deceased names around after the final blow & bow is delivered. Is this the symptom of a sick or sad business, or is it the cause? RIP - Big Voice Aaron Jake Lerole, Art Heatley, Allen Kwela, Sandile Shange. Will we suddenly hear a revival in a few long lost and decomposing catalogues?
...read more >>

> Seizing The Airwaves - Want to get your community's music or message across? Set up your own Radio Station - Pirates of the new digital frontier, Ron Sakolsky and Stephen Dunifer (Free Radio Berkeley) reporting.

> Blue Bottles WAS alive with music for 3 months once more - All we have left are the pictures. See the photos Bobby & The Dynamites, Ken E Henson, John Gcaba, The Bandits, Brian Finch with Ken E Henson, Bafo Bafo (Syd Kitchen & Madala Kunene), Steve Fataar, Patrick Purdham & others.

Classic Hidden Years Stories:


> Mbube - Letters and Feedback from Where Does The Lion Sleep Tonight?
This investigation by Rian Malan into Solomon Linda's Song, continues to generate global interest & some pretty heated debate.
> Sir George Martin - The man who shaped our world through Rock 'n Roll. The 5th Beatle was in town. Thanks to Rock Music Historian & author John Metcalf, Fran & David Marks were invited to meet 'n greet the great man of contemporary music and means.

Sketch by David Marks
©(p) 3rd Ear Music 1985.

FUNDING - Once again MMINO have come to our aid in 2003 and so too has Bob Wilson of the Bleeding Heart Restaurant & Bistro in London. However we do need additional funds to focus on the Archive, the database, Information service and ofcourse to complete The Hidden Years Story Book - Part 1 - in the process of being coloured in; and Penguin Books are waiting. So any additional assistance in that regard would be greatly appreciated. We also have an exciting batch of CDR issues that are about to escape - so watch this space. The 2001/ 2002 report will be posted on the site soon and the budget will be available to any interested parties on request.

We would also like to acknowledge and thank all those who have contributed in the past, most notably The National Arts Council of South Africa, The Bartle Arts Trust, Terry Rosenberg, Rick Barber (Australia) and The National Lotteries Board. Funds for the HYMAProject have also been generated through 3rd Ear Music's Festivals, Concerts & Clubs & by the re-issuing of limited edition Hidden Years recordings - and of course by courtesy of Master Jack. We are working on the research & scripting of a TV Documentary and a proposed series of syndicated Radio Programmes; so any stories, photographs, anecdotes that you think we could add to our hidden history - Please drop us an eLine.



Important legal & copyright note:
Whether 3rd Ear Music owns the music it recorded or not - it will only be made available with permission, in writing, from the rights holders. Copyright clearance from the original owners, composers, publishers & producers is essential. 3eM aims to issue limited edition CD-R's, CDs & hopefully a CD-ROM. A Radio & TV documentary is being negotiated. We hope to make as much information available as we are allowed - for students, archive and commercial use. However, the choice of music, material & stories from the archives, is up to the individual musicians. Anybody willing to sponsor a particular artist or event? email 3eM.
Disclaimer - This Website may contain information which does not necessarily reflect the views of 3rd Ear Music & The Hidden Years Archive Project, the musicians, sponsors or Funders who shall not incur any liability resulting directly or indirectly from the enclosed information, opinions & data.