3rd Ear Music's Hidden Years Archive Project is a unique collection of alternative South African music - Live Recordings from Festivals, Concerts & Clubs & independent Studios - 1964 to 1994 - SAfrican music legends & forgotten heroes - from Township Jazz to City Folk, from Zulu Maskandi to Political Rock 'n Roll. It's a living Archive & income is generated from the sale of our CD re-issues, 3rd Ear Music events & Donations. All the usual archive / back copy material & photos for your information & interest are still available. If you need specific information or archive recording copies - provided all the copyright & licensing is in order - speak to us!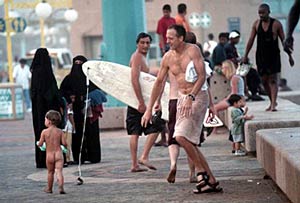 DURBAN - A Unique & Wonderful Cultural Mix
- Photo by Steve Hilton Barber (p)© 2002 -
Late Again - apologies - Although we do keep up with our own times, music, muse and news, this is an archive site of sorts -- so what's a few weeks either way when you're in the process of making history? The information & views we post on the 3rd Ear Music Website has no sell/buy date & is not restricted to some dusty old museum shelf life. This is a living Archive - past, present & future.

(News Forum)
> South African Music Content
A PIPE DREAM FOR SOME & SMOKE SCREEN TO MANY - It's Playback Time cries Groucho Marks as he contemplates The ICASA "Position Paper", the sudden epidemic of Pop Idols & other imported corporate commodities. With no music transformation or development programmes in place the media & the sponsors are jumping in straight to the top. Bad timing. A waste of money... & not a SAfrican song is featured???
... read more >>

(Projects)

> Brian Finch
His critically acclaimed CD looks to set the world alight - for a release in 3 USA States - but you won't hear it here ommercially, for sometime. Limited Edition CDs were submitted to 4 major African labels and
not one of them
had the courtesy to say yea or nay. Amazing? No not really.
... read more >>
Read also:
...Scary or What? >>
...
The ICASA White paper >>
(News Forum)

> Dave Plod Tarr

Dave Plod Tarr's farewell organized by KEN E HENSON brings out the best of the old & young Rockers, Rappers, Jazz Oaks & Folk & Joubert Malherbe / Pretoria News is Looking back in dearness and 'dank'.
...read more >>
(News Forum)
> Scary or What?

The top-heavy pale-male international record industry is in trouble...not only here in Africa - but also worldwide. And they wonder why? Richard Haslop sent us this little peace to ponder.
...read more >>
(News Forum)
> Mountains of Men & Cowboy Songs on Robben Island - 1967 The Music our Leaders listened too on the Island...both kinds - Country & Western. Cowboy songs that were deemed dangerous & unfit for audio consumption, censored & banned. Believe it or not!
...read more >>

(Projects)

> The BLUE BOTTLES BLUES
- It was a great 10 weeks at the most stunning venue in the country - but the bottom line wasn't reached.
...check out the gallery >>

(HY Archives)
> OWEN COETZER
flips back to Flame STEVE FATAAR & ROGER LUCEY at a legendary Amphitheatre Concert in Durban concert - circa 1979 courtesy of MUSIC MAKER - & checks out the Life of BRIAN after FINCH & HENSON in the Cape Argus 2002.
...read more >>
> KwaZulu-Natal & FREE STATE FESTIVAL FRENZY- it's SPLASHY, RUSTLER'S & SOUTHERN CROSS music festival time. Check out the links page for booking & general information.


(Reissues)
Simba Morri

Boundless energy that no major label can put a cap on. He is on the road again. This time it's Capetown. Check out his updated Biog info.
...read more >>
News Snippets:

> Bartle Arts Trust
supports the Hidden Years Book project. BAT will support the editing of the HY Book for March & April (due for a September release through Penguin) with thanks to trustees
Paul Mikula
(pictured here with Maria Criticos at Blue Bottles recently) &
Dick Breytenbach
. Thanks again to
Terry Rosenberg
for his support while the HY Book was being written & compiled.
Click images to enlarge

> Mike Dickman

who lives in France & still playing up a storm - wants to re-issue bits of YESTERDAYS PAPERS with a few other choice tracks. What do you feel?
email 3eM
.

> Gold Record Joke?

Fran Marks awards Phyl de Gouveia - from Gold Records - with an old recycled 3rd Ear Gold Record at a recent spontaneous self-congratulatory award ceremony, for sales exceeding Fifty CD's. (If they can do it, so can we.) Seriously though, this is a great HIDDEN YEARS FUND RAISING stunt; we need funds urgently - let's get some media by giving ourselves a pat on the back & a Gold disc.

(WHERE ARE THEY NOW?)
> Dylan Marks
is constructing his new
STRANGER THAN FICTION
Website. Find out about his moves with Lara from London to Brighton
...see more photos >>
> Song Lyrics - Featuring 3eM composers' lyrics & anecdotes like: John Gerrard - Bill Knight - Jonathan 'Radio Rat' Handley - Nick Taylor - James Phillips - David Kramer - Tony Bird - Des Lindberg - John Oakley Smith - Chris Mann - David Marks - Roger Lucey.
> Photo Gallery - Here's where Tony Campbell, Rodney Barnett, Manfred Linder, Frank Black, Alf Kumalo and many other photographers' work will play a major role.
THE NEXT ISSUE:
- Found - courtesy of the Internet! Audrey Smith, Mo England, Michael Brown, Louis Ribiero, Mike de Jager, Lefifi Tladi, Julian Bahula, Lucky Ranku - more about them in the next issue.
Where does the lion sleep? He doesn't...he will pad the conscience of us all who hide behind the record industry's facade - until the ghost of Solomon Linda's Mbube is laid to rest. Check out this unbelievable list of covers recorded since 1948 - thanks to Rian Malan. You may know of others.