Despite having their signals jammed by the State (the SABC), Capital Radio 604 bravely competed with His Master's Voice; who in turn could not shut out all the programmes, try as they might. On Medium & short wave, when the sun went down, 604 could be found all over Southern Africa - and you'd hear news & music that you could never imagine existed. From 10pm to Midnight Allan's show - Something Else would get through the jamming. And the rock rebel was revolting. That's how we met, on air & over the phone, early 1980, between Hillbrow Johannesburg & Port St. Johns Transkei.
Allan Pierce was always the wise ever-slim & thin elder laid-back statesman, even in those early days. Grey sideburns & lengthy thinning hair - sometimes under the braided British golf cap - underscored by a broad constant well-weathered & experience-lined smile... & that voice! That voice that he could wield like a wand regardless of whether he was advising, scolding or charming you, on air or face-to-face; extracting the potential artist & rebels out of us all. His role on earth seemed to be checking out the good in all humanity; giving people breaks & making us feel good about ourselves, whether we deserved it or not. He just blended into the bush with his cultured American (if slight) twang - with lekker my China & whoze my bro! On air he was the consummate professional. The Radio DJ's idol. And it wasn't only his thousands of listener's; the Capital Radio or the 702 followers & the wannabe jocks that he would eventually comfort, council, confront & entertain - it was the one-on-one care & time he took whenever anybody had a problem or a joke.
Allan was true & close friend to many 3rd Ear Music people. It was he who gave the homeless Allen Kwela & the lost Charles Comyn shelter; who championed (his one time informal producer & all time late friend) Tony Campbell, who counseled Colin Shamley, comforted Franny Marks, hanging with Art Kelly & playing pool with (the late) Rodney Barnett when all else seemed hopeless in Hillbrow & lost in Yeoville.
The measure of the man could be counted in many more ways - but it was perhaps his open defiance of the apartheid regime that stands out above all. He made his radio bosses cringe for their licenses on many occasions; threatened with dismissal, he wasn't bothered much - although he didn't want to hurt feelings either side of the microphone. No DJ within the South African borders took the chances he took on the air in those days.
One such 3rd Ear Music experience was how he defied the official banning order (direct from the Publications Control Board) on Roger Lucey's album The Road Is Much Longer... We were legally advised that the mere possession of this banned album could lead to an effective 5 years in prison, a R10 000 fine or both. But that didn't stop him playing a few tracks. And even when Capital had to move (under mysterious circumstances) from the Transkei to Milpark in Johannesburg in the mid 80's, Tony, Colin, Rodney & on occasion myself, would sneak up into the studio just before midnight with a bottle of Jack Daniels & a Box of cigars among other things. Spinning disc & head in sessions that were as magic as a live concert performance.
So much could, has & will be said about Allan - so what more can we say but cheers Al? You are one missed buddy; a ray of sunshine & a hurricane of fresh air in a country that needed you. Thanks.
Fazal Moolla:
Allan Royal Pierce passed away on Saturday the 8th September some 9 days before his 64th birthday. I was privileged to have known Allan for the last twenty or so years of his life and have been asked to say a few words about him. As Allan was a complex soul with rare gifts and talents that were wild and wonderful it is not possible, on an occasion like this, and in the time available, for me to presume to be able to do justice to him.
Allan's relationships with all living things were based on his deep understanding for and respect of what they were and he had the unique ability to accept all people. He was able to recognise and appreciate the good in all people and things. Allan once spoke to me about his admiration for the people of Africa. He believed that they were highly evolved and cultured. He drew my attention to the fact that when an African person offers you 'something' he puts his hand out in a respectful and gentle gesture that showed utmost respect and friendliness. This fact had never occurred to me in spite being born in Africa and having lived with Africans in close proximity for my entire life.
Allan's relationship with animals was to say the least unconventional. We had a dog-named Foxy who took cover every time he saw Allan. Allan had formed a relationship with foxy on the basis that the roles were reversed. Allan did the biting and Foxy did the running. On one visit by Allan and Omar to Pietermaritzburg, Shoba stocked the pantry with exotic fruits. However, she was perplexed as to how quickly the fruit was disappearing. She asked me about it and I told her that I had seen Allan eating Dog Food so he couldn't have been the one eating the fruit. When she confronted Allan he admitted that he was feeding the dogs with the fruit and felt that he was obliged to do so as he had been eating their biscuits.
When, Allan lived in Umlodti his constant companion was Oliver the tomcat. Oliver, in my view is a mean, unfriendly lay-about who would loaf around the entire day and pitch up at meal times. When Oliver arrived for supper he expected to be dined properly and Allan obliged with the result that Oliver had his dinner by candlelight with a candle placed on the floor near his eating bowl. This had the unfortunate result that Sasha's pajama pants caught alight. Not even a child's view of the world went so far as to imagine a cat dining by candlelight. Oliver rewarded Allen by hunting birds and other unfortunate creatures, which he deposited, on Allan's furniture from time to time.
Allan was the most knowledgeable and cultured person I have met. He could speak intelligently on virtually every aspect of life. From space travel to philosophy, from art to music, from history to law, from politics to war. His learning was immeasurable and he read widely and constantly. He appreciated art immensely and could recognize undiscovered talent long before others. He was a true patron of the arts and with his limited means he provided sanctuary and sustenance to struggling talent. It was the rule rather than the exception that when I visited Allen he was accommodating some person down on his luck, struggling to practice his craft, living with Allen eating his food, smoking his cigarettes, drinking his liquor while he tried to come to terms with his cultures block or artists block or some other block. Not only did he provide material support to these talented artists, he encouraged them and promoted their work.
Allan had a remarkable ability to recognize beauty and he had impeccable taste. The home that Allen helped Omar choose in Johannesburg as one such example. The house was relatively inexpensive but from the lead lined windows to its quaint balconies the entire home was weird and wonderful. When Capital Radio 604 moved to Durban Allan traveled the length and breath of the KwaZulu-Natal Coast and settled on the building in Umlodti, which though inexpensive has the most spectacular and breathtaking views. Allan had the ability to take the most inconspicuous corner and transform it into a haven of peace and luxury. This he could do without spending large sums of money. The cars he drove were luxurious and powerful. How can one forget the sublime comfort, speed & spaciousness of his charger?
Allan was known by people in all walks of life throughout our country. When Allan and Omar wanted to get married Allan expressed his unwillingness to go to court to get married. I then decided to phone a Magistrate and when I mentioned Allan's name he immediately agreed to come to the house and perform the marriage ceremony. He knew of Allan from his radio show at Capital Radio and was a great admirer of Allan. Likewise, most of my friends in Pietermaritzburg knew of Allan when I mentioned that he had joined our family. This morning a friend of mine who is a human rights lawyer and musician telephoned me and was shocked to hear of Allan's death. Amongst other things he told me that Allan was highly regarded and respected for the fact that he promoted South African music. In fact, the first broadcaster who had broadcast my friend's music was Allan. The time at which the apartheid government clamped down on press freedom and all other freedoms Capital Radio broadcasting from the Transkei was the only broadcaster of alternate music which was radical, political and revolutionary. Allan was the chief protagonist of promoting this type of music. Over the last few days many prominent broadcasters from Radio Metro, 5fm and other Radio stations have called me and have all acknowledged they have modeled their careers on Allan. What was evident further was that Allan had actively assisted them in establishing their careers and providing them with the necessary direction. I am aware that in the dark days of apartheid, political activists on campuses and colleges throughout the Country huddled around the radio drawing inspiration from Allan's broadcasts. Allan rekindled for them the culture of protest, which he had developed in the United States against the injustices of the Vietnam War, transporting it making it relevant to the protest against the injustices in our country at that time. I suspect that today that there is many a cabinet minister, member of parliament, Judge or human rights lawyer who has a special place in his heart for Allan like we all do.
Xavier tells me that on their trip down from Johannesburg this past weekend they were stopped for speeding. When they stated that they were traveling for Allan's funeral they were allowed to go without a fine apparently because the traffic officer who had stopped them knew of Allan. This does not surprise me as most people who I come into contact with and who grew up during the time when Allan was active on the radio waves knew of Allan and loved and respected him.
Allan's knowledge of music was vast, his skill as a broadcaster remains unparalleled in this country, his name golden, his presentation was exceptional so much so that he is the benchmark against which good broadcasting is measured.
Allan had a powerful presence and magical personality. Allan would walk into a room dim the lights, put on some Music and communicate. The entire atmosphere would be transformed and people in the room would be transported to a magical world of peace, humor and contentment. I remember one occasion when on a hike - and due to my exceptional navigational skills - Omar, Allan, Shoba and I were trapped in a cave on the Transkei (Wild) Coast. We sat huddled in this cave which was no more than 2 meters by 2 meters watching the tide come in and without any apparent form of escape. What would have been a nightmare and terrifying experience turned out to be the most magical night. Allan distracted our attention from our serious plight by entertaining us with humor, wit and interesting stories interspersed with sips of tequila laced with game isotonic. On another occasion Allan took us to the mountains in Lesotho where we spent the most memorable Christmas under the stars listening to the most magnificent collection of music put together by Allan for the trip.
Allan enriched the lives of all of those who came in contact with him and with his work. We are indebted to him for the joy, the love and the beauty, which he has brought into all our lives, humans and animals. We bid his soul well and we bid him farewell with the words we use in Africa reserved for those who have served us well "Hamba Gahle" Allan. Thank you.
---
The music community has been deeply shocked at the sudden death of one of South Africa's greatest popular arrangers and composers, David Pollecutt, who collapsed and died Saturday morning while chatting to friends at aJohannesburg Gym, where he worked out every morning.
David is the composer of the music for the hit musical African Footprint currently playing in Johannesburg. His music for the movie Shaka Zulu has been heard in every country in the world. He is the composer of countless jingles and themes, and wrote hundreds of songs and music for stage productions and films. He was a regular guitarist in Vinnie and the Viscounts.
Dave was a trouper and a true professional, a pleasure to work with and avery good friend over many decades. We have just completed a Johannesburg Season of Sex Tango and Everything Else with David as the guitarist and arranger for the songs. He approached the music with lyrical passion and a sensitive ear.
His commitment and skill were deeply respected and valued by singers and fellow musicians. He had a wicked sense of humour, and a wealth of true stories to tell about his 40 years as a professional musician. He was anentirely good force to have with you on a stage or in a studio. We and his other friends and colleagues will miss him sorely. There was only one Dave Pollecutt.
We are lucky enough to have known Dave as a friend. We send our love to his wife Laura, his daughter Larissa and Samantha, and his sons Michael and Brendan at this time of unimaginable loss and pain.
Rest in peace, Dave.

DES AND DAWN, JOSH AND ADAM LINDBERG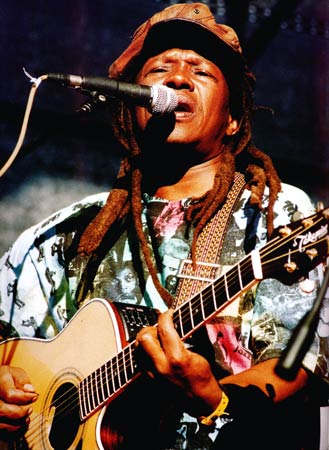 Singer songwriter Mike Smith 1951 - 2001. (Photo of Mike Smith by Sharon Gill courtesy of Splashy Fen Music Festivals & The Sunday Tribune)
With enormous sadness we record the death of MIKE SMITH on November 2nd, following a virulent chest infection. All who knew him will remember a wonderful friend, a superb musician, one of Life's Special People.
Mike was born in Big Bend, Swaziland, and moved to northern KwaZulu-Natal at the age of 5 or 6 following his father who'd found work there, his mother having died when he was an infant. He earned his keep as a herdboy, milking cows and, when old enough, driving a plough behind a team of oxen.
His irresistible stage presence, a huge, warm, persona which reached everyone along with his big-hearted music, was extremely well received wherever he played, particularly at Splashy Fen. And always that smile.
After considerable local acclaim, here and in Namibia, this year Mike achieved a long-held ambition to travel overseas for the first time and test his material on an international audience. A three and a half month European tour as opening act for Elkie Brooks was his test ... and he cracked it, they LOVED him.
It must have been difficult for a lone unknown to walk out on stage with one guitar, attempting to win over a critical audience who'd paid to see the main act. Yet win them over he did, quietly delighted that his music had such broad appeal and he never mentioned the difficulties.
But circumstances were arduous, living in a tour bus, working on all but five or six days of that time, days which were spent travelling, and that's when his illness appeared. He'd been home only six weeks or so when he died.
Mike's passing so suddenly and unexpectedly has shocked us all. No doubt many people will wish to pay their respects. The Barleycorn intends to hold a Tribute Concert in the near future, inviting Mike's friends to perform and speak of the man, the proceeds of which to form a Trust Fund for his beloved daughter Miya.
Farewell, Mike, play on in peace brother
Dr Ian Bell
on behalf of the Barleycorn Music Club