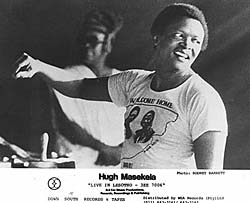 Hugh Masekela Live in Lesotho 1979 / 1981 Welcome Home - Available at last on 3eZ / HY 7006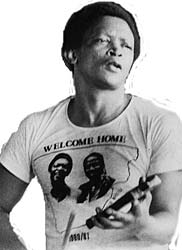 Hugh - Coming Home Maseru, Lesotho 1980 Rodney Barnett (RIP)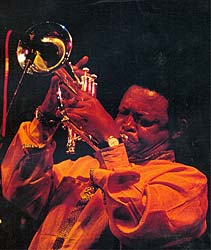 Hugh Masekela by Paul Weinberg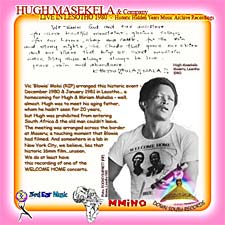 Hugh Masekela Coming Home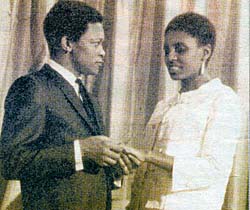 Hugh & Miriam Marry 1964 by Jurgen Schadenburg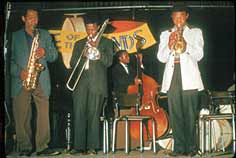 Kippie Moeketsi, Jonus Gwangwa, & Hugh Masekela - Herman Anderson's 1958 City Hall Battle of The Bands Photo
Hugh Masekela – Live in Lesotho 1980
Musicians: Hugh Masekela - Flugelhorn & Vocals
Rene McLein - Alto & Tenor Saxes, flute & Vox
Don Blackman - Piano
Bobby Brew - Guitar
Vic Bailey - Bass
Poogie Bell - Drums
Harmonies & Backing Vox - JOY
(Thandeka Ngono, Thembi Mtshali & Lorraine Mahlangu)
Recorded by Terry Acres, Tony & Simon Oates in Dec 1980
Maseru Holiday Inn before a small audience
direct from the PA onto an 8 Track TASCAM
Re-mixed / over-dubbed at SATBEL Studios by Gregg Cutler
Exec Prod Victor 'Blowie' Moloi
Assistant Production by Quincy Troupe
Produced for 3rd Ear Music Down South by David Marks
Front Sleeve & Tray Photos: Walter Pitso (RIP)
Photos by Rodney Barnett (RIP), David Marks, Herman Anderson
Original Sleeve design & Artwork by Richard Jack (Zimbabwe)
Live In Lesotho 1980 - Song Tracks & Titles
1 - STIMELA - (5'23") - Hugh Masekela (MPA)
2 - HEALING SONG - (10'44") - Joseph Bonner (EMI Music)
3 - PART OF A WHOLE - (8' 53") - Caiphus Semenya (Chappell)
4 - SISTER FANIA - (12' 47") - Hotep Galeta (M2 Music)
5 - HA LE SE LE LIKANNA - (6' 34") - Caiphus Semenya (Chappell)
6 - ASHIKO - (9'24") - O. J. Ekemode (Almo Music)
Hugh Masekela Biog follows - first a 3rd Ear perspective & HY Technical Archive notes: (To be edited in the Hidden Years Story Part 2 - Penguin Books)
Vic 'Blowie' Moloi (RIP) arranged this historic event throughout 1978 & 1979 - starting from 3rd Ear Music's suggestion to Hugh Masekela that a studio in one of the independent countries outside of South Africa, would be the way to go.

Hugh Masekela Biography
When Hugh Masekela played Johannesburg recently to launch his 2002 album, Time, it was a truly sparkling affair. From all over the fans came, young and old, black and white, hip and suave, to hear Bra Hugh blow his trumpet, and unleash his irresistible music.
And judging from the critical praise the autumn concert earned, Time is likely to have as significant an impact on the homegrown music scene as any of Masekela's recent releases. Indeed, it's hugely noteworthy that since his return from exile in 1990, this icon has managed to captivate a whole new audience and expand his long-time fan base. Far from languishing in his status as one of South Africa's most renowned musicians in exile during the apartheid era, Masekela has reclaimed his place in the national musical terrain - and along the way, provided a much-needed spark for the explosion in South Africa's recorded Afro-jazz scene. Albums like Sixty and Black To The Future - and undoubtedly Time to follow - have notched up platinum sales, and provided a benchmark for a diverse cross-section of new and established talent.
Masekela's 21st century success is hugely satisfying for an individual who began playing music close to fifty years ago. It's even more so because he feels it's one way that he's been able to give back to the country that's given him so much. "Creatively I get my energy from this place - I always have and now the time has come to give back," Masekela explains.
And giving back is taking real and meaningful form. Beyond his solo work, which also provides a platform for a whole slew of young, talented musicians, Masekela has been rigorous in his commitment to rebuilding the country. Among his initiatives is the establishment of MAAPSA (Musicians and Artists Assistance Programme of South Africa), which addresses and implements drug rehabilitation programmes in the creative community (among its successes has been the recovery from addiction of Tsepo Tshola and Busi Mhlongo). Earlier this year, the United Nations General Secretary, Kofi Annan honoured Masekela (along with Danny Glover and Susan Taylor) at the second annual African Century Challenge Award Dinner (organised by Shared Interest) for helping make the world a better place. On the creative front, Masekela has reformed Chissa, his record company, to now include music, events, and film. Among the most recent productions by the company is the staging of Can Themba's legendary work, The Suit (at the Civic Theatre in Joburg) and recordings of several artists (including Busi Mhlongo) are in the works.
Masekela is the first to acknowledge that he's had a life that's offered up hardship and astonishing high points in generous amounts. And through it all - and perhaps the very reason why his work has remained so vital in the contemporary era - the artist has never forgotten his roots.
Ever since the day in 1954 when Archbishop Trevor Huddleston gave him his trumpet. Masekela has played music that closely reflects his beginnings as a little boy in Witbank. Pivotal musical styles like the street songs, church songs, migrant labour work songs, political protest songs filter through his creative work still. The sounds of the wide cross-section of ethnic culture South Africa possesses - from Xhosa, Zulu, Swazi, Khoi-san, Griqua, Sotho and Tswana peoples of the South, South East, Central and Western Regions to the Ndebele, Tsonga, Venda and Pedi provinces of the North and North West - all have a subtle guiding hand in Masekela's music.
Finally there are the urban sounds of the townships. The influence of the Manhattan Brothers, Dorothy Masuka, the Dark City Sisters, Mahlathini and the Mahotella Queens, Ladysmith Black Mambazo, Miriam Makeba, Spokes Mashiyane, Lemmy Mabaso, Elijah Nkwanyana, Kippie Moeketsi, and Mackay Davashe - all leading exponents of 1930's, 40's, 50's, and 60's township music styles - all form an intrinsic part of his music roots, which are intertwined with vivid portraits of the struggles and the sorrows, the joys and passions of his country.
But back to the past. Inspiration first came from the film, "Young Man With a Horn' , in which Kirk Douglas portrayed the great American Jazz trumpeter, Bix Beiderbecke. Hugh asked Father Huddleston to get him a trumpet. Huddleston asked the leader of the then Johannesburg 'Native' Municipal Brass Band, Uncle Sauda to teach him the rudiments of trumpet playing, Masekela quickly proceeded to master the instrument. Further It wasn't long before some of Masekela's music-loving schoolmates also become interested in playing instruments, leading to the formation of the Huddleston Jazz Band, South Africa's very first youth orchestra formed at St. Peters Secondary School where the anti-apartheid priest was chaplain.
(Ed's Note - St Martins School as it was then known, is still in Rosettenville, Johannesburg's Southern Suburbs; where another 'alliterative' musician became internationally renowned - folk singer songwriter and English School Master, Jeremy Taylor. More well know perhaps for his satirical songs - that also got him banned from South Africa - but who wrote a few all time classics, among which were the Harry Bellefonte produced Marian Makeba song Piece Of Ground. Today Hugh's sons attend the same School; and Hugh is on the PTA. The other pupils who attended St Martins & who ended up in Father Huddleston's Jazz Band, were Jonas Gwangwa & Ernest Mothle among others.)
Another turning point was to come following Huddleston's deportation by the racist government of the time for his emancipation militancy. Masekela badgered him for an opportunity to leave South Africa and study music abroad and the priest worked very hard to get him to England. While Huddleston was making plans for Masekela's studies abroad, the trumpeter played in dance bands led by the likes of Zakes Nkosi, Ntemi Piliso, Elijah Nkwanyana and Kippie Moeketsi, and then Masekela joined the star studded African Jazz Revenue in 1956. Following a Manhattan Brothers tour of the country in 1958, he ended up playing in the orchestra of the 'King Kong' musical, written by Todd Matshikiza, with Jonas Gwangwa and some of the other musicians Masekela had worked with previously also in the musical mix.
"King Kong" was South Africa's first record-breaking blockbuster, theatrical success and the show toured the country for a sold-out year with Miriam Makeba and The Manhattan Brothers' Nathan Mdledle in the lead. The musical later went to London's West End for an incredible two years. At the end of 1959, Abdullah Ibrahim, Kippie Moeketsi, Jonas Gwangwa, Makhaya Ntshoko, Johnny Gertze and Masekela recorded Jazz Epistles: Verse 1, the first African group to record an LP and perform to record-breaking audiences in Johannesburg and Cape Town through the late 1950s to the early 1960s.
However, in spite of this positive creative outpouring, the heavy-hand of the apartheid regime was worsening. After the March 21st 1960 Sharpeville Massacre - where 69 Africans peacefully protesting the pass laws along with thousands of their fellow comrades were mercilessly mowed down - the ensuing national and international outrage prompted the government to proclaim a state of emergency and the banning of gatherings by more than 10 people.
It became obvious that remaining in the country was going to be difficult and as the brutality of the Apartheid state increased, Masekela finally left the country with the help of Trevor Huddleston and his friends Yehudi Menuhin and Johnny Dankworth. Again, with Dankworth's help, Masekela was finally admitted to London's Guildhall School of Music.
It was a difficult choice but one that Masekela felt he had to make. "Our music was always a basic political threat," he recalls. "We were all relegated to a third class existence, but we excelled in music, and our talent was the one thing they couldn't take away. We were blocked away by the 'White Musicians Union, and we hardly ever got paid, but it was all done mostly out of love and passion".
Miriam Makeba, who was already enjoying major success in the USA, later helped Masekela (with the help of Harry Bellefonte, Dizzy Gillespie and John Mehegan) to gain admission to the Manhattan School of Music in New York. It was another turning point in Masekela's life - and among the immediate highlights was when he finally met Louis Armstrong. The connection between Armstrong and Masekela was more than simply music appreciation: Armstrong had sent the Huddleston Band a trumpet after the priest told the trumpeter about the band he had helped start back in South African before his deportation.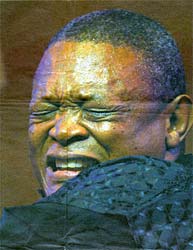 Hugh 2004 - Sunday Times - Sydney Seshibedi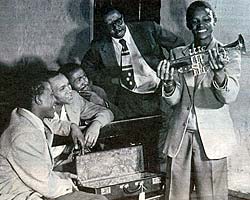 Hugh & Louis Trumpet 1960's by Jurgen Schadenburg

But even still, in the midst of all these brilliantly creative minds, Masekela's choices were always hard. "In 1964, when I finished at the Manhattan School of Music, I wanted to come back to South Africa," Hugh recalls. "But (Harry) Bellefonte said to me 'Hugh, with the kind of mouth you have, you are going to go back to South Africa and go straight to jail. Nobody knows you - if Miriam went back and got arrested, there would be an international outrage'. So I said to Bellefonte, I'd come to study and I had done that and I wanted to go back. But Bellefonte said 'Hugh, why don't you make a name for yourself so when you talk about your country the way you do to me, people will listen'. I said 'Harry, how can I be sure that I am going to make it' and he said 'listen must I take the spoon and put it in your mouth!'. He said 'we believe in you and your talent and we'll support you'. Of course the rest is history."

Indeed. With the immense help of Makeba and Bellefonte, Masekela eventually began to record, gaining his first breakthrough with "The Americanization of Ooga-Booga" produced by the late Tom Wilson who had been the producer of Bob Dylan and Simon & Garfunkel debut successes. Stewart Levine, his business partner in Chissa Records, went on to produce hit records for Masekela on UNI Records, beginning with "The Emancipation Of Hugh Masekela" in 1966 and peaking with "The Promise Of A Future" - which contained the gigantic hit song, "Grazing in the Grass" - in 1968. (The song went to number one on both the Billboard R&B and Pop charts).

In New York around the mid-60's, Masekela was befriended by the Godfathers of Jazz, who were drawn to the crispy sounds of Mother Africa flowing through his trumpet. That was around the time African-American musicians such as Dizzy Gillespie and Cannonball Adele were busy incorporating African concepts into their music - something Masekela acknowledges he had, until then, failed to achieve. As Miles Davis put it in his autobiography: "Every time I saw Hugh, I told him to just keep on doing his own thing rather than trying to play what we were playing over here. After a while I think he started listening to me, because his playing got better."

Masekela also updated his image after David Crosby invited him to play trumpet on The Byrds hit 'So You Want To Be A Rock & Roll Star' and performing at the several pop festivals, including Monterey Pop the first outdoor music festival of the 60's. All this success overseas was all very well but deep down, in the centre of Masekela's heart, the African cry got louder and louder and his people couldn't wait to see their long-lost brother. By the beginning of the 70's, after attaining international fame and selling out American concert venues, Masekela decided to explore the African territory, his roots.

"Home Is Where Music Is" was the foundation of this step, a piece recorded with Dudu Pukwana. Letting his American influences take a back route, Masekela dived head-on into the Afrobeat scene. After a pilgrimage to Zaire in 1973, he met Fela Kuti in Nigeria and again with Stewart Levine, Masekela connected with Hedzoleh Soundz, a grassroots Ghanaian band Fela introduced them to. For the next five year, this collaboration (a creative form Hugh believes in whole-heartedly) produced a string of ground-breaking records which included international favourites such as "The Marketplace", "Ashiko", "The Boy's Doin' It", "Vasco Da Gama" "African Secret Society" and the evergreen, "Stimela".

After a tour and two duet albums with Herb Albert, Masekela moved to Botswana where he started the Botswana International School of Music with Dr Khabi Mnogma. His record label, Jive Records (started by South African Clive Calder and initially called Zomba, with Hugh as one of its first signings) helped him to set up a mobile studio in Gaborone where Stewart produced "Techno Bush" from which came the hit single. "Don't Go Lose It Baby". In 1986 Hugh was again reluctantly on the move, leaving for England with his band, Kalahari and his wife, Jabu Mbatha after George and Lindi Phahle along with14 others were assassinated by the death squads, all targets of South Africa's apartheid security forces, which were raiding houses in neighbouring territories.

While in England, Masekela conceived the Broadway musical, Sarafina with Mbongeni Ngema. "I saw him in Woza Albert in 1983 when I first signed to Jive Records - or Zomba as it was then. 'Woza Albert' started with my song Stimela - and I went backstage and I asked who had done that brilliant arrangement and it was Mbongeni. Ever since I was in King Kong I've always wanted to do a musical, and I asked Mbongeni if he would be interested in working on one and he said yes straight away. The result was Sarafina. "

Other hits followed, including "Bring Back Nelson Mandela, Bring him back home to Soweto" recorded with Kalahari in 1986. Masekela added yet another arrow to his an already impressive quiver when he was asked by Paul Simon to take part in the Graceland tour alongside the likes of Ladysmith Black Mambazo and Miriam Makeba.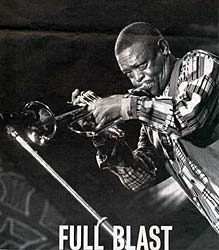 Hugh 2004 Full Blast - Sunday Times - INPRA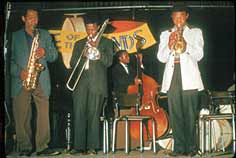 Kippie Jonus Hugh 1958 by Herman Anderson

Then, finally, in 1990 and following the unbanning of the political parties and the release of Nelson Mandela, Masekela was finally able to come back home. "It's strange that of the million-plus people who left to go into exile, only about 50, 000 returned and many of those made a u-turn," Masekela says of his return. "I think that people like myself, Jonas, Letta, Caiphus, Miriam and Abdullah, we are too passionate about South Africa. We were living overseas always reluctantly. Until 1986 we were working in SA apartheid allied territory, which is whz\, the western world was. We were under surveillance by the western intelligence community. To tell you the truth, until I came back here, which I never thought I would, my career never really started. It only started in 1990. We lived here vicariously, so being here is like being a pig in swill."True to his word to immerse himself in his country once more, in 1991 Masekela launched his first tour of South Africa, called "Sekunjalo: This Is It" with Sankomota and Bayete. It was a storming success that swept through all the country's major cities for four months, selling out for every show. Incredibly, most South Africans were experiencing Masekela's musical magic for the first time. And Masekela's ability to remain a compelling force on the contemporary scene was confirmed when his recording projects - including Black to the Future and Sixty - streaked ahead to platinum status.Amazingly, Masekela remains committed to the ordinary people of South Africa - in a way that displays his integrity and belief in the country. "The worst thing you can do is pretend for people," Masekela says. "I am what I am because of the people of South Africa. Everything that I have I've got through them - I sing their music. You can tell from my albums how much I enjoy being part of that and being back here and playing with them. It's because these people have given me this privilege that I find it impossible to make money off what is theirs and not talk about the difficulties of this country." It's for that reason that he's not afraid to tackle sometimes contentious subjects in his lyrics - witness several hard-hitting songs on Time.

Masekela's life circa 2002 is more vibrant, dynamic and fluid than ever. Having overcome difficult personal struggles, he is now focused - with a steely determination - on his creative craft and expanding that to include more theatre, unearthing talent, producing and writing. The artist is working on opera-style musicals, as well as several films and he's penned a novel as well as his autobiography (to be published by Random House). "My autobiography is coming out early next year - I loved writing it! I am a writer and so writing the autobiography and the novel has been great. The publishers want a CD to go with the autobiography and so I have been working with Stewart Levine, my partner and we've been talking to key African artists to work on that project. The book and album will be called 'Still Grazing', because that is what I am doing - absorbing and learning and, hopefully producing some wonderful music along the way.


Recent Achievements:

SAMA Awards 2003 Winner of the Best Male Artist and Best producer for the album "Time".
BBC Jazz Awards 2002 - Winner of the International Jazz Artist Of The Year.
Kora Music Awards 2002 - Winner of the Best Artist Of The Year.
African Challenge Awards 2002 - Awarded by United Nations Secretary General - Kofi Annan to Hugh Masekela, Danny Glover and Susan Taylor.


For further information contact:
Pula or Fiona on 011 678 8746