Lefifi Tladi & Mothlabane Mashiangwa Notes - Freda Hattingh 1970's & 80's & David Marks 1972 to 2007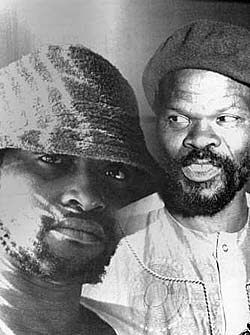 Lefifi Tladi & Mothlabane Mashiangwa in the 1980's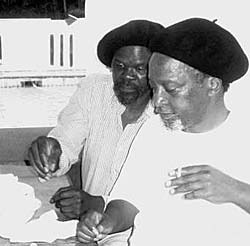 Mothlabane & Lefifi recording at 3rd Ear Music 2007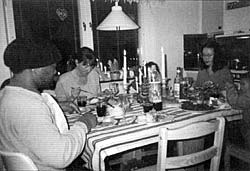 Lefifi Tladi Anna Lindberg Katharina Lindquista in Sweden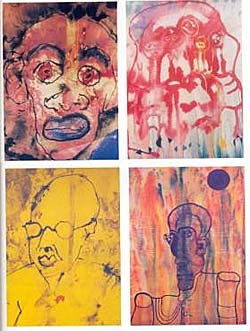 Lefifi Tladi - Potraits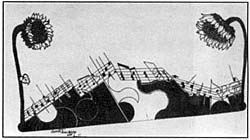 Lefifi Tladi - 1980 Song for the Sunflower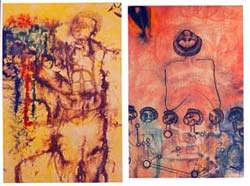 Lefifi Tladi - 1979 Motherhood – Genes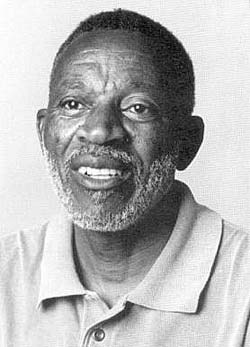 Geoff Mphakati (RIP) 1997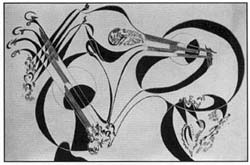 Lefifi Tladi - 1993 Plotting Sound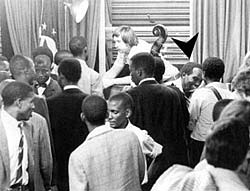 Lefifi (on the right) chatting to Moses Mogale (guitarist). Robert Payne (pianist) at the centre back - during a jazz appreciation session at the American Embassy, Johannesburg 1973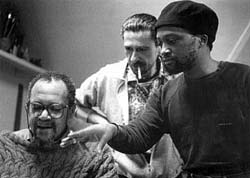 Lefifi Tladi with Harvey Cropper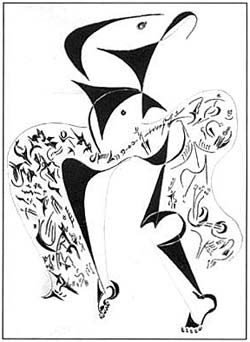 Lefifi Tladi - 1993 Bortom Vinden

LEFIFI TLADI – DASHIKI & THE POETS – Live Hidden Year's Recordings 1972 to 1974
3rd Ear Music Hidden Years Music Archive Project (HYMAProject) CDR 933 / 934
HY draft notes by David Marks 28 December 2006. CDR sleeve Biog notes from Freda Hattingh

Technical Note Recordings CDR 933 / 934 are not EQ'd & are for comment and editing only. The tapes were transferred from the original analogue 10 & 7-inch reel tapes to the HDD (using SoundForge 8 - 16 or 24 Bit, 44,10Hz, Stereo & Mono where applicable.)

DRAFT notes by David - LEFIFI TLADI'S contribution to African Art and Culture has been profound; this despite his 'relative' (and in many respects, forced) obscurity in South Africa pre and (sadly) post liberation.

Thankfully Lefifi's 'hidden audio years' (from the early 70's to his exile in 1976) were sporadically captured on recording tape. (Although we hear that 3rd Ear Music's recordings - now being digitized in the Hidden Years Music Archive Project in Durban - were not the only attempts at documenting this revolutionary musician, poet, philosopher, teacher and artist activist. (We would love to get our heads and hands on the tapes that the Security Police recorded - but that's another hidden history.)

After listening to these Hidden Years recordings, we are satisfied that future generations can now share the soul that Lefifi bared with such passion, daring and commitment. That he, and a number of artist activists – in exile & at home - are not recognized for their contribution, is reflected in the post-1994 imported (and exploitive) pop-idol audiovisual pollution that clouds the shallow mainstream. We are now being (collectively) force-fed by the new global apartheid elite. Faceless fat-cat corporate boardroom censors who target segregated markets with good-looking top-40 vocal gymnast like a marionette's master in broad daylight; powered by a so-called free-market PC driven system - and we say & hear nothing? Mediocrity rules the mainstream; too shallow, muddy and murky to notice?

And besides, Lefifi and his friends were not considered hip or trendy enough in the European pop market place - they were branded 'betogers' (demonstrators / communists) anyway.

3rd Ear Music's mission at the time was simple: if it murmured or moved, tape it! If we could find the tape that is...

At the festivals and concerts, Dashiki and The Poets would use their creative (and not too shabby entertainment) skills to inform, educate and mobilize. SAfrican schools were relatively State-Driven deaf, dumb and blind and Lefifi would occasionally perform in both rural and township Bantu educated schools, with remarkable success. The same magic applied to those Free Peoples Concerts – stages shared by unique and diverse groups of SAfrican bands and musicians that you would never hear in one place; Music, art and culture from A to Z – Afrikaans to Zulu. SAfrican folk interpreting and performing in many guises: revolting hard rock rebels or British Isle IRA folk; from American Country Rock Blues to Eastern Tamil and Indian Classics; there were dusty township string orchestras and hard drinking and determined Jazzophiles; migrant Zulu Maskandi workers and hostel dwelling iNgoma dancers, and as always the usual clutch of singer-songwriters who, to this day, have never let go.

The NRF funds and Lefifi Tladi's HYMAProject recordings

It wasn't until after 1994 that Lefifi and I were once again in a position to establish personal contact; we agreed to do whatever it can take to get these recordings and the remarkable stories that he (and Motlhabane have to relate) into a digital format. (We spent 3 days in December 2006 just chatting, filming and recording in the HYMAP here in Durban.) None of us had heard the recordings since they were recorded; the best I could do on rediscovering them and pulling them out of their unmarked boxes, was stare with desire at the tape reels for over 30 years, hoping that one day we (3rd Ear Music) would find the resources, the means and the technology to dare venture into the content.

2 things happened post 1994 which began a process that should make reality of our good sense to keep the recordings. In early 1998 Geoff Mphakati called to say that Lefifi (who has been in Sweden for over 2 decades) and his long time Mamelodi artist friend Motlhabane Mashiangwako (who I hadn't seen since 1974) were to hold a joint Art Exhibition at University of South Africa (UNISA) in Pretoria, later that year, arranged by Freda Hattingh. (It's Freda's biog text on Lefifi that I us in the HYMAProject CDR notes; with grateful thanks. We have been trying to locate Freda for some time; if anybody can assist please call 3rd Ear Music HYMAProject in Durban +27 (31) 205-2743 or eMail.

The 2nd important event was the awarding of a National Research Foundation (NRF) grant to our HYMAProject. I started negotiating with Dr Tessa Marcus (the then director of the NRF) in June of 2004 and applied for funding with the aim of getting 3rd Ear Music's Hidden Years Music Archive collection saved, catalogued and digitized. To qualify for a 5-year research grant, 3rd Ear Music needed to find an established 'academic' partner. Because of my years of association with the University of kwaZuluNatal – since the 70's - they were duly elected (in November 2004) to administer the funds and manage the digitisation process. We were told (warned?) that the wheels of academia grind comfortably slow with painful results for the pro-active. This unfortunately, in terms of our NRF funding mandate, has driven us to despair – frustrated because we have had to work and fight for every cent these past 40 years, and here we are part of the 'entitlement' elite and we are no closer to doing research or saving this 'hidden history' treasured tape collection, than we were in June 2004.

As these HYMAProject recordings of Dashiki and The Poets illustrate, we have managed to thunder on and save a lot of hidden years music and time. We have survived, thus far – thanks in part to the NRF grant paying for our Archival Storage since October 2005 – but it's been a battle trying to get the powers that be to assist us with my digitizing and cataloguing. (David Marks)

Freda Hattingh – Notes

In the early seventies the main base for a number of artists was the home of Geoff and Maokaneng Mphakati. This typical four-roomed house in Mamelodi West was undergoing extensions at the time and, though these were extensions of a different kind, they might be regarded as symbolic, even prophetic: this house in transformation provided a vital creative nucleus for the artists - Motlhabane Mashiangwako, Lefifi Tladi, Gilbert Mabale, as well as the Johannesburg artists Fikile Magadlela, Dikobe Martins, Cyril Kumalo and the late Winston Saoli, used to frequent Geoff's home where they worked together on a regular basis.

There they were free just to tape cartridge paper onto the walls and experiment at will. All of these artists were self-taught and relied largely on one another for inspiration. Techniques were discovered through trial and error. Some artists were more reluctant to part with their secrets than others. Artists like Ike Matsemela Nkoana, Harry Moyaga, Johnny Ribeiro, Mike Mmutle, David Phoshoko, Anthony Molongwana Makou and the late Ranko Pudi and many more were, at the same time, active in the Ga-Rankuwa area. However, a potent communal spirit prevailed among them, transcending into what Motlhabane refers to as an altruistic spirit and attitude - we (not I) as an artist, as a single work force, 'intercommunicating with other artists and people. This pan-Africanist perspective was inspired by Negritude and the essence of the Black Consciousness Movement (BCM) It is very aptly put by Lefifi:

[Bl]ack consciousness ([it] should have been called African consciousness) was like a life boat that helped us ashore and gave us an inner vista of ourselves. African consciousness is profounder than black consciousness, as blackness is a state of mind - that's what Steve Biko said - and Africanness is the reality of the mind, body and soul. So we had to change this brain, [this] whitewashed state of mind, into a real state of presence. That's what consciousness is all about – to think within the context of your realities. And that's how we came to understand how our perception of ourselves had been uprooted and amputated.

The selfless support and encouragement of Mphakati and the availability of his collection of music, poetry and literature, relating to the former, was highly inspirational, providing a major source of motivation for the artists. He warned against the danger of working in isolation as artists, stressing the importance of working together and of knowing other fellow South African artists. He also made the artists aware of the importance of history, especially their own history as Africans. In return, he says pertinently, he was as much inspired by them and the rich interaction and exchange of ideas. It was a give and take situation, the artists, according to him, contributing meaningfully to an essential core of his being. His very close and special relationships with the late Ernest Cole, the well-known South African photographer, and the guitarist Moses Mogale, were well rooted in this realisation. A network of connections brought forth and strengthened the mutual relationship between Mphakati and the artists. Lefifi Tladi was mainly instrumental in introducing him to artists from around the greater Pretoria region, while Fikile Magadlela initially formed the vital link with artists from the Johannesburg area. Mphakati, in turn, acted as mediator between the artists and the outside world, a role in which the foreign embassies, Pretoria being capital city, played an important part.

Jim Baker, the first African American diplomat in South Africa, was another source of inspiration. He introduced the recordings of The Last Poets to the artists in 1974. These had a profound effect on them, redefining their direction dramatically. Resistance art was born: poetry, music and art were no longer meant for pleasure. In addition, the poem Africa My Africa, by David Diop, as well as literature by other African authors and philosophers, like Leopold Senghor and Frantz Fanon, impacted heavily on their pan-Africanist consciousness. Baker's home at 252 Loveday Street, Pretoria, was like an arcade. It was open to all and people came and went without hindrance. His collection of literature was freely available, with no reservations on his part that some of his books might disappear. Knowledge, according to him, could not disappear; it could only feed other minds.

Workshopping in the township environment and exhibitions outside the mainstream galleries and museums were initiatives born of the communal spirit that prevailed among the artists. Their motive was political and their aim, equity, peace and liberation. The diverse platforms were implemented with the express purpose of educating and conscientising: African people about their own Africanness and worth as equal human beings; the broader public about the role of art in terms of the liberation struggle; and the international world regarding the injustices of apartheid.

The key role of art in bringing about change underpinned the artists' efforts. Workshopping became fundamental to every activity; most important were the discussions and workshopping of ideas or initial plans preceding the practical workshops, the success of which was due to the fact that intense dialogue, covering a broad spectrum, not only of the arts but life itself, was always a prerequisite to the former. Music was like a 'life cord' and was, without exception, an essential part of these sessions.

Lefifi Tladi was the key mediator among the artists. As early as 1966 he had given meaning to the concept of workshopping, with his Youth Club called 'DeOlympia'. In 1970 Lefifi opened a small museum for contemporary black art in Ga-Rankuwa. Unfortunately, in 1974 it had to close down. His aims were to exhibit art, to stimulate research and to encourage the documentation of African arts and culture. The photographer Matsobane Morris Legoabe was consciously involved in documenting the works of artists in the seventies. Conscientisation was the order of the day and Lefifi also travelled to various high schools to present workshops, talks and slide shows. The slides, taken by Struan Robertson, were originally intended to furnish Geoff Mphakati with material for a cultural trip to the United States of America in 1975. An invaluable collection, in which Legoabe too was involved, was the result. The workshopping, conducted at Geoff Mphakati's home in Mamelodi during the early and middle seventies, sought fundamentally to project what needed to be done, then and in the future.

At that time, Lefifi and a friend, Khubi Mabusela, visited the Eastern Cape, home of the late Steve Biko, activist and leader of the BCM. Their mission was to conduct research on the arts, especially music, in that region and to record and document relevant material from other parts of the country. Among their goals was the interviewing of elderly people living in the rural areas to record their oral history. Ultimately their aim was to set up a cultural youth centre and a library of modern African literature. But all these aims and activities were ended abruptly by the onslaught of the security police.

The music group DASHIKI (previously the Malombo Jazz Messengers), based in Ga-Rankuwa, had been formed by Lefifi Tladi, Rantobeng Mokou, Gilbert Mabale and Laurence Moloisi in 1969. Geoff Mphakati instigated this love of, and sense of appreciation for, music in Tladi by spending hours on end in his company, listening to and discussing music. During these sessions, ?the relatedness of the music to the aspirations of a people wanting to acquire their freedom was the main topic. Lefifi played on African drums, Rantobeng Mokou on vibraphone, Gilbert Mabale on flute and soprano saxophone and Laurence Moloisi on guitar. They used to perform at the American Embassy's music appreciation society, at the Cathedral in Schoeman Street, Pretoria, as well as at numerous festivals in townships nation-wide. Geoff became their manager and promoter.

MPANDO (Music Poetry Art and Drama Organisation), of which Motlhabane was a member, was a politically motivated, cultural organisation based in Mamelodi and very active in the early seventies.

Worksbops and drama productions were performed at schools to conscientise the children. MP ANDO performing the play "she Lied" at the Sekhukhune High school at Groblersdal in 1975. Dan Mogale acting on stage.

to be continued...