Diary Draft notes from Archive -A Hidden Years Story by David Marks (Penguin Books).
Malombo - Philip Tabane by Paul Weinberg 1976
Julian Bahula & Abe Cindi by Tony Campbell 1971
Malombo Music - Music of the Spirit - created by 3 young Mamelodi township street musicians in the late 50's, now legends: Doctor Philip Tabane, who turns 70 in 2004, Vocals, Guitar & Penny Whistles - Honorary Doctorate of Music from the University of Venda; Julian Bahula (Cow-Hide Venda Drums) & Abe Cindi (Tin Whistle & Flute). Malombo Music is recognized today as a music genre; a unique SAfrican Sound indeed - the whistling swing of the dusty township, the rumble of the distant ancestral spirits & the confusion of the city's bright neon rainbows, as reflected in the electric Ghetto Guitar? A little Rock, a touch of Trad & a whole lotta Mamelodi Township Jazz!
For the record, Malombo split in to 2 groups in 1966 - Philip Tabane & Gabriel 'Mabi' Thobejane (who took over the percussion & drum duties from Julian Bahula), were known for a time as The Malombo Jazz Men, and Julian's Malombo became The Malombo Jazz Makers with Lucky Ranku (filling in for Philip) & Abe Cindi on Flute (Penny Whistle)
..see Photo Gallery - Doctor Malombo at the Market Theatre 2004 >>
The Malombo story has been filmed, written & told many times, but, here's a unique 3rd Ear Music perspective that hasn't been focused on; certainly not in any of the (mainly foreign) academic Township music theses, papers, books, films or TV documentaries that we've seen.
The Malombo / 3rd Ear Music connection began, synchronistical, at the 1964 Castle Larger Jazz Festival Orlando, Soweto. 3rd Ear Music founder, Audrey Smith (Friend-Smith) was appointed a judge at the Festival - the only pale-female on the bench. Hers was apparently the casting vote that got The Malombo Jazz Men (Philip, Abe & Julian) first prize - against all odds & stiff American style big brass band Township competition.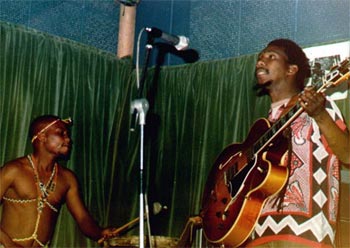 Malombo Jazz Men - Gabriel 'Mabi' Thobejane & Philip Tabane
Market Café 1976 - Photo David Marks

Not everybody in the remote Record or Radio controlled industries back in the 60's considered Malombo music cool - "too African…" Too streetwise; Herd Boys, or Cow Boys busking for a living banging Buck-Hide drums, blowing Pumpkin Pipes or rusty tin whistles & spanking a wired up out-of-tune plank? Making street music on stage had no place among the swank & splendour- some would say squat & squalor - of the US Big Brass Band Township era.

Ben Segal, the other 3rd Ear Music founder had not as yet met his 3rd Ear partner Audrey Smith in 1964 - TEAL records' assistant music publisher. But Ben was so moved by Malombo from another space, as Chairman of SAFMA (The South African Folk Music Association) in 1965 he recorded Philip, Julian & Abe at the Wits Great Hall concert, on his domestic tape deck. A quarter-track demo tape that accompanied me on my US & European trip in 1969. Ben's objective was to 'broaden' the SAFMA committees SAfrican Folk music horizons - given that they were mainly grooved into the lyrical acoustic guitar & English poems & protest thing.

3rd Ear Music & Sound was to go on & keep countless musicians company - not least of which were the various Malombo Music outfits - from behind the shadow of the spotlight, speaker stacks, amps & microphones for many years; if for no other reason (it certainly was not financial) but to promote, present & preserve this unique emerging SAfrican music - no matter what the academic researchers & commercial music archivists may say or have omitted - Then & Now! If it murmured or moved - we taped it! We mixed the sound & recorded the events, sailing through the often turbulent but always friendly Townships, as the blues crews, all over the country. We shared many good times, bottle-shock & much nKomboti with Julian, Abe & Lucky.

The 3rd Ear Sound & the Malombo Music Sound Safari rumbled through the jungle stumbling on a series of strange coincidences & connections: 3rd Ear Sound Systems at the time was Don Williamson (RIP), Toma Simon, Jurgen Zahringer & myself; the beginning of what eventually developed into a massive & important element of the local music industry - without 3rd Ear Music & Sound, of course. We just started the fire & disappeared like smoke. The Bean-Counters could see us coming & the Money Monsters could smell the bottom-line.

But for whoever forgot, our records show that respect & thanks must go to a few not so forgotten heroes; in our Hidden Years Archive & scrap books anyway. Not least of which would be our dearly departed photographer friends Tony Campbell & Rodney Barnett (RIP). The main man however, would be US Sound pioneer Bill Hanley & his Hanley Sound Company of Medford, Mass! 1969...... Their only ambitions were to connect people & share the music.
...see also Thin-end of the Wedgies & The Soweto Sound >>

Without them the SAfrican Sound (PA) Industry would never have grown as it did. And today, with all this wonderful technology, I still often wonder if SAfrica's good-looking music would perhaps sound any better if PA / Sound People knew a little something of their history? After all, every mother's son & daughter wants to become a "sound engineer" - a misnomer if there ever was one - but not one of those young people with whom I speak (and teach), have ever heard of Bill Hanley or 3rd Ear Sound. Dream on? Well, why not? So few of the new generation know or care about SAfrica's music history or musicians if it doesn't come to them via the charts. It's only the future that counts, they claim. But as Zolani Mkive often screams – without a yesterday there is no tomorrow!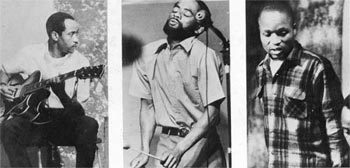 Malombo Jazz Makers - Lucky, Julian, Abe by Tony Campbell (RIP)
3rd Ear Music /NUSAS / SAFMA Free Peoples Concert 1971

Rhythms of Resistance? 1948 / 1952 growing up in amongst the Rocks on the outskirts of Johannesburg's South West at the southern end of Prairie Street. My first vivid memories of rhythm & blues was being rocked to sleep night after night to the sway, thud & crack of the distant cowhide drums that rolled up over the Koppies into Rosettenville from the valley of Soweto. This nightly ritualistic spell of smoldering paraffin lamps fading into the deepest & darkest pitch-black recess of a wandering young mind would draw me deep under the gray sheetless blankets; curling & crawling as far down as I could go into the coir mattress. Cloaked in the shadows of thatch, wide-eyed in the pitch-dark, those distant rolling rhythms & mournful migrant drones would eventually rock me to sleep. As if from anothewr planet, perfectly clear & crisp spaced out hand clap-echoes would occasionaly accompany the drums & the drone; sounding strangely hopeful. No matter, we young farm-boys (Chad & I) would not dare venture outside to the long-drop. The enamel pot would have to do for whatever. Thank goodness, the cast-iron hospital-beds were up on bricks...just incase.

That's how the white Southern Suburbs would fall asleep or pass-out over weekends - with those distant drums rolling thunder over & over for days on end - often reaching an Impi-like crescendo, beating as if they knew that this was all just a matter of time.

Perhaps these theories would score more academic points on a Psychologist's sofa, than in an Ethno Musicologist's music notes. But the way I heard it all fits into my Hidden Years Story. SAfrica - The Birth of the Beat - Texan Shawn Phillips pounds his chest staring Westward toward the Sterkfontein Caves- this is where the very first Human Heart Beat! Boom-boom! Too true - Africa is where the beat belongs. And home is where the heart is. Or should be anyway!

When Jeppe was a 2-Way Street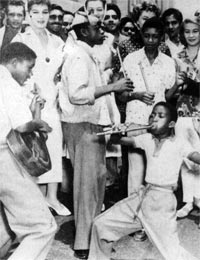 Little Lemmy Special Mabaso 1950's - Jeppe Street perhaps?
Photo - Courtesy of The Africana Museum, Johannesburg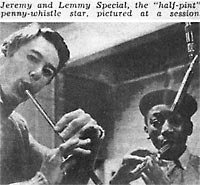 Jeremy Taylor & Little Lemmy Special Mabaso 1960
Photo Courtesy Rand Daily Mail (RIP)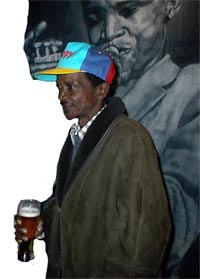 Aaron Big Voice Jakes Lerole (RIP) Sharing a Beer Under Bra Hugh
Photo David Marks

A few years later - 1952 / 1954 - we were living in the shadow of the mine-dumps (Mountains of Men) in the relative safety of the Southern suburban daylight. Us ragged Turfontein pale faced Gold-Dust Surfers would amble over those Mountains of Men through Wemmer Pan into town. (Hiding our pieces of corrugated iron mine-dump sleds along the way.) That's where we first heard the penny whistles of the Kwela Kids & the jolly gentle Bible brass of John Booth's Salvation Army Band in Pritchard Street. My first experience of live music in concert. The Kwela Kids street magic was like a festival & circus all in one.
...read also Allen Kwela & Aaron Bog Voice Jake Lerole - RIP >>

It was also a time of African Jazz on the wind-up gramophones in the shit-van allies of Turfontein - where I would sometimes get to play DJ. I loved changing the needles & cranking the handle; getting dizzy 'n high just watching the HMV or Parlophone labels wiz around at 78 RPM to those groovy sounds! The tasty finger clicking Manhattan Brothers & the smooth cool of The Dark City Sisters would drive those off-duty weekend servants crazy. Clapping folded rubber-leg knees together on tip-toes, elbows speared down, snapping fingers skyward, backs bent swaying parallel to earth head Ostrich high swirling, jumping around until the madams & masters scooted & chased the dancers away or until they fell down liverless.

In that separate world on the inside of a shaky tin-roof mining house, across the Tram Lines from the Turfontein Race Course, I was treated to yet another music wonder - my Greek father's passion for the Ink Spots & Verdi's Aida on a modern gramophone - the needle lasted for a full 20 plays. Haunting harmonies & melodic magic; a mindless cinematic type turn-on for me. Then came my mother's wordy Danny Kaye & Burl Ives. But what really began to strike me was a strange new noisy jingle jangle cradled in a thick low-end swing & the crack of a new drum-sound pop riveting out of all the semis in Donnelly Street; Young Greeks & Ducktails, dancing crazy like - fighting & partying all night. Rock 'n Roll!

Suddenly from somewhere the 3rd missing element of the future was here: The Guitar! Subliminally, from deep within, the 3 most influential instruments (elements?) of my life just came together; Cow Hide Drums; street-wise Penny Whistle & now the bright neon lit Guitar. Malombo - Music. Of course there was a connection; although it took some years to spark.

10 years old - my future & fate had been sealed; my head & feat were let loose - flying to the distant street strains of Little Richard's race-rock; Bill Haley & His Comets; Buddy Holly's Crickets; Eddie Cochran's Summertime Blues; Lonnie Donnegan on the Rock Island Line. Elvis! (We didn't hear the sound directly from up-close; certainly not in the houses we lived or mixed in, at that time.) But Rock 'n Roll was everywhere - certainly not on the Pilot Wireless gramophones. Rock was in the streets & down at the Wembley Speedway cinder track before the roar & the races - & even if we couldn't see much from under the grandstands, we could hear & smell the Rock from the hole in the fence.

In 1968 I landed a part-time post in the Archive of the legendary Afro-Musicologist, Doc Hugh Tracey ILAM (International Library of African Music) in Roodepoort (Johannesburg West - now based at Rhodes University) - thanks to singer & musicologist, Rene Frangs. I took over from my Welsh singer friend Ritchie Morris who had joined Music Troubadour, raconteur of note, dancer, comedian & a general wannabe's inspiration, Ian Lawrence.

Besides Ben's demo of the '65 Wits Great Hall Concert, my stint at the ILAM formally introduced me to Malombo music. Although I couldn't put my groovin' clicking fingers on it, that strange sound seemed to press the right buttons for me. My new-found wordy Folk friends thought I was strange - and simple? What's with this boom-boom Jungle Jazz Marks?

Doc Tracey had been documenting Malombo Music from the start of their formation. According to the good Doctor they were one of the few contemporary SAfrican groups who qualified, in his estimation, as being un-industrialized enough to necessitate serious archiving. Doc Tracey thought most contemporary bands of musicians, South of the Limpopo, were too Americanized or Western influenced to warrant any imperative research. I've often wondered if Dr. Tracey would have considered that perhaps Philip, Julian & Abe got their street-wise muse from the Rock in the air; Jazz from a distance; Music of the Spirit from the Ancestors?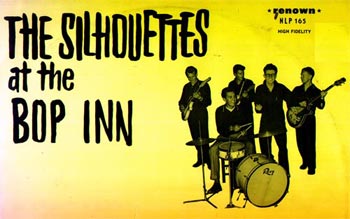 The Silhouettes - Early Johannesburg Rock 'n Roll Band 1959
Photo Courtesy Gallo Records & George Hayden (RIP)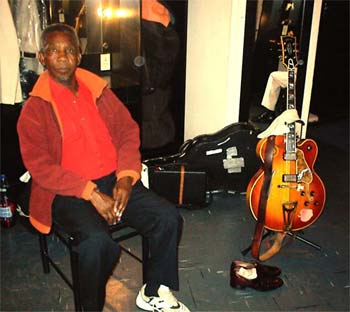 Dr Tabane & his Lady Gibson - Market Theatre 2004 - David Marks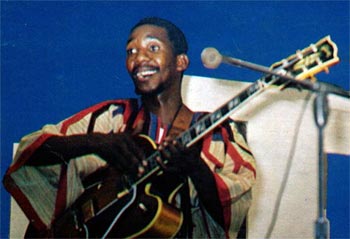 Philip Tabane - Market Café 1976 - by Tony Campbell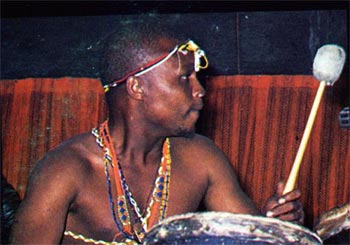 Young Drum Dreamer - Malombo Cow Hide Drums
3rd Ear Music / SAFMA Wits Free Peoples Concert 1974 Photo Frank Black (The Star)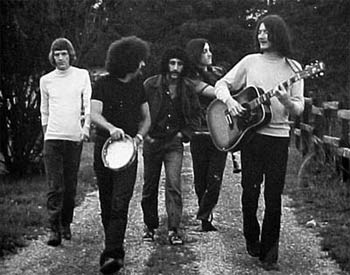 Hawk 1970 - Braam Malherbe, Dave Omellas, Mark Spook Khan, Keith Hutchinson and Richard Johnson on Paddock Farm
(Photo by Tony Cambell)

Before I left Johannesburg for Botswana, Europe & the USA (late 1968), Ben handed me a copy of the 1965 Great Hall recordings. I still had not worked with Malombo in concert.

My introduction to the American record scene began at the St. Helena Gold Mine & Master Jack. My hit-song break was created by the popular South African band 4 Jacks & A Jill who had marginal US hits with 3 of my 'underground' songs Master Jack, Mr. Nico & Hey Mister.

I spent some days proudly bragging around international A&R suits in Nashville & New York with Ben's Malombo Music tape of this unknown unique African guitar drum phenomena.

However, unbeknown to me, Philip - who had split from Julian & Abe - had been making plans with Zulu businessman & manager Peter Davidson, to take the Malombo Jazz Men duo to the USA. And there I was trying to promote a 1/4 track three-and-three-quarter inches per second magnetic reel-tape to a few fancy A&R suits who only had state-of-the-arty fart 2-track tape-decks on which to play my offering. This means that the sound on the other side of the reel-tape (playing backwards) also came through - backwards. And try as we may, none of the up-town uptight commercial record company execs could get a domestic 1/4 track 3rd World type tape machine into their high-rise offices.

It was Electra Producer Arthur Gorson who could hear the potential - even with 2 sides playing at once - & he kept re-winding & listening to bits & pieces, claiming that this sound was the future. African drums & tin whistle are where it's at he beamed! That was 1969.

On my return to South Africa (I still hadn't met either of The Malombo Jazz Makers or Men). Philip's Malombo were eventually booked to appear at the Troubadour in Los Angeles - apparently one of the only acts to have appeared there without a US record release. Up until that time Cathy & Darius Brubeck had been letting the guys share their tiny New York apartment - basically only couch & floor space; that had to include stacks of Buck Hide Malombo Venda Drums. It didn't take long before Malombo Jazz became well known in alternative US Jazz circles. They returned to the RSA in 1973.

Meanwhile, in 1971, one of my very first SAfrican Jazz sound gigs was with Barney Simon (RIP) with Ian Bernhardt & Gideon Khumalo's Phoenix Players at Dorkay House. We were busy rehearsing for PHIRI at the MBSC (part of Dorkay House) when I first met Peter Davidson & Julian Bahula.

The 2nd version of Malombo - Julian Bahula, Abe Cindi & Lucky Ranku with 3rd Ear Sound & Music became a festival & club number. Although Ben Segal had recorded a number of 3rd Ear Music / SAFMA folk albums - in his lounge - Malombo - Music of The Spirit (3EE 001) was our first attempt at issuing an album on the (so called) 'open market' - commercial record industry monopoly that it was…and remains! It was recorded in concert to a small invited audience in 1971 direct from 4 x rotary-pot Shure Mic Mixers onto my old 2-track Ferrograph at Cy & Eileen Jaffe's TV Centre. (South Africa didn't even have Television).

From those sessions some interesting developments were starting to take shape in Johannesburg & Durban rock 'n township circles. The embryo mix of white city (acoustic) Folk singer songwriters, hard-core rock refugees from the turn-tables of LM radio in the 60's & a smattering of township Jazz Ous, were being bred & borne by this unique Venda street sound.
In 1971 Julian, Abe & Lucky were already making plans to split the country for the UK. (They eventually left without Abe, in early 1976.)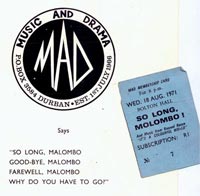 Another Malombo Farewell arranged by Kessie Govender MAD Company Durban - Goodwill Lounge 1972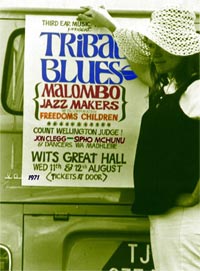 Tribal Blues Wits - Fran holds the Marketing - July 1971
Photo David Marks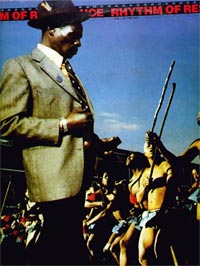 RHYTHM of RESISTANCE - No Pale-Male for Sale
Photo by Chris Austin Used Without Permission - This is not History this is Evidence?
In early 1971 I drove Julian's Malombo Jazz Makers down to join up with Ramsay MacKay's Freedom's Children in the Valley of a 1000 Hills. Ramsay wanted to work on his Orang Outang Suite with the Malombo sound that he had heard from the tapes.
Ken E Henson (Guitar), Colin Pratley (Drums), Brian Davidson (Vocals), Julian Bahula (Venda Drums & Percussion), Lucky Ranku (Guitar) & Abe Cindi (Flute & Penny Whistles) lived in an old farm house & rehearsed for what was to become Tribal Blues. Sean Bergen (Sax - Abstract Truth) also joined them later for a few Jazz Jam tunes. 3rd Ear Music presented the legendary concerts on the 12 & 13 August 1971, in association with NUSAS.
The shows featured Count Wellington Judge & The Soweto All Stars - a band of loose legends, if there ever was one - Barney Rachabane & Duke Makasi, (Saxes), Denis Mpala & George Tyefumani (Trumpets), Nelson Magwaza (Drums), Ernest Mothle (Bass) & Bucs Matiwane (Piano). Tribal Blues was also the first major concert appearance by a young Johnny Clegg & Sipho Mchunu, & their 32-nDlamu dance troupe, waMadhlebe.
All the while the tapes were running - & where possible, we took a lot of photos; Tony Campbell, Rodney Barnett (RIP) & myself. I introduced Davidson to our A&R friend Richard Sassoon who was hanging out with the alternative Folk freaks at the festivals & the odd township gig. Richard, formerly of TEAL, was the man who got us the Brian Finch deal with Asylum Records in 1974 & dared to issue the heavily banned 3rd Ear / Roger Lucey album, The Road Is Much Longer, in 1979.
By the end of 1974 Richard had joined Derek Hannan & Mike Oldfield at the newly formed WEA (Warner Electra Atlantic Label). He also met up with Ian & Linda Bernhardt in Mamelodi. Soon they had a recording deal with Atlantic. Peter Davidson's persistence (for which he is noted) was a contributing factor, & soon Malombo were invited (by Herbie Mann Jazz musician & Atlantic Record Producer) to the Montreux Jazz Festival. They also opened the New York Cosmos Soccer Stadium with The Great Pele - & Herbie Mann.
Nino Rivera recorded the reasonably successful 1975 Pele Pele album at VideoSound in Randburg. And although 3rd Ear Music was initially excluded from the commercial record deal WEA took the unusual step of promising us an over-ride & the co-publishing with Marimba Music (Ian & Linda Bernhardt /Phoenix Players Publishing). This was more than other labels had done for all the Folk 'n Jazz that Ben & Audrey had been handing over with monotonous regularity. It was sort of customary for 3rd Ear to be cut out by the mainstream labels in the 70's. The academics & researchers we could understand - Prof Dave Coplan's In Township Tonight & Virgin Records documentary, Rhythm of Resistance by Jeremy Marr, Chris Austin & Simon Draper. (Ex-South Africans & white, by the way).
Despite the assistance we gave these gentleman - & many other film makers, academics & news people, introducing them to the musicians, moving them around the townships, free of charge etc - we didn't mind not being credited. We were also paranoid if not completely stupid. The security police would monitor these sorts of things in London & New York. What I find strange, some 30 years later, is that not one of the musicians has ever been paid.
Rhythm of Resistance has been on the market since 1978 - LP, CD, Cassette, TV, Video now DVD. It must have been doing OK. We have tried for years to get royalties out of Virgin. One of the main themes of this documentary? Exploitation of Township musicians by the white racists of Africa. Do tell!
The fine words & good intentions of these Anti-A activists, academics & authors were genuine & appreciated as such. There were quite a number of gallant foreign word warriors & cultural commandos sweeping across the country post June 16th 1976. Rhythm of Resistance was one. Here's a fine post-scribed note from the Virgin Records 1978 LP sleeve by UK producers (ex-SAfricans) Chris Austin & Jeremy Marre:
"Resistance evokes images of guns & guerillas, the fight for freedom, yet there is nothing aggressive in this music. A contradiction? No, because resistance is more than a fight itself. It is also about staying human in the face of inhumanity...affirming life in the face of a rigid denial of it. Black South Africans seldom lament or sing the blues. (Ed's note: A reality that Doc Hugh Tracey was shot down for pointing out in the 50's & 60's. And we noted that only us white suburban Libs sang & listened to blooze!) They (black South Africans) show their superiority to an oppressive system by their joyfulness, their warmth & delight in living. Their music is vibrant & assertive, but gentle. Defiant without being bitter; it is resistance: a creative resistance that springs from a living musical culture."
When I first dared to demand royalties (in 1979 - credits & Market Café rental was not an issue for us) Simon Draper, by now a recognized wealthy South African music businessmen in exile & co-founder & managing director of Virgin Records, lambasted me in a letter & a telephone call from London. If it were up to me he scribbled & screamed, all SAfrican whites would have been removed from the Virgin Record's Film. They almost did a pretty good job.
On the album sleeve (see above), Virgin went so far as to super-impose a suited hostel dweller over the main photo of waMadhlebe nDlamu Zulu dancers. Chris Austin (ex-NUSAS, I hear) took the photo at Wemmer Hostel. And the leader of the banned band? Johnny Clegg!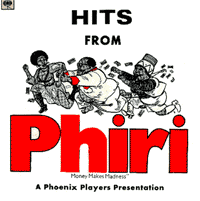 PHIRI music by Mackay Davashe, Cyril Magubane, Sophie Mgcina & Barney Simon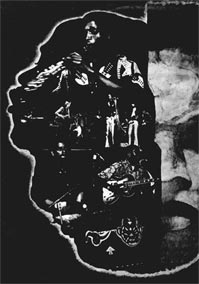 Tribal Blues Freedom's Children Malombo Afro Map
Photos Tony Campbell Design by Les & Leighton Mackie Sketch by John Meyer

Living in what many considered to be the back-side of the world, we didn't expect credit from foreign films & theses, but we certainly did from SAfrican record labels. Here's just one of many examples. In 1971 3rd Ear Music set up a record deal for the Township production of Phiri with GRC (Gallo Record Company) for Ian Bernhardt's Phoenix players. We introduced Barney Simon (RIP) & Ian to producer Allan McInnes; recording the run-of-show demos at the BMSC & signing over the rights to Mr. Galembo. 3rd Ear Music or Sound were never mentioned on the album or programme credits. Nor too were a few of the players or producer Allan McInnes. Oops sorry David, Don, Toma, Cocky, Corney...!

1976 - A week before 3rd Ear opened the Market Theatre Café the tragedy of June the 16th struck. SAfrica was to change forever. But we had to make other ends meet - re 3rd Ear Sound, Music & the Market Theatre. I started stringing (as sound operator) for foreign TV / News, CBS, WTN & ITN. Roger Harris (a freelance News Cameraman & Director) would often hire me, more especially in the flaming townships - being familiar with the back roads through my music connections. I knew the shortcuts & how to avoid roadblocks; vital for news teams.

Roger Harris also free-lanced for Pretoria based Alex Learmont & George Lindsay Films & they were looking for SAfrican musicians to film. I suggested Malombo to George & introduced him to Davidson & Sassoon. George & Roger were cordially invited to a Mamelodi festival; they were duly impressed & immediately set about looking for sponsors.

Originally, I had hoped for the Malombo film to be made at the Market Theatre. However we had already booked the Wits Great Hall - as 3rd Ear had done every year since 1970; even if we weren't too sure what we would produce. Wits University was one of the very few venues in the country where we could present mixed bands & invite audiences of all classes, colours & cultures. As such, the Great Hall (& later The Box Theatre) were in demand so they had to be booked almost a year in advance & through one of the student bodies.

We usually worked with NUSAS (or Aquarius - the cultural wing of the local SRC). Tribal Blues, Music For Africa & The Free Peoples Concerts - where Township & Suburb could meet - were arranged with ordinary civilian student leaders; many of whom went onto become latter-day luminaries in government & the media; some were chased into exile. The usual NUSAS / 3rd Ear team was Glen Moss, Steve Friedman, Stephen Clingman, Steve Sack, Dave 'Stan' Dison, Clive Cope, Nick Shears, Jimi Lamberis & a few others. And then there was (Major) Craig Williamson - but him we'd rather forget; at least until I get to that chapter. He's almost a whole weird book of his own. One that I certainly will not be writing. (Williamson has been rightly demortalized in Roger Lucey's rock piece - Spies Eyes!)

This particular Malombo Concert in the Great Hall, 19th & 20th July 1976, had been pre-booked & arranged (with Glen Moss's SRC I think) - so the Lindsay / Harris documentary was added to the occasion. Besides, the Market Café only seated 75 people & the Great Hall seated & standing about 2,000 plus. Both nights were full. (Sold Out would not be apt, seeing as how so many of the audience wouldn't or couldn't pay). Despite the times, Malombo were a great success. But we have never seen the film. Did the SAB sponsor it?
PHILIP TABANE & DAVID MARKS - Market Theatre 2004
Photo Arabi Motsheko
Marks Mixing Malombo at Market - a sound 30 years

3rd Ear's habit of recording every show direct from our home-made 3rd Ear Sound desk onto the 2 track Ferogrqaph & later onto a ReVox, often led to much financial angst at home; to buy bread or tape? So more often than not Don Williamson (RIP) & I would scrounge around commercial recording studios & even the SABC on occasion, just to pick up the floored edited magnetic-tape off-cuts. Nino Rivera & VideoSound manager Angus Anderson would also often help us out with old reels off-cut tape; we'd then spend hours splicing old tape together; much of the Hidden Years Archive is recorded on that kind of tape. Often Angus & main studio engineer, John Lindeman, would kindly look the other way while Nino would sneak us into that amazing state-of-the art facility at midnight to clean up, & once or twice even over-dub a live festival event that we had recorded; the late Henry Sithole's Drive, Spirit's Rejoice, Abdullah Ibrahim & even poet Rod McKuen.

Only this time, because of the filming of the Malombo Wits concerts, we had the luxury of a budget & clean virgin tape. We could record at 15 ips - on one side. The Malombo CDR copies Live @ Wits 1976 (HY 528A) are from those analogue recordings. We hope one day to digitize them properly & issue them on CD & DVD. Perhaps find the Lindsay / Harris Film?

(To be continued) See The Township Years - History or Evidence?

David Marks The Hidden Years Archive Project 3rd Ear Music Durban KwaZulu-Natal (P)© 2004 The Hidden Years Story (Penguin Books) - Draft Copy Only

3rd Ear Music (Pty) Ltd The HIDDEN YEARS MUSIC ARCHIVE PROJECT


3rd Ear Music Company est. 1969 (Pty)Ltd.

P.O.Box 50633
Musgrave 4062
Durban
KwaZulu-Natal
South Africa
email: [email protected]

The Contents of this Letter/Fax/eMail do not constitute a contract & the views expressed herein are not necessarily those of 3rd Ear Musicians & Funders
All Material (p)© 1969 - 2004 David Marks / 3rd Ear Music (Pty) Ltd reg: 89/06695/07

If you have any comments about these people, please email us.