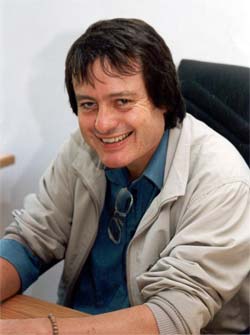 Jannie Hofmeyr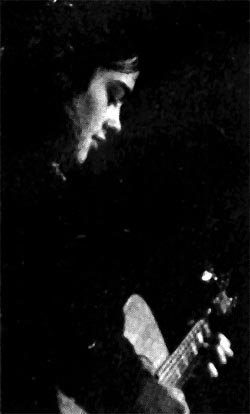 Jannie Hofmeyr Natal Folk Festival 1972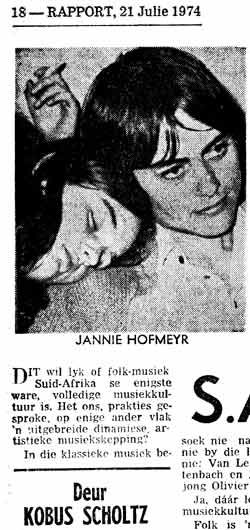 Jannie & Sheila Hofmeyr 1974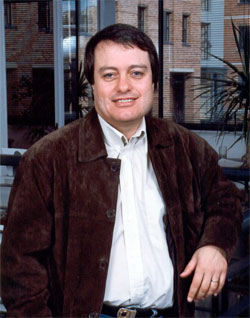 Jannie Hofmeyr 2002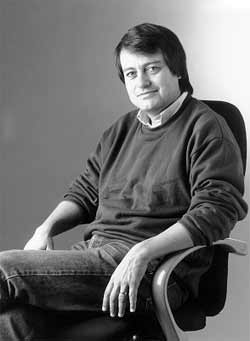 Jannie Hofmeyr 2002

So Far So Good! That is Jan & Sheila Hofmeyr's Mantra. What has happened to Jannie Hofmeyr? we get asked frequently. Herewith then is a partial and updated biog - it doesn't say much about his words and music - but the forthcoming Hidden Years CDR will speak for itself: Jan is semi-retired, working on a part-time basis as a consultant Jan has four children - oldest 26, youngest 16...and he's still together with Sheila - with whom he often recorded and performed. After 34 years they are still together and going strong and they live in the fairest Cape. Jan travels a lot - around the world five to six times a year, but every time he returns home, he becomes more convinced that there is no better country in the world in which to live. Jan & Sheila have two grandchildren.
We suspect that like most of us, Jan still pulls out the old 6 strings and moves on his rocking chair in between his daily walks on Table Mountain (which he hopes will be more frequent) Jan & Sheila count their blessings with claim that they have been so lucky. The biog / CV below WILL SHOW that Jan has made his own luck.
'So far so good'.

So where has he been since enthralling thousands with his music?


3rd Ear Music & The Hidden Years Archive have been working on Jannie Hofmeyr's archived recordings for quite a number of years. Despite his amazing songs & his 'underground' popularity – or perhaps rather because of it - Jannie was just too outspoken to have his music accepted by the commercial record industry or the public broadcaster in the 1970's. (Not that he tried too hard – he was just too laid-back & never pushed or promoted himself as pop-star or a performer. Jan's words & music were just too honest & natural & ever-lasting, to fit into the plastic world of instant pop.) He met the fate that befell creative artistes who dared to criticize, write or sing out about social issues of the time. As record collector, writer & radio presenter Richard Haslop (Roots to Fruits, SAfm) notes, Jannie is certainly one of the finest SAfrican singer-songwriter guitarists ever. 3rd Ear Music is honoured to have been part of documenting his remarkable work – some 60 songs recorded at festivals, clubs & concerts between 1970 & 1980.

Although we've said this many times before, since the announcement of our research grant recently, we will make every effort to have Dr Jan Hofmeyr's words & music available on CDR soon.
---
Informal CV
Jan H Hofmeyr (Ph.D.) graduated from the University of Cape Town with a doctorate in the psychology of religious belief formation in 1979. He taught in the Dept of Religious Studies at UCT from 1981-89.
In the mid- 1980's Jan was active in South African politics. As a political office bearer for a progressive South African political organization, he was among early white South Africans to make public contact with the ANC while it was still a banned.
While involved in politics, Jan began consulting in political survey research. In this capacity he assisted the Investor Responsibility Research Center (Washington DC) in a large scale project to evaluate the impact of sanctions on white South African political behaviour.
In 1986 Jan developed a theory of commitment and conversion which later became 'The Conversion Model'. The Conversion Model measures the commitment of people to their current choices and their closeness to conversion no matter what the market.
The Conversion Model was first applied commercially to banking in South Africa in 1989. Since then it has been applied in over 300 product categories in over 4500 projects in over 80 countries. The CM is the most widely used customer equity measure in the world, and has been or is currently used by 20 of the 25 most valuable brands in the world.
As developer of the Conversion Model, Jan has worked with leading companies around the world. These include: The Coca-Cola Company, Levi Strauss & Co., Philip Morris, Nokia, American Express, Qantas, and Procter & Gamble, IBM, Intel, Hewlett Packard, etc. He has worked with packaged goods, media, travel, telecommunications, insurance, financial companies, and IT companies.
In 1994, Jan did the political research for the ANC in South Africa's first democratic election. As developer of the Conversion Model, Jan directed the ANC's election research at Research Surveys (Pty) Ltd. The ANC has continued to use The Conversion Model in all subsequent elections with Jan as a director of that research.
Jan is a frequent speaker at conferences and seminars internationally. In 1992 he was a guest lecturer at the Graduate School of Business, University of Chicago where he taught a course on brand equity management.
Jan has published articles in both academic and trade journals on a wide range of topics. These include the social and psychological impacts of religion, political and ideological analysis, voter behaviour, and marketing. His articles have been published in South Africa, Europe, and North America.
In 1989 Jan and Butch Rice won the best paper award at the annual convention of the South African Marketing Research Association. In 1999 he and Butch Rice won the best paper award at the annual ESOMAR convention in Paris. The ESOMAR convention is the largest regular gathering of marketing researchers in the world.
Jan has authored or co-authored three books - a pot-boiler called The Cynics Guide to the Stock Exchange, an analysis of the relationship between religion and politics called Religion, Intergroup Relations, and Social Change in South Africa; and Commitment-led Marketing, a book about the Conversion Model published by John Wiley & Sons in the UK and co-authored by Butch Rice.
Jan is the CEO of the Customer Equity Company, based in Cape Town, South Africa. The Customer Equity Company consults to and supports the Conversion Model business in more than 70 countries worldwide. The Conversion Model is the world's leading and most widely used measure of commitment.