The Boys Band
Feel free to comment - dates & facts may need tweaking
Witbank News 1961
The Boys Band Witbank Moth Hall Session 1963
l-r Johnny Kambouris, Nick Rowlands, Peter Farnham & David Marks
The Boys ST Margaret's Church Hall Session – Witbank 1962
l-r Cecil Patterson, David Marks, Peter Farnham, Jannie Hank Bee Maree & Johnny Kambouris (Photo – Mervyn Van Rooyen)
Peter Sprint Farnham
Cecil Paterson
Jannie 'Hank Bee' Maree
Johnny Kambouris
Witbank Technical College Cadet Band 1962 David Marks Centre Jannie Maree (Lance Corporal Bugler) 2nd row right. Mervyn Van Rooyen (Sergeant Trumpeter) 1st Row right. Note the Rock String Ties – I thought it would be cool to substitute the old school tie tradition with a colourful braid & high shorts. Some say it cost us the Eastern Transvaal band competition – won by Belfast High.
David Marks
The Boys Band ST Margaret's Church Hall Session – Witbank 1962 l-r Cecil Patterson, David Marks, Peter Farnham, Jannie Hank Bee Maree & Johnny Kambouris – Note the 2 Amp PA (Photo – Mervyn Van Rooyen)
The Boys Band Witbank Moth Hall – the last session 1964
DEAN 4 1963 – basis of the Jamtarrie's Mine Rock Band – BRUCE McKEWAN (Drums), BILLY ASHCROFT (Lead Guitar) DEAN (Vocals) & TOM DOOLEY (Vocals & Guitar)
Headline Die Ster, March 1967 warning SAfrica that Folk singing will eventually lead to a communist take-over. So it was written!
Free Peoples Concert, Wits 1972 – Johnny Clegg, Sipho Mchunu & WaMadlebe
Studs Turkel & Jeremy Taylor Reunion, Chicago 2005
Tom Dooley Guitarist, humorist, humanitarian Welkom 1963
Ian Bubb UK Rock & Stones Fan with my Painted 1960 Beleni Guitar, St Helena Gold Mine 1964
Ray Watson on his Savannah Northern Botswana 2000 - still smiling & singing!
The Boys Band Jive, Rock & Boppers Witbank Moth Hall Session 1964
The Boys Band Witbank – 1961 to 1964 Founder & leader Peter Sprint Farnham attended our opposition high school, Witbank Hertzog High. In 1961 he was considered the second fastest under-16 100-yard sprinter in the world. The record holder was another SAfrican, Paul The Dash Nash. Both did the sprint in less than 10 seconds flat. The dashing good-looking Farnham was indeed a local hero in Witbank & possibly the reason why our sessions were always so packed with faithful pretty girl fans & so many athletic looking boys. Peter's dad was the town's Judge.
The Boys Band had another good looking Oke - a Cliff Richard look alike, tall dark & handsome vocalist, Cecil Paterson; he left the band after a year to become rich & famous. We never heard from him again. (Although we were told, some 40 years later, that Cecil was still singing & performing somewhere in Durban.)
Jannie 'Hank Bee' Maree was our lead guitarist – our own Hank B. Marvin in every department, sound & chord – except for the looks… well almost. Bespectacled, brilliant, belligerent, spoilt & rotund, Jannie was an Afrikaner pioneer in Rock & Roll. An enigma indeed! Especially in early 60's Witbank. Always first in class, Jannie was the sort of guy that hung around with the skinny smoking gang as a decoy; to detract the attention of the weighty 4-eyed chaperone from the girl you aimed to kiss at the Church Hall sessions during the Orange Juice, Tea & biscuit breaks.
Jannie was one of those hidden talents who wilted under the pressure of pleasure. He could play Hank B Marvin solos better than Hank B Marvin – or so we all thought; but come the day & the solo & Jannie would just have to fluff the odd note & pound a missed chord. But he was a genius. Jannie Maree hand-carved a duplicate Hank B. Marvin Fender Stratocastor in the School workshop for himself & fashioned me a white 4-string Fender Bass as well - from magazine pictures of Jet Harris's Bass.
Johnny Kambouris was the Witbank village Drummer with merchant connections & he too came from our opposition school – Hertzog High. Johnny was suave & cool & one of those drummists who could whack out a back beat without one strand or streak of his shinny black Greek hair moving out of place.
(Both Jannie & Johnny were in their respective school Cadet (Brass & Field) Bands. In 1962 I was appointed Sergeant Drum Major (Band Leader) for Witbank Technical College – in between Rock sessions & Rugby, a combined Witbank Schools Cadet Band was formed to parade through the streets of the town.)
Nick Killian (Rowlands) replaced Jannie in the Boys Band in 1963 – a time when Pete decided to move us out of The Shadows & into the Beatles. Great move. Nick was working at a Steel Mill & Jannie got very hurt at being dropped from the A team band. But it was only Rock 'n Roll! Nick joined Lee Men Limited in Durban around 1967 & became a name in the 70's as Nick Rowlands & Birds of a Feather - one of Clive Calder & Ralph Simon's many bands in the 1970's. Nick played left hand - a real lead guitar player with a real Vox AC30 amplifier & a real Fender Strat.
1963 I was working underground on the East Rand Gold Mines & bought myself a solid body Hofner Bass, an SAR railway waistcoat & a BMW (motorcycle) on the never-never. With Bass on my back I'd do the Springs Journey every Session Saturday after work. I stayed with the Le Roux's – my girl Lucile's place. We loved those dances; despite the distances – between Springs in the East Rand & Witbank.
Peter Farnham did the singing & I tried my hand at harmonies after Cecil departed – but as some say we were more of a live Witbank instrumental session band than a 3 part harmonious Liverpool outfit. Back then the general rule-of-thumb was that one was appointed into the position of Bass player - usually because you couldn't play the guitar past 3 chords & because the Bass Man was often the one with the van – or the transport & organiser; the duty dude with access to resources such as church halls & poster paint.
Bassists were also usually the sound person with a Busker's know-how of how best to hot-wire or connect two microphones & 3 guitars into one single guitar amplifier.
The rhythm Guitarist was the one who worked out all the songs & was usually the guy who had access to some girls & money – from an uncle or an aunt who owned pre-GI Blues Elvis Presley & a few Cliff or Fats Domino records.
The drummer kept the girls together (& more often than not the band apart with the racket) & he also attracted groupies while the lead guitarists just kept coming & going; more especially if they didn't have a hand in posters or recycled cardboard. Lead guitarists in my experience also never, ever learned to drive an automobile.
Bass guitarists usually ended up becoming sound engineers & record producers in the 80's. (I have a list of 30) but my own ambitions, as a songwriter rather than a singer, were getting the better of me.
I heard the future & it was Sound. It wasn't in the 4-string plank I was spanking. Teenage love songs didn't work that way for me! I also found it a whole lot easier, & far more fun, to carve out my own lyrics with the 3 chords I'd learnt on my One Pound Fifty BELINI (Gallotone) Guitar, than it was to figure out the session songs from the top-40. In English SAfrica, nobody that we knew of or heard on LM or Springbok Radio was playing his or her own songs. You wouldn't get gigs.
Between SAfrican Rock & a Hard Space – Covers - Careful What & Where you Sing
There was no such thing as original English SAfrican Rock & Roll in the 50's & 60's – other than the occasional American sounding pop tune. The bands that I worked in would listen to but not consider doing my wordy 'folk' feel songs. Bob Dylan hadn't come into the picture in 1962 / 64 but after being turned on by Jeremy Taylor's wordy ballads (at the Rand Easter Show in 1961) I just knew that there was a place for words in Rock 'n Roll – despite what Pythagoras had to say, 3000 years ago, about mixing words with music. Dangerous!
I loved Roy Malan doing Little Richard on his yellow Uke (See Pretoria Bugle Boys 1958 / Roy's Ukulele Hatfield Primary) - Tuti Fruti or A Wop Bop a Loo Bop a Whop Boom Bang made far more sense to me & my rock friends than anything we could understand.
Somehow I preferred the word of Lonnie Donnegan's Deep South Negro Folk Songs (I didn't know where they come from until years later) or a lyrical Tommy Steele show tune or two. (Although one would never let the Boys in the bands know you were listening to that sort of stuff.) And then Sam Cooke's Chain Gang – Zap! It pushed me over the edge in 1962. So powerful was this Rock I thought, that with a few well placed words neatly tied up in a couple of tuneful chords through the power of sound (a couple of Vox AC 30's) we would conquer the world & free mankind from slavery forever. Especially those folk down at the bus rank opposite Costa's Café in Witbank. (Where I shook shakes on a Saturday Morning & spent all my money in the Juke listening to Sam Cooke, Roy Orbison & Elvis Presley.)
But it was songs like Jeremy's Ag Pleez Deddy, The Lift Girl's Lament, the Ballad of The Northern Suburbs & Hennie Von Saracen that really turned me on. And pretty soon I was pouring out tunes about Gold miners & Diamond Diggers, 5 Iron Southern Suburbs Pinball Legends & Coal Mine disasters. But the boys in the bands I was in, for obvious social session & radio play reasons, wouldn't listen. This wasn't easy for me to accept; I usually got a good response from the odd original song that I did do solo. And I certainly was no singer – so I figured it must have been the songs.
After the Boys Band disbanded, late 1964, I got transferred down to St. Helena Gold Mine, Welkom, in the Free State & joined the Jamtarries – a great local weekend Rock band of underground Gold Miners – Billy Ashcroft (Lead Guitar), Tom Dooley (Rhythm Guitar), Bruce McKewan (Drums) & Dean (Vocals.) As with The Boy's Band the JT's also started by stepping out in the Shadows of Cliff Richard, Elvis & the Beatles.
The Jamtarrie's band was the official backing band for the weekly Goldfields Mine Variety Concerts. We played all over the States. Between Variety sets & band changeovers, I would sometimes be invited to do two or three acoustic guitar-picking tunes on my Nylon strung Levin. I would start my solo song-set with the obligatory Donovan tune (Dylan hadn't been invented yet - the early 60's OFS) & some or another familiar crowd favourite – usually a medley of old Afrikaans Cape Malay folk songs – and then into Mountains of Men or Fairy Gold & on one occasion, The Coalbrook Mine Disaster.
Mountains of Men had reached number 17 on the LM Radio charts while I was working underground at Saint Helena in 1966. Mainstream Goldfields wasn't entirely LM Radio country, that's for sure, but Mountains soon became a favourite in those Mine Variety Concerts. It was the first time I ever signed autographs; Tom Dooley was an expert hand at signing those programmes & pink autograph books and advised me not to stand on ceremony; just sign. I spent hours underground & in between my surface song-writing sessions, perfecting a fancy unique revolting rocker's signature. Throttle Jockey I scribbled. After all we had our own pretty crimplene skirted groupies to impress. Fame at last!
Gold mining town audiences, on a Saturday night - although usually polite & great fun at the start of a session or show - didn't always remain like that. If the concert crowds (or our St. Helena teams) lost the Rugby that day - and Orange Free Stators were sort of sensitive to these social sporting issues, especially over a few fruity Brandies & Cokes - one would never know what to expect. What if they ventured to closely & listened to a tune that they'd never heard before, mentioning Men slaving & Men working? I wasn't naïve to the politics of paranoia in and around South Africa at the time. Self-censorship was taken for granted.
While playing my own songs solo, sans the bands, before I joined & after I'd left the Jamtarrie Variety Conecrts, a polite talking too was given on a few occasions. Why do you sing songs that could cause agitation? South African men shouldn't do those sort of irresponsible things in public. You should sing Pat Boone, Johnny Mathis or more Ricky Nelson tunes. You don't need to sing or say silly things on behalf of the Natives; you're a nice young white gold mining male of rugby & reason! And besides they have their own music & we have ours. This didn't always inspire a pleasant evenings entertainment, when a gang of bearded giants would storm out loudly, giving the folk singer the finger as they swayed past the stage murmuring Moffie, or Communist, or some such refined remark.
All that stuff had to be taken into consideration when trying to get a band to play your wordy folksy ballads. And whether you thought about it out loud or not, self-censorship prevailed even back then & it made one think about playing the music or singing the song - before a note was wrote or sang. And as I soon discovered, there was always a suit at the top of a Record label pile or lurking in the SABC library calling the tune anyway. (Cecile Pracher (RIP) – FREEMUSE)
This self-censoring thing spilled over into the mainstream pop market where compromise & caution had become a way of life...can't sing this...can't play that. It's no wonder the world couldn't listen to music from South Africa. Taking a break from The Boys Band story – herewith a brief (?) preacher break:
The only original SAfrican music of note – on record or in concert – came from white & brown Afrikaners & black Africans; white English African bands of Eurocentric decent singing original songs were virtually unheard of on radio or record. The rare American sounding original SAfrican pop piece only proved the rule. South African Music publishers were set-up to collect vast amounts of foreign royalties in this territory. And to retain those lucrative foreign catalogues, local commercial record labels & music publishers would insist that SAfrican pop & rock musicians' record covers - the international quotas. SAfrican Rock music & musicians were not going anywhere anyway. With a limited market (75th smallest in the world at the time) it was not worth investing in local music. Talk about cultural genocide? 2005 & this inherited legacy is clearly seen & heard in the abuse & exploitation of young people in Pop Idols & the commercial cabaret & band scene in general. 10 years after liberation & still we do not hear a note of indigenous SAfrican music – traditional or contemporary - at any foreign tourist Holiday Hotel in South Africa, unless there's a conference. Strange?
No matter that some of the less aware but overtly PC among us today may deny this – and it's nothing that needs proof at this point - but we sometimes get the feeling that SAfrica's vibrant & colourful hidden history is purposely being avoided; and the reasons are obvious.
Firstly – and I repeat, our Hidden Years Music Archive Project is NOT a witch-hunt; no regrets or recriminations; but there are a number of radio control freaks & record industry suits, who seem to have a lot more to answer for than we believe is important; and maybe something to hide? Whatever – drop it! We certainly aren't going to get past you or the Beemers that front the BEE by digging our roots. It has little to do with nostalgia – because that would presume that we've all heard the music before & know the musicians & can sell the stories; that's what makes the 2nd reason all the more illuminating.
It is simply non-cost effective to the catalogued nostalgia industry to sink corporate cash, media time & advertising space into education & information. The youth are brought up (or down) on the need-to-know basis; a careful measured diet of loud abusive miss-information in skin tights, hips, lips & tits. The last thing the catalogue or nostalgia industry needs is some old experienced elder of my ilk turning the young off a segregated hit target market mainstream & damming up a mass of money to be made. Potential product addicts & commodity junkies need to be force-fed the illusion of a material & PC driven life-style.
For me, these omissions & denials are not unlike the fear & paranoia that the old political masters suffered. For politics then, read economics now. If this assumption weren't true (paranoia? - sure if you can afford to label me as such) - why after 10 years would we have no bottom-up roots music development or transformation programmes in place? Not a minute's airtime or a centimetre column space that deals with basic hidden music history – outside of what the broadcasters & media are force-fed by the commercial record industry? More strange! There are students & children in Norway, Denmark, Germany and Sweden forming iNgoma dance troupes, iSicathemiya groups & singing songs in Afrikaans. Johnny Clegg & Sipho Mchunu ventured into that cross-cultural mind-field in 1970 & we've heard nothing of any collaboration since Paul Simon's Gracelands. Shouldn't this have something to do with so-called Local content, rather than have us believe that by selling more local product we would further the cause of art & culture? If it hasn't worked now, after all these years, it won't work through legislation. That's for sure. But who other than the corporate controlled media is listening?
What we have now is ICASA & a handful of professional recording musicians, insisting that Radio & TV be forced to programme 50% so-called local content. I say it should, by now be 100% local – but it would have had to grow from the bottom up. It hasn't. What they gonna do? Put us in camps & force-feed us Harlem hip-hop & multi-track American Kwaito?
As things now stand, who benefits from this ill-advised local content farce? The commercial recording industry – again? They made their fortunes off the back of the international cultural boycott at our (indigenous musicians') expense… and they are going to do it again. This wouldn't be a problem… they are free to do what they like with their profits; however given the situation in South Africa these past 350 years, would investment in local music education, information, from street level & grass roots not be the fairest & most logical way to go? Can we really blame the handful of pro local content musicians, the broadcast programmers & the media hacks for insisting that people be forced to hear what the commercial industry wants to sell? For music education South Africa has no more than 10 music books that could be used as textbooks. 7 of these were written & researched by foreigners – in 350 years? Those in control still know more about Harlem, Hollywood & New York than they do about Hillbrow, Soweto or Sophiatown.
Could we imagine for a moment what it would be like to visit Mali, Greece or Zimbabwe & not hear a note of the indigenous music in any hotel, club or on radio to which tourists have access? Wouldn't we think it odd? I'm not suggesting that every hotel in Durban should present indigenous music. But surely, somewhere in a tourist city of this size - be it on Radio, Theatre, or in clubs, couldn't a tourist expect to hear musicians singing about, or praising the area (and the country) in which they work, live & breath, any night of the week? Is something wrong or what?
But back to The Boys Band & Other Banned Stories
Jeremy Taylor was perhaps the first SAfrican English-speaker of pale Euro decent to record an LP of original songs, back in 1962. Banned for airplay by the SABC.
Cabaret rock 'n pop bands –The Bats, Dominoes, A-Cads & Dickie Loader & The Blue Jeans, often included original songs in their club & concert sets; they also had some local chart success with the odd self-penned pop song. But by and large the commercial industry's hold on local pale English cover bands would not let go. It would be some years before the cross-cultural experiments between the segregated cultures, would take root. And 3rd Ear Music is proud & privileged to have played a major role in that process. (See Malombo – Township Blues Crews and Look Up Brother / Clive Calder / Hawk Story.
Johnny Kongos, Davey James & Freedom's Children recorded original albums pre-1970 & Nick Taylor's 1967 LP of South African Song writers, even found its way, by request, into the Robben Island Music Library. This RCA album, Shiny Shiny Fairy Gold (the title of one of my early 60's songs) included tunes by Zimbabwean, John Edmond, new South African Mike Sears and myself. They were songs about South Africa, the bush & the mines, in English - a rarity indeed for those times. Unfortunately Mountains of Men – my tune about the so-called Gold Mine Dumps – was scratched out with a nail (or nail-file?) by the authorities; deemed undesirable for political detainees. (See Arne Leitz)
It wasn't until 1969 / 1970, when Ben Segal's 3rd Ear Music inspired singer-songwriters began to make records featuring local musicians recording their own experiences & putting it to music. Despite the few (original English) LPs of songs recorded by these popular concert & club bands, not one would get radio (SABC) play.
Mike Dickman - Yesterday's Papers (3rd Ear Music 1969), Abstract Truth - Silver Trees (EMI 1970), Freedom's Children - Astra (EMI 1969), Paul Clingman - Morning on The Line (Satbel 1973) & Brian Finch - Bringing Back The Good Times – were simply ignored.
See Clive Calder productions.
These musicians would fill concerts, clubs & festivals through word of mouth, silk-screened hand-made posters & the odd Hermes typewritten & hand sketched newsletter – no airplay.
Gerald McGrath the CEO of TEAL / RCA records in South Africa at the time was particularly adamant that South Africans didn't have the ability or the talent to compete (his words not mine) with the foreign pop song onslaught; and for every track on an LP that wasn't a catalogue cover, the South African publishers would be loosing revenue on sales & airplay, he once warned. The few original SAfrican albums that there were, just added fuel to his fury - I told you so McGrath would rant... a pathetic 200 or 250 units sold. He was soon to be proved right for all the wrong reasons.
3rd Ear Music - formed 1969 by Ben Segal & TEAL publisher Audrey Smith (I joined officially in 1970) had a mission to produce, promote & protect SAfrican songs – regardless of class, creed, colour or chord chart. Gerald McGrath was furious & responded with a threatening note to record labels & the SABC – avoid 3rd Ear Music. And he won!
Popular club & concert band, 4 Jacks & A Jill, had an international hit with one of my early gold mining songs in the 60's – Master Jack. Today, strangely, it remains the most successful exported locally written, recorded & produced song; yet record labels insisted that signed bands should record foreign covers only. 4 Jacks followed MJ with 2 more Miner hits (Mr. Nico & Hey Mister – the Limehill Song) into the USA Billboard hot 100 in 1968.
Meanwhile back at the St. Helena Mine Hostel in 1964, my underground buddies Ray Watson & John Booth – as well as a number of the East Rand learner miners who'd been transferred down to St. Helena – grew to appreciate the original songs. Songs about Barberton, the Vaal River & gold mine dumps were popular with my gold mine friends & immigrants. One such foreigner claimed, some years before Master Jack became a hit, that he could see my songs being well accepted where he came from. Ian Bubb was a quietly raucous Englishman, a Rolling Stones fanatic & a mine-Geologist. With all this disparate opinion on the ground (& underground, true) the songs could be sung & accepted anywhere, without offending anyone. So despite my vocal limitations I began singing out loud. Enter the Sound Systems.
The one good friend who did encourage me & pushed the songs Big Mac (Neil McCallum) – Mac introduced us Miners to The Troubadour & the Folk Scene in Johannesburg 1965 - stayed mining up at Grootvlei in Springs. So down in Welkom, Ray would act like an ad hoc manager & somewhere in the middle of an inebriated mining sing along – after rugby or cricket - he'd shout out – hey David play Mountains of Men or Fairygold. And sometimes our favourite import tunes by American protest writer Phil Ochs – real wordy journalist type stuff that we'd brought down from those dens of iniquity - There But For Fortune, I Ain't Marching Anymore, The Ballad of Medgar Evers & others. Listen to this, Ray would encourage everybody, cracking another bottle & singing along lustily… there but for fortune go you, you or I; you or I.
The Silent Revolution? Thanks John Kane-Berman for the book of the same name.
Commercial music cynics would say that the Gold Miners were either too far-gone to notice - not capable of enjoying those wordy ballads? Are we perhaps talking of genuine or potential revolting bleeding heart liberals here… the 60's Gold Mines in the Orange Free State?? Other than the occasional ultra conservative advice about the dangers of songs with strong words – as if anybody was really listening - nobody on the mines ever punched us out on the content. So what was this problem that Record companies, radio compilers & pop bands seem to have had about SAfrican songs in English? They were making us feel far more important than we really were. Great for PC credentials as the years to revolution spun on.
Those songs I wrote were not written to piss anybody off. To have them recorded was not the main objective either – most of the songs dealt with issues that only a small circle of people could relate too anyway – to sing them for the fun of it was all that mattered! Nothing was as serious as this sort of hindsight wordage seems to be...we were just gliding!
So, given this genuine & relatively popular street level gold mine-village & small town support, one would have thought (in hindsight) that the music media would have been far more receptive to indigenous culture than they were… and remain. Music has never been seen or heard as a human right here; it was never part of our cultural upbringing; it remains a commercial commodity or a pop idol product only. So what upsets me is that I was denied access to cultures & music & musicians that I, and many like me - my straight-laced rugger-bugger underground gold mining comrades included - would easily have absorbed & related to. Ray Watson was an exception; a 3rd generation white Tswana who could speak the indigenous language before he learnt English. With that African cultural background came a broader universal appreciation & unquestionable acceptance of other traditions.
The point is, with a level playing field & the reaction on the ground (as it were), South African songs & singers could easily have made the cross-cultural grade – relatively speaking... and this country would have been a better place for it. What happened is now history – and the best we could do perhaps, is to not to repeat it. Incidentally, for the music materialists it would also have meant a wider African audience & perhaps far bigger unit sales as well. The politics of fear was a factor, which seemed to force some Captains of industry to leave the ship. Not a brave move considering that they could have helped establish a unique & viable SAfrican popular music culture. To quote from the Sunday Times 13th Aug 1994.
SUNDAY TIMES EDITORIAL, August 13th 1995 "...foremost among (the reasons for newspapers not fulfilling their primary function of informing the public) has been the failure of the industry - or, at least the English-language newspaper industry - to train, nurture & reward journalists. English South Africa remains dominated by a mining man's culture that disdains intellectual life. The poor quality of Newspapers is accompanied by poor theatre audiences and poor support for the arts in general, and the question must be asked whether English South Africa has not been intellectually crippled by the emigration of so many of its finest sons & daughters during the apartheid years...."
I can't help but wonder that if 4 Jacks & A Jill could do it with a nebulous little 4-chord English versed miner ditty, what would have other talented SAfrican songwriters, bands & producers achieved? Many forced into exile & eventually onto international success. They could have easily carved out a niche & laid some foundations for SAfrican music today.
Old Roots & New Directions
Hearing Bob Dylan in 1966 & the Beatles (that Pete Farnham had turned us onto in 1963) was the key to our freedom. Playing in bands, we too soon learnt that not all American songs were crafted like Da Vinci's strokes in perfect multi-track studio productions.
My tour of the USA in 1969 made me aware that the American bands were constituted of ordinary young (and older) people the same as us. No more or less talented or diverse in our cultures, traditions & upbringing. Just out there doing what they believed in & having a great time doing it. The US & UK music infrastructure created support - if unintentionally & in the free spirit of rock ' roll – for even the most bizarre & revolting rock rebels; and nowhere on earth do you get to notice the human extremes as you do in mainstream America… especially in 1969 at the height of the Vietnam conflict, Woodstock, Rock 'n Roll, freedom fighters, religious fundamentalists, the KKK, Jazz & R&B. Back home in SAfrica, despite the packed weekend sessions – in suburban garage or township Shebeens & Stokvels throughout the country – the commercial mainstream record industry & the State's radio controlled Station Masters, insisted that they knew what the people wanted & that we should produce & record whatever they think we needed, or be-damned. Still stuck in the material groove of an inherited mining-man's culture today?
So why in the face of this cover-version demand from radio, records & audience would one persist with & insist on writing songs that, as the producers would say, nobody cares for or knows & who wants too anyway? The answer, for me, was simple.
Without thinking too hard about it back then, it just seemed easier to write my own words & create my own tunes (as close as dammit without actually stealing any IP) than it was to go through the hassle of learning those wonderfully sweet Lennon & McCartney choruses & chords that we so loved or to try & remember all those words? And who would listen?
The Coffee Bars became my hunting ground from 1965 - although I carried on playing bass for cover bands in Johannesburg, Durban & Welkom for rent money; & besides I used to love those weird, strange & often tough Rock sessions. The Coffee Bars and Folk Festivals – of which there were many – were the only regular outlet for the SAfrican songs. I didn't have to be a great dexterous player or feel in the slightest bit intimidate by the wonders of John, Paul, George or Dylan…
Big Mac & David … Now & Then – Hair today & yesterday. 1966 Troubadour Johannesburg & the 2005 set-up in Durban. (Photos by Manfred Lindner & Fran Marks)
The Silent Revolution? (John Kane-Berman's title… from his book of the same name)
It may be cold comfort or it may be a little over the top to even vaguely equate what revolting musicians did in terms of the struggle. Some would (and do) argue that to even remotely consider or compare what musicians suffered compared with their comrades-in-arms is an insult. But here's the thing. In spite of being ignored & sometimes even banned by the State & the SABC & avoided by the mainstream record industry & media at times, I believe that SAfrican songs & songwriters, the bands & the groups – from Maskandi to Jazz, nDlamu to Rock, the folk music of our time – eventually did help to contribute, however small, to what we are blessed with in SAfrica today. Not so you say?
The Curious Beauty of African Music is that it uplifts as it tells a sad tale. You my be poor, you may have only a ramshackle house, you may have lost your job, but song gives you hope. African Music is often about aspirations of African people, and it can ignite the political resolve of those who might otherwise be indifferent to politics. One merely has to witness the infectious singing at rallies. Politics can be strengthened by music, but music has a potency that defies politics
(Nelson Mandela)
The words & the music became more than just another escape from the daily bizarre routine & reality of South Africa from the 60's into the 70's & 80's – even if we didn't take ourselves as seriously as the authorities did. What is known, and just as the political masters' feared, is that the hearts & minds of thousands of people who were lucky enough to get tied up in the 3 chord folk process & those who listened to the words or followed the muse & music into the Coffee Bars, the Folk festivals, the Free Peoples Concerts & the odd record, were indeed turned by this little revolution of the universal spirit that drove it. The Folk 'n Rock youth of the day were suitably if subtly changed or tweaked forever.
And I note, with a certain amount of pride & a mild sense of accomplishment – I'm old enough to be vain, proud & pompous all at the same time – that some of today's leaders were among those attracted by the magic of the music & the mystery of the muse.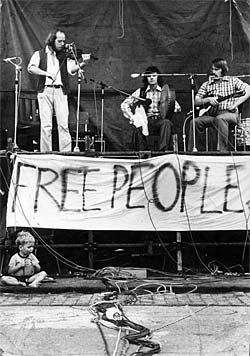 SAGE on STAGE – 3rd Ear Music / NUSAS / SAFMA Free Peoples Concert, Wits 1974 – Photo by Frank Black The Star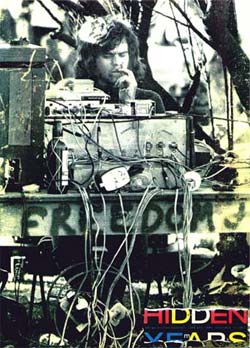 David Marks Mixer producer Free Peoples Concert 1972 - Photo Frank Black The Star
Many would stumble into those alternative 3rd Ear Music clubs, concerts & events; sometimes by accident & more often than not through word of mouth, for over 2 decades - Free Peoples, Totum, Troubadour, Nite Beat, Mangles, Market Theatre, Le Chaim, Chelsea Underground, Wits Great Hall, Guitars for Africa, Music for Africa & more
Reflection in summary - I believe that the commercial record industry, the SABC & even a few current mainstream political leaders, are desperate to re-invent or recreate the past or to paint a cost-effective target market future for their consumers. Heritage may spoil it?
What I find difficult to understand though, is that surely the brain's-trust, the so-called intelligencia & academia - the keepers of our indigenous knowledge systems, control freaks in charge of art & culture today - should know the importance of showing new generations that they cannot simply start a life from scratch every time a new technology or revolution is turned? There just isn't enough space & time down here to do that. We'd still be in caves.
Indigenous knowledge isn't only what the corporations or political masters claim it is. Heritage is a process & our survival depends on fertile well-established & reasonably maintained environment in which our roots, that are universal in nature, can grow. Our wholeness depends on the sum of our tried & tested past parts, not in some unknown bright future with shiny new blinding bits & pieces that nobody knows how to assemble.
It doesn't suit some suits to know that there were people who played & stayed together & who helped change hearts & minds, in spite of the political & social situation at the time. And it's that natural root force that has been prevented from growing or developing in South Africa.
Chris Austin & Jeremy Marre - Rhythms of Resistance (Virgin Records) focusing in black & white back in 1976 (and later having to deal with the reality of history because they also followed a PC agenda) wrote the following - it applies today to all SAfricans who can stand up to the commercial record industry, especially those who couldn't, wouldn't, won't make recordings or speak for the State & the New-Aged Global Corporate Radio Controlled censors.
"Resistance evokes images of guns & guerrillas, the fight for freedom, yet there is nothing aggressive in this music. A contradiction? No, because resistance is more than a fight itself. It is also about staying human in the face of inhumanity...affirming life in the face of a rigid denial of it. Black South Africans seldom lament or sing the blues. (Ed's note: A reality that Doc Hugh Tracey was shot down for pointing out in the 50's & 60's. And we noted that only us white suburban Libs sang & listened to blooze!) They (black South Africans) show their superiority to an oppressive system by their joyfulness, their warmth & delight in living. Their music is vibrant & assertive, but gentle. Defiant without being bitter; it is resistance: a creative resistance that springs from a living musical culture."
The value or the worth of these hidden history or corporate censored treasures may not be fully comprehended by those on the outside of the record, music & broadcast industries; either because there is no cost-effective bottom line in sight or because there really are more important issues in the world to deal with. Hidden as it may be behind political smoke & mirrors, roots music can help redress the past & reshape the future by helping take the descendents of those who won't listen or who couldn't look, out of the denial spiral.
I think that America & the world learnt a lot more about slavery & themselves, through a few loud longhaired British rockers' love for the blues, than any tricky Dick history book could ever teach, reveal or discover. There's a lesson to learn for us in South Africa; for the PC, the denialists, the entitlement holders, victims & victors. History belongs to us all!
Foreigners have asked me in disbelief, how come there was no bloody civil war in South Africa post 1994? It could just be that quite a number of angry SAfricans were moved by the muse & the magic of Folk 'n Rock to turn the silent revolution into a music miracle?