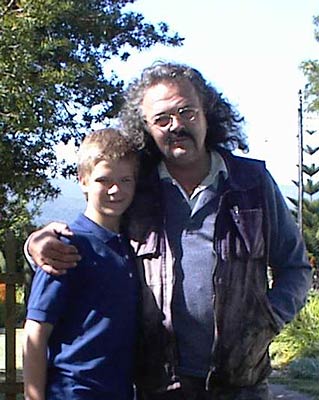 Dylan & Paul Erasmus, George - March 2001
And the Waiting Deadly Scorpion Just Sharpens Up His Sting - Roger Lucey
In June I attended a show at His Majesty's Theatre of a 'new personality 'on the South African music scene,
Roger Lucey
& his band, the
'Zub Zub Marauders'
who were making waves not only among the young white 'university set liberals' but also in Security Branch Head Office! A 'set' of Roger's music (from the banned "The Road Is Much Longer") and him airing his views about the S.A. political scene had been monitored during transmission to the
Voice of America
and I was accordingly assigned to identify him and "see what could be done about stopping this filth".
I attended all of Rogers shows, secretly recorded his mainly haunting, beautifully plaintiff ballads in which he inter alia referred to Steve Biko's death, State oppression and other 'unacceptable' issues. I dutifully transcribed the words and forwarded the whole lot to S.B. Head Office. They were incensed with the lyrics. See Note: 1* below
They were even more incensed when Rogers first (3rd Ear Music) L.P 'The Road is Much Longer' was cut. It contained songs like 'Lungile Tabalaza' and 'You only need say nothing'. This album was forwarded on to the Publications Control Board (PCB) for further consideration. (Copy of the 1982 Publications Control Board recommendations are printed on the CD re-issue "21 Years Down the Road.)
Lungile Tabalaza was a young man only 20
Lived in New Brighton Township just outside of Port Elizabeth
In a small house with his family He lived through violations
Went to school in Kwa-Zakele With the Bantu Education - and they call it education.
Well the cops came Monday morning and they took him on suspicion of robbery and arson, the law makes no provision.
So they handed him to plain clothes
The Special Branch elite
And it doesn't really matter how strong you are
They've got ways to make you speak
They're going to make you speak if they really want to hear you speaking
They're going to get it out of you; they're going to hear your voice.
Well whatever happened in that office God and the Cops will only know
The law has ways of keeping it quiet so that nothing at all will show
But at three 0 'clock that same afternoon, Lungile fell five floors
Lay dead below on the street outside
They quickly rushed his body behind closed doors.
Some said it was murder and some said it was suicide
But this is not the first time men have gone in there and died
And from New York and from London Came angry cries and protests
But the overseers just carry on with their game.
And from 'You only need say nothing'
And there's teargas at the funeral of a boy gunned down by cops
They say that there are too many mourners and this is where it stops
And the moral of the episode - Is to do what you are told
Head Office was still awaiting the Publications Control Board decision when I contacted WEA records (the distributor for 3rd Ear at the time) - and spoke to their Public Relations Officer. I told them that the record was banned. Demanding to know how many albums were pressed and to whom they were distributed. I also planted the seed that Roger was a' prime suspect', connected with either the ANC/SACP and dropped the hint that he was facing imminent arrest. WEA were aghast - obviously investing and promoting Lucey was not going to be a profitable venture.
(Ed's note: Although 3rd Ear Music & Roger Lucey were grateful to WEA for providing the facilities to press & distribute, WEA did not invest in Roger Lucey's recordings. Sue Cullinan - Roger's wife at the time, paid for the studio time & many musicians. The costs of the sleeves, printing, design, pressings, promotion & marketing - the concerts & the clubs - were split between 3rd Ear Music & a number of individuals: - David Marks, Tony Campbell, Rodney Barnett & Roger himself. Andy Mason designed & painted the sleeve for free. WEA's only obligation was to try & distribute what stock they were handed. )
WEA went to great lengths to assure me that they didn't want trouble with the S.B. or the authorities. I then went to Hillbrow Records - South Africa's biggest music shop (at the time) and confiscated all 20 copies of the album & tapes, which were there on a 'trial' basis. (Note: WEA refused to distribute any further copies after being warned by Paul - Big Mac who was supplied directly by 3rd Ear Music & he gave the copies to Lenny at Hillbrow Records. No other shops took the record.)
By now I had become, and still remain, a fan of Roger Lucey. I still listen to his music and (even at the time I began to) feel bad about the whole thing. What a waste of talent! I really believe that he would have gone onto great heights in the music scene. But, well he was just another 'red' that had to be stopped, by whatever means possible! I don't know what happened, with WEA, contract wise. But assumed that the 'dirty tricks' had worked - and to the best of my knowledge no further L.P.'s were produced. See Note: 2*
We kept monitoring Roger's live shows, stopping one at a Braamfontein (Johannesburg) Restaurant in mid 'track'... by pouring C.S. (tear gas powder) into the air-conditioning and watching the evacuation from across the road with great amusement! This' action' was followed up by a series of phone calls threatening to blow up the restaurant if they continued with his shows. No surprise that his gigs didn't last long. WH II (telephone taps) also revealed further gigs and I gave them the same treatment telling them about what happened at the Braamfontein restaurant! Roger must have and probably still is, wondering what went wrong with his career! See Note: 3*
Notes 1*(: His Majesty's Spotless Rock Concert was promoted by a pimple cream - & among many it also featured Paul Clingman & Rabbit - hosted by Paul Zamuck. Gregg Cutler - SATBEL Studio Engineer at the time - mixed the sound. Paul Erasmus was the clandestine recording engineer for the South African Security Police - but so too did 3rd Ear Music have to slip in a few reels of tape to record this event - direct from the live stage mix - secretly. However - we only recorded Paul Clingman & Roger's sets because Patrick Van Blerk & other managers refused to allow their bands to be recorded live. So insofar as local history goes only Roger & his band, the 'Zub Zub Marauders' will be remembered - recorded on the same night by 2 secret admirers. This problem - documenting South African bands at the time - was typical of many managers - fearing that their bands would sound bad if they were recorded live. It's funny, sad actually, that so many young white bands & their record labels were so vain & pompous at the time. They didn't realize what was happening around them & just how important that period of local history was. The SB at John Vorster Square obviously thought it was important to record - Paul Erasmus also switched off his tape recorder when these vain commercial pop bands played - and he wasn't told too. It was a matter of choice. (They obviously had nothing of importance to sing about). 20 years later, many of these musicians now regret not having had their music recorded when it really mattered. Why did those managers & labels take such a useless stand? Nobody but the musicians lost out.)
Note 2*(3rd Ear Music kept recording Roger and has been doing so ever since. In 1980, during much of this SB intervention & while Roger & his attorneys were was trying to get the banning order overturned through the courts - a potential R10 000.00 fine and 5 years in jail, for procession, we kid you not - 3rd Ear Music & MC Studios in Hillbrow started work on HALF-A-LIVE. David Marks recorded the notorious & legendary 1980 Market Theatre concert - & this formed side one of the album. With 6 more studio tracks recorded on an 8 track TASCAM, 3eM ran out of funds & MC Studios ran out of tape & time. Derek Hannan the MD of WEA & his partner Mike Oldfield were always willing to try & help 3rd Ear Music when they could. So they agreed to issue HALF A LIVE on the Warner Bros label - so that if there was Security Police trouble, we could simply claim that the album was imported. However, 3rd Ear Music had to pay for the pressings & sleeve. The sleeve was painted & designed (for free) by Zimbabwean Artist, Richard Jack. No copies of HALF A LIVE found their way into commercial Record shops. Lenny at Hillbrow Records took 20 copies of a diabolically bad pressing - on consignment from 3rd Ear - but they too disappeared. Another interesting hidden years fact about HALF A LIVE, is that it featured the only song that Roger recorded that he didn't write - DRY WINE performed live at the Market Concert. This great song was composed by David Kramer & was, we believe, the first song of David's to ever be recorded. Despite not having sold a copy & despite the on-going SB intimidation of WEA & anybody connected with Roger's albums or music at the time - 3rd Ear Music still received a demand for royalties of DRY WINE. What sales? Strange struggle indeed!)
Note: 3*(Roger has since been talking with Paul Erasmus, who has become - as one recent newspaper article put it - contrite. Paul admits that he was 'turned' by the music & the talent that he had to keep an ear & eye on. So the Nationalist regime that brainwashed Paul and so many SAfricans like him, were right: This black Rock & Folk & Jazz music is an international red plot to take over the hearts & minds of our white youth. They may never know just how right - or should we say - correct, they were. Paul Erasmus applied for & was granted amnesty from the TRC in November 2000.


Foot Soldier for Apartheid is a damning indictment of how apartheid ideology & racist blindness ruined the hearts & minds of so many. Paul's contention in the book, is that he, like so many, were following patriotic orders as foot soldiers - fighting a war & a cause in which they had been blindly forced & brought up to believe. The officers & political leaders who gave the orders & managed the 'education system' have now deserted these foot soldiers & have run away or disappeared from view - leaving these guys to fend for themselves. Paul can't find a publisher - nobody dares touch his book - so the story is far from over.
---
If you have any comments about this article,
please drop us a line
.