New Releases
Brian Finch - Hero of Hero's

BRIAN FINCH & THE INVESTORS. Brian with his Capetown Biker friends who invested in the CD - a collection of songs that these gentlemen believe will turn South African Music on it's head & heals. And you better believe them!
Its been a long, long, (and possibly lonely) time since Brian Finch's first solo album 'Bringing Back The Good Times' in 1974. Since then Brian has appeared on many albums, most notably with Kenny (aka Ken E) Henson as Finch & Henson, a musical duo who were so much more than just SA's answer to Loggins & Messina.
'Hero For Heroes' is the first new album of 2002 that I've heard and is already a candidate for album of the year. Brian's rich, deep voice wraps itself around your soul as he sings songs about living, leaving & loving.
The title track opens the album with a soaring folk-rock song about heroes; "hero of heroes ride high, hero of heroes never die".
'Orang Otang', a new reworking of the Ramsay Mackay-penned classic recorded by Hawk, Margaret Singana, Harambee and others, features the nDloko of John Gcaba (see Blue Bottles article below under "Rock On" section for more info on John and his Castrol oil can violin). Mary-Ellen Blackman's harmony vocals also add a wonderful dimension to this song.
Alan Bowen - Double Bass




Brian Finch - Hero Of Heroes




Alan Judd Mixes at Leopard Moon




Mary-Ellen & Brian

click images to enlarge




Ruby & Brian listen to the Mix




Ruby and Brian




Dan Chiorboli & Brian in Session




Alan Judd in Control
'I'll Remember You' finds Brian Finch in a JJ Cale mood and his guitar-picking is stunning as he sings 'I'll remember you till the day that I die". Alan Judd's organ floats and flows in the background.
Brian encourages us to dance in the bouncy afropop sounds of 'Dance' and he tells us about his love for his daughter in the beautiful (but not soppy) 'Tansy' and then he's off to see his brother (Graham) in 'South Carolina'. 'So Much Younger' has a Dire Straits sort-of-feel while 'Tell Me' is a pleasant little country pop rock song (and the country in this case seems to be Mexico).
'Got To Be Strong' is an aching love song not at all political nor religious, but it reminds me strongly of Roger Lucey and Don Francisco. Stunning piano work from Alan Judd and Brian's vocals are really imploring as he sings "we've got to be strong".
'Freedom/ Motherless Child' is the song which Richie Havens performed at the original 'Woodstock' in 1969 (remember that tapping sandal in the beginning of the movie?). Dan Chiorboli hits a variety of percussive thingies on this track as Brian's voice and guitar drive it along. Powerful.

The Leopard Moon Cat
Brian's tongue is planted firmly in his cheek in the live-in-the-studio 'Positively No Bob Dylan'. "I'll play anything from Creedence and Led Zeppelin, but please don't ask me to play any Bob Dylan". A groupie ("not as freaky as the rest") eventually convinces him to break down and sing a Bob song.
'Hero of Heroes' is an album about moving... it moves from "his open sea & sky SAfrican roots to his American influenced country rock boots"... and it moves the feet, the heart, the mind and the soul. Fly on Brian, fly on... (BC)
Brian Finch recorded his 10th Album at Alan Judd & Terry Rosenberg's Leopard Moon Studio in Gillits, kZN last month. Hero of Hero's, which has been financed by Brian's Biker friends, has turned out to be by far the best recordings he has ever done. 11 songs - 9 new Finch crafted classics that continue to attract crowds of all ages & musical persuasions, wherever he performs - and he's been a major club & concert attraction since 1965.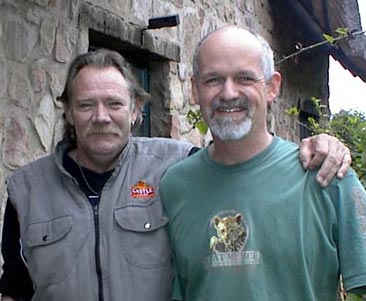 Brian Finch & Alan Judd at Leopard Moon in Gillits, kZN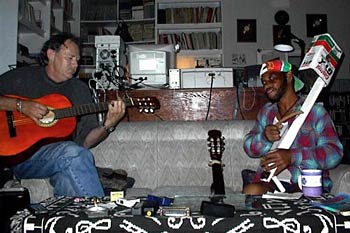 Brian & John Gcaba rehearse Ramsay's Ourang Outang at the 3rd Ear Music offices in Durban.
Hero of Hero's
is basically a solo album - (without friend Ken E Henson & the many musicians used on previous Warner Bros & Asylum / WEA albums). Without reservation this album is going to turn a few heads. 11 songs - 9 new Finch crafted tunes that continue to attract crowds of all ages & musical persuasions wherever he performs - and Brian is still out there playing & pleasing his followers 36 years after his debut Durban gigs in 1965.
There are 2 Finch standards that go back to 1970: a stunning version of Ramsay MacKay's Orang-Outang with Alan Bowen on Bass, singer Mary-Ellen Blackman, vocals with the unknown Maskandi Super-star, John Gcaba playing his unDloko (one string Castrol Oil Can violin/guitar) & a version of Freedom / Motherless Child as they were meant to be recorded in the first place. Alan Judd engineered & added his touch of music magic & genius to the album.
Although Brian & David Marks have been close family & music friends since the first notes were struck, David has only produced one of Brian's albums: his commercial recording debut, Bringing Back The Good Times - for Asylum Records in 1974 & co-produced the live MC Studio recordings of At Home in The Dark in 1980. Bringing Back The Good Times is still considered one of SAfrica's top 10 Rock Records of all time; and no wonder - with musicians such as Arthur Stead (Piano), Robert John 'Mutt' Lange (Bass), Kevin Kruger (Drums), Ken E Henson & Mike Dickman (Guitars) & many others; it was also the first 16 track recording made in Africa. Recorded by Nino Rivera at Manley Van Niekerk studios in Troye Street Johannesburg, Good Times was the first WEA (Warner / Elektra / Atlantic) record release on the continent. The Hidden Years Project aims to re-issue Bringing Back The Good Times in 2002.
Hero of Hero's should be out early 2002. 3rd Ear Music / Leopard Moon, are negotiating with a number of distributors & labels.
If you have any comments about this article, please drop us a line.