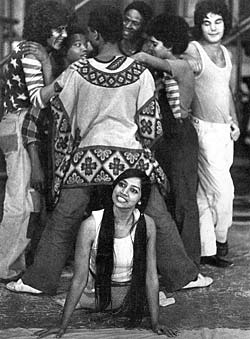 Market Theatre 1 of 5 Pilot Programs Barry Shah & Cast from the Me Nobody Knows 1978 – Photo Ruphin Coudyzer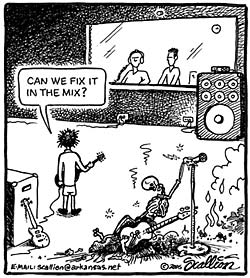 We'll Have to Fix it in the Mix - Cartoon Courtesy SCALLION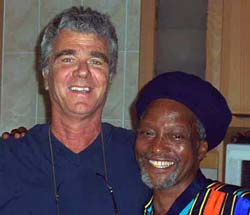 David & Lefifi Tladi from Garankuwa to Sweden and backtogether again recording 35 years later in eThekweni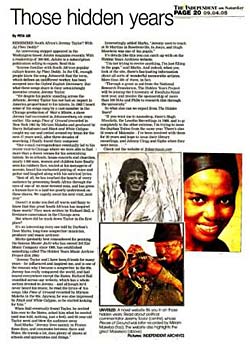 Sunday Tribune Announces the Hidden Years that never happened in 2005 - Peta Lee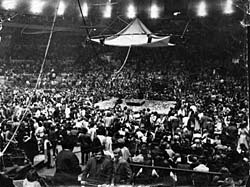 Bill Hanley's Hula-Hoop Madison Square 1969 Makes Hidden History – Photo David Marks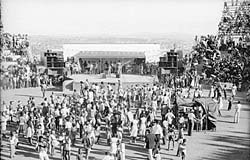 Jabulani Jazz in Soweto from 1970 to 1980 remains Hidden History… for now – Photo DM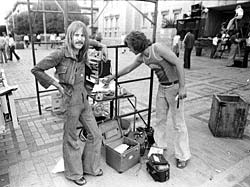 Free Peoples Concert 1974 - Hanley 3rd Ear Sound - Ken E & David - Photo Frank Black
What's Done Is Done?
The question now is - What will happen to the researchers who did get bursaries and grants and who have spent all this time preparing to access our HY Archive and will now have nothing to show after 3 years? Researchers visit 3rd Ear Music office and via Cyber-Space; now they want to know - where is the R1.6 Million admin fee that DISA was paid, by the NRF, to administer our HYMAProject? Musicians call suspiciously and demand to know where is the NRF's HYMAProject equipment? We heard a rumour lately, that Dr Dale Peters (who was the HYMAProject manager for DISA - and who, it must be said started off, back in November 2004, with good intentions and HY hopes) has resigned and is now working in Germany… on another archive project, would you believe!?
The 5 PILOT PROJECTS Settlement Programmes - Credit Where Credit is Due. What did we all get out of the NRF Millions & 3 Years?
As for 3rd Ear Music's future, after 3 years of no income, Fran and I are, with respect, extremely grateful for small mercies. Thanks in part must go to a number of concerned HYMAP committee members and UkZN attorney Chris Schembri. It was they who eventually engineered a settlement offer that we could not afford to refuse, in exchange for the 5 Pilot Programs. Only a few reels of magnetic tape were saved & digitised with the NRF equipment (Fostex E-2 Tape Deck) - not an inch of the HY tape archive, not a photo or a poster, has been digitised by the UkZN or DISA staff with any of the budgeted and paid for NRF equipment. In the end the DISA settlement was almost enough to cover our HYMAProject debts. Now it only hurts when we laugh....
The 5 Pilot Projects submitted were
Market Theatre 1976 – 1982 (Johannesburg)
Hugh Masekela 1979 – 1982 (Live in Lesotho)
Lefifi Victor Tladi 1970 – 2007 (Mamelodi to Sweden)
Lefifi Tladi - Mamelodi Tanzania Sweden - 1976 2006
Roger Lucey 1979 – 2000 (21 Years Down The Road)
John Oakley-Smith 1972 – 1982 (Zimbabwe & South Africa)
Thankfully & eventually 3rd Ear Music was paid a monthly Archival Storage fee (Academic speak for rent - from our NRF grant) in October 2005 - 10 months after the HYMAProject was scheduled to start. And only then did the UkZN produce a collaboration agreement, signed and accepted in good faith and trust in the brain's trust of research experience, management and admin. For anyone who knows what it's like not having an income for 10 months, and being told, don't worry, it's coming, let me not rub in the trauma and the tension salt water whine. The Archival Storage payments were rather sporadic payment procedures; a painful admin process followed by a reactionary management style that seems to be a disease in SAfrica; things only get done after much whining and moaning - Groucho Marks - gnashing and slashing eMails.
Apparently the HYMAProject Manager took these demands for income and so-called 'deliverables' rather personally and proceeded to make the next 2 years a polite academic misery for all those who were connected with our so-called Hidden History Treasure & Indigenous Knowledge…
Lest we (and others) forget - it was yours truly who was first offered the NRF funding and who proceeded to negotiate long before the UkZN were brought on board. It was only because I have some good friends up on the Hill - we've known each other and worked often together for over 25 years - so it was a natural bond. We trusted that the UkZN (and then belatedly, DISA) would deliver the goods, i.e. The Students, The Researchers, The Equipment, The Income, The Admin, The Management. Whoops!
Despite all this we are most grateful to the National Research Foundation (NRF) for sticking it out for as long as they did. (More hidden heroes lie buried beneath the truth of bureaucracy?) From the distance of hindsight we can now safely see that this Archival Storage amount (a generous R15, 000 pm) did nothing more than tie us down and obligate all concerned - HYMAP Committee, NRF and 3rd Ear Music. It made us stick around like some oily Velcro in the hopes that the UkZN and DISA would eventually get their Archive Act together and do what they were supposed to do.
The relief of this Archival Storage has allowed us to enjoy a marvellous 2 years here in laanie, dead quiet Glenwood - as paupers in paradise; especially after being held up in boxes in Berea Center for a year waiting for Dr. Peters' promises to come true. And then there's the added PPPP (Previously Privileged Pale People) pressure of the sharp guilt-edged factor. You want to save a bunch of WHAT!? Analogue, Magnetic, Reel, Tapes and Black & White Negatives? Are you serious Pale Face? Most of us liberated masses would never earn that sort of monthly income in a year... well..., not outside of the BEE whirlpool of Ray Bans and Beemers.
Let's be Liberally honest here – There are far more pressing social projects in SAfrica that need State protection and tax-payers attention – for just a little small change. To whine and cry over saving a 40 year tape collection of musicians that no youth has ever heard of or events that the SABC and the elder academic denialists would rather history forget, is indeed embarrassing. (Even if most of what we collected was tone-deaf, colour blind and from the wrong side of the tracks). Guilt is still the Ghost of the Free. We are sorry SAfricans.
So in true SAfrican apologetic style I am just so sorry again; embarrassed really, that the NRF's Intellectual Property Investment in this our HYMAProject was not properly protected and used by those who were paid to do so.
In Conclusion - for now: I recently suggested to one of the 6 (known) researchers who apparently did receive their grants some time ago, that they could do no worse than use the loot to find our (research?) why and how Dr Peters almost managed to do in 3 years (shut us down) what the SABC, the security establishment and the commercial record industry could not do in 40? And if no researcher wants to tackle such an interesting subject, then we will try - funds permitting - to get the NRF to conduct a forensic audit. One way or the other, people have to know what went wrong and on with our HYMAProject.
HYMAP UkZN DISA Legal letters Equipment Lists & Budgets (PDF 88kb) >>
HYMAP NRF MoU Appendix D - March 05 - March 08 (PDF 172kb) >>
And in the meanwhile another band of Music people pass on by:
Ken E Henson
Sophie Mgcina