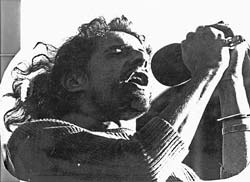 Louis Ribero - Free Peoples Concert by Frank Black 1974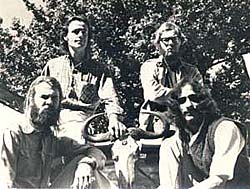 South Country Band Mike, David, Plod & Louis 1971 - by David Marks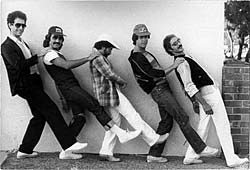 Zebra - Brian Sepel, Phil Smiedt, Savvy Grande, Gary Horn & Louis Ribero - Sea Point 1980
Note from Phil Smeidt in Nashville Tennessee
Dave,
Please send the pics to whoever might enjoy them.
Both pics were from the band Zebra who won a Sarie for UNCERTAIN AGE, best English album of the year. ± 1980. Cant remember who took them.
The pic of Lou and myself (on bass) was taken at De Akker in Stellenbosch and the group shot was in Sea Point, Cape Town.
The group pic was Brian Sepel (keys) Phil Smiedt (bass) Savvy Grande (drums) Gary Horn (sax) and Lou (guitar/vocals)
As Lou never had a computer, we used to call each other about every two months just to shoot the breeze and talk in Indian or Cape Coloured accents. The tears just rolled off my cheeks from laughter. I'm really going to miss those times with him.
About five months ago, Lou had just finished his latest CD, HARVEST, which in my humble opinion was his best work ever and I was very excited for him, and then things took a turn.
He had a bad fall while carrying equipment and had been complaining of back pain for quite a few months and the docs told him that he was badly bruised and it would heal. The pain never subsided and he kept going back until finally they did a scan and found the cancer in his spine. The feeling was that if the docs had made the correct diagnosis early on Lou would have responded to the chemotherapy, but tragically, it was too advanced by the time they made the correct diagnosis. His wife Christine, confirmed this when we spoke on the day of Lou's passing.
A recent clip of Lou in London.
vids.myspace.com
Scroll down on this website for another clip
www.myspace.com
Click on MUSIC and listen to some mp3 samples of his last CD.
www.louisribeiro.co.uk