The James Brothers - South Africa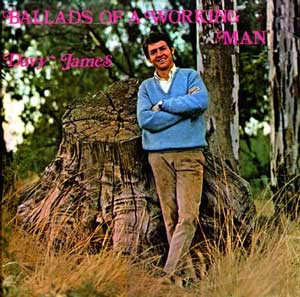 Davy James

Bobby, Davy, Alfie & Stan James were a talented & active family institution in Johannesburg & Durban - Musicians, songwriters, journalists & fighters.

Father Alf Senior - A street-wise scholar & a gentleman who passed away in 1999, was more than a South African & Empire Welter Weight Boxing Champ to me; a professional fighter & gambler on many levels who could never pass up an opportunity to help a young boy in need with some sage street-wise advise, a story or a bed & a cup of tinned soup. I spent many a night on Alf's balcony - scooting down to Durban (on the BMW) on weekends to rehearse in a band with Davy James in the mid 60's.

Bobby sadly passed away in March this year (2002) & Davy - who Stan believes was totally distraught at Bobby's passing - died a month later.

Bobby was one of those successful SAfrican music people in exile; started the Hooked on Classics Series in Australia - after working for Gallo in the 1960's & getting frustrated at the lack of vision in the record industry - as Davy was to found out. Stan managed to learn from his talented & determined elder brothers; a great topical songwriter, Stan was not going to get suckered into the South African Record Industry vacuum, that made Davy's life a constant frustration.

Bobby James (Vocals) formed the Plainsmen in Durban in 1964; they were a great hit at Tiles & recorded one adventurous single: The Bob Dylan song It's All Over Now Baby Blue. The band included younger brother Davy James on Rhythm guitar for a spell; Clive Slater (Lead Guitar, later replaced by Mike Slavin, from the Kinsmen); Mike Morillion, Rhythm (replaced by Davy James), Barry Ford, Bass and Howie Jones from Dickie Loader & The Blue Jeans & later with Clive Calder's Outlet, on Drums.

I met Davy James when he was singing solo at the Palmerston in Durban (1966); I was on my annual Gold Mining holiday - playing part-time in a band. As songwriters back then we became good friends. (He could hardly speak - he stuttered so bad - but he sang like a bird!)

Davy eventually joined our 2 Bands The Privilege & The Drive with the 3 David's & an extraordinary Dutch lady Singer Yvette, led by the late Harry Poulos. (4 Jacks & A Jill & later Freedom's Children and Hawk).

Davy left the Cocktail circuit in late 1967 - after I left the mines & started at the Astra in Durban - & we became very involved in the bands. In 1968 Davy recorded for Gallo - Ballads of a Working Man produced by Peter Lotis - and moved up to Johannesburg; driving a Bulldozer for his uncle at James Construction - but still writing a playing around.

Then he got into all sorts of the usual musician's frustrations & hassles; the belief & trust in his ability & talent, good looks & potential as a great rock / pop musician, was met with the usual corporate indifference...has anything changed? And another great singer song-writer hit the deck.

We lost music touch after 1974 - although I did visit him on occasion. As a long-time family friend of the James' - including old man Alf - 3rd Ear Music may have been instrumental in brother Stan's decision not to take his talent to any of the record industry labels. Like Alf Junior Stan took to journalism. He became a reporter for the Star in the mid 80's, eventually settling in Hong Kong with a major Newspaper. However Stan did manage to record a few demos with 3rd Ear Music & a memorable live Market Theatre Concert with Roger Lucey's Zub Zub Marauders in the memorable 1982 Shifty Concert - After The Thunder; that stunning song & performance (and live recording) of Stan doing his Cara Monia became part of the Shifty A Naartjie In Our Sosatie collection - CGCD 001 - Available from Michael Drewett Coordinator of the Cutting Grooves Exhibition, Rhodes University in Grahamstown.

Soul Foot Note: Outside of Jeremy Taylor & Johnny Kongos from the late 1950's & early 60's there were no white SAfrican songwriters around 1966; none that Davy James & I had heard or knew of. (At the time I didn't know one Black SAfrican musician who didn't write their own songs.) However, as pale-male songwriters we became firm friends - comparing notes & writing a few songs together. Davy was impressed with a young Zimbabwean that he'd met in Cape Town, John Oakley-Smith - who I hadn't met at that time. I too was blown away by another Zimbo, John Phillips - who I never met; but heard briefly at the Troubadour in 1967. This was before Colin Shamley (a Malawian living in Port Elizabeth) & Tony Bird (another Malawian) moved to Johannesburg in late 1967.

Ironically (?) There were many Rhodesian songwriters back then: this very young John Oakley-Smith & the weird John Phillips were 2 among many; soldier Clem Tholet (who was Art School in Durban) & John Edmond (originally from Zambia) who was the guitarist & vocalist & songwriter for the trio The New Trends; Stevie Van Kerken (Vocals, keyboards, guitar, harmonica and Drums) & Alan Goodwin - Lead Guitar. Robert John "Mutt" Lange - another Zimbo musician & songwriter of note, who went to school at Belfast Boys High in the (then) Eastern Transvaal - was later to marry Stevie in London before his career as the world's most successful record producer took-off.

The Etonians too - formed in Harare, Zimbabwe in 1963 came down to play The Palace in Durban in 1966 (reputed to be the highest paid band in the land back then) & stunned with their originals.

Zimbabweans all, working or schooling in the RSA & writing songs, while white South African commercial, concert, cabaret & club bands & musicians were happy to copy & cover the world.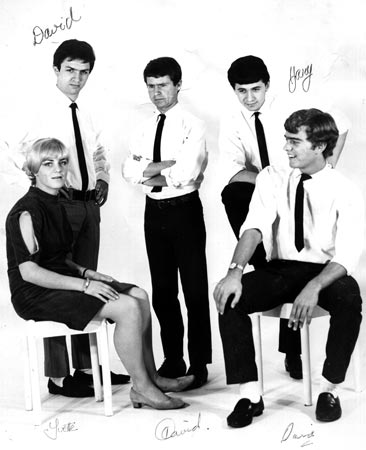 Privilege - 1967
---
If you have any comments about this article, please drop us a line.