Art Kelly RIP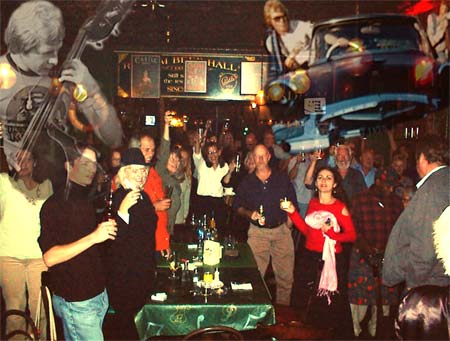 Art Kelly's Friends Say Cheers – Radium Beer Hall 01st April 2004
Photos & Graphix Skram Divad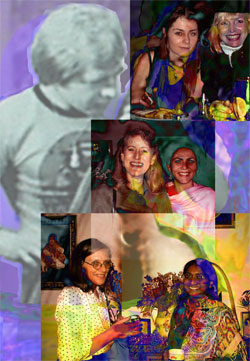 Art Kelly's Friends Say Cheers – Radium Beer Hall 01st April 2004
Photos & Graphix Skram Divad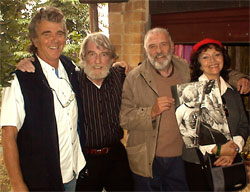 In Art's Service & Shrine
David, Garalt, Dale & Michelle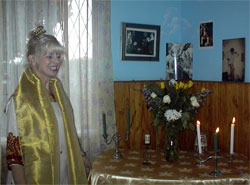 In Art's Shrine
Sue-Kelly Christie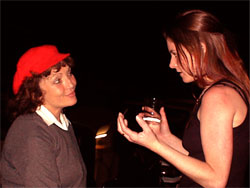 Comfort
Michelle Maxwell & Emma Kelly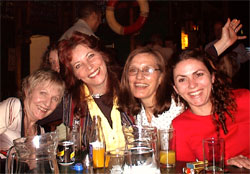 Art's Ladies Smile Farewell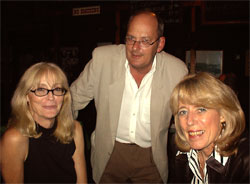 Friends & Partners
Roz Sharpe, Howard & Di Williamson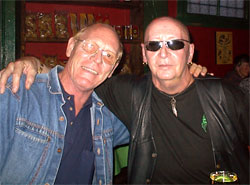 Music Friends
Rod Clarke & Julian Laxton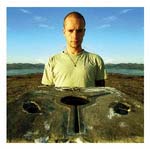 True Grit from Rob Bozas
Martyn Bennett Cross Cultural Inspiration

Graham Clarke called with sad news - @ 10.05AM on the 26th March 2004 - Art Kelly passed on to that great big Rumour in the sky.

Here are a few of many eMails 3rd Ear Music received to accompany the DigCam shots taken at the Service & the Wake. The funeral service was held at Roy & Sue-Kelly Christie's home in Johannesburg & the Irish Wake at Mannie's at RADIUM BEER HALL in Orange Grove.

David writes - Talk about Rumours? Imagine: - Art, Alan (Pierce) & Charles (Comyn), Tony (Campbell) & Rodney (Barnett) RIP negotiating to start another Rumours up there with the powers that be?

Charles preparing the Roast - between poems & plans for a new play in Rockey Street - Art managing the affair (negotiating the rent during piano & drum solos, and whispering in your ear as he passed your table...heard this one?) with Alan keeping the peace & arranging the customers? That'll keep the Angels in stitches for eternity. Rodney would be clicking away recording these sometimes hilarious events (please keep the negatives, Patti & Ollie) & Tony would be offering sage philosophical advise & promising to print his shots up soon….it's never too late!

Thanks to those who cared. I stare at this great photo of Art's bosom buddy Alan Royal Pierce (RIP) and think -Trying to get musicians to get their act together and prepare for anything, rather than just to jam away for the moment - family, life, gigs, debts, death - has been somewhat of a failed long-term mission; so now suddenly the short-term happens!

You know how they say a person gets to look a lot like their pet or car after a time? I mean how doesn't Art Kelly remind me of his Double Bass? In the dimlit Rumours on Rocky Street for 15 years - give or take another 15 or so pre-history - shut-eye, stroking neck huddled so close over the body, they actually began to look double.

Daughter Emma came out from Ireland and Hospice helped by paying Art regular counseling visits; but all is not lost. Having the comfort of his music comrades share a joke or a memory, or giving Kelly a piece of your mind - if you think it's over-due -will help. Love from David & Fran & for all these never-to-be-forgotten characters - those recorded & oxidizing music souls will never decompose; they safely stored in the Hidden Years Archive.

Assie O'Donnell Brower writes from Ireland - Hello David, I read your obit for Art in the SA Rock Digest. Nice one, but you left out Tony!! Mind you, there are quite a lot of people to be left out now. I remember once being in the back of Charles' Beetle (before he totaled it & that's very much another story) behind Tony and Charles arguing loudly whilst hurtling through Braamfontein. They were shouting to me (about) which of their clans was most important. Of course they were talking crap because they were both making half of it up as they went along. The car was veering from side to side & I was clutching on for dear life. Ah sweet memories! Love Assie

Jolyon Melville writes - Hello David - Talking to Rachel Browne on Saturday, she asked me to contact you and make myself known. I was Art Kelly's Hospice counsellor, part of a two-person team who looked after Art from the Hospice perspective. The other person being Anne Kirke his nurse.

I came to learn that his first wife Moya called us in as Art was struggling a lot. I came to learn a lot too - taking this closing journey with him; a part – a story of his soul and times. Sharing this space with another, especially that of a stranger, is always a honour as it is a very sacred space to be in, the closing down of ones life and preparing where possible for the next chapter.

But further to all of that, I 'm also a friend of Rachel Browne; I asked her back in December to help me get a concert rolling for Art. Dale Cutts and his good wife Janine put together a very fine concert at the Newtown Jazz Centre, it was great. I cant take credit for the concert at all, but feel good about being part of the seed planting. When I first spoke to Art he was humbled. The money raised will help his daughter Emma sort out lots of things; times have been tough for both of them. Jolyon Melville

Esther Rutstein writes - Had fun times with Art & notorious company the past few years! Art was one of the most sincere, warmest human beings I have ever met. He introduced me to Alan! How can words describe the loss of friends like Art and Alan? Hopefully they will all have fun in the jazzy place in the sky set aside for musicians. Fondest Love Esther

Rob Bozas – Real World Records, Bath UK – Please give me an address where I can send him Martyn Bennett's new album to (On second thoughts, maybe I should send it to you and you can put a covering note in explaining the relevance) . Martyn is a 33 year old Acid Croft maestro (Acid Croft! Think Acid House - then think of Scottish crofters on the Isle of Mull, think of fusing an old Scots Gaelic song with bagpipes & fiddle and then underpinning the lot with seriously hardcore club grooves - that's Martyn) Why would this be relevant to Art Kelly? Martyn was diagnosed with Hodgkin's disease about two years ago - he had also just been given a lot of tapes by the musicologist / archivist / historian Hamish Henderson (who toured Scotland in the late 40,s and early 50's with Alan Lomax, recording the Scottish Gypsy music). Whilst in Hospital recovering from his first biopsy and intensive chemotherapy Martyn went to work with the Henderson recordings and his sampler and came out with a truly extraordinary album - just released on Real World called GRIT.

This may give Art some inspiration - knowing that a fellow musician and fellow sufferer has found a new way to create despite not having the energy to play his own instruments anymore.


Leslie Shill – California, USA

Usually, when I hear news of
a friend's passing,
I go through a ritual of depression,
of passing and
of my own mortality
and what awaits us all,
but, in this instance,
I am sending a message to God,
Art is on the way to you
he will take care of everyone there
he will chair the bass studies
he will kiss the girls
and they won't cry!
Oh God, let Art take you
unto his breast
let him soothe you with
some cool wit
we miss him down here
but we wanted to you to have a bit
of Art,
it's only fair
that we share
a little with you as well,
take Art at the highest level
and let him free-form the angels
he will vibe them
as no other could
we give you Art
for the greater good!
we loved him a lot
now you take a shot
at having him in your house!



The Wake Band
Peter & David
Art & his Bass
Jackie, Glenda, Eva and Clive
Garlat, David, Trish and Emma
Irish Farewel
Dear Paul & Dez Zamek - Nashville Tennessee, USA
You added a few years to Art's life - he was so chuffed to hear from you - even if it was via a 3rd person / cyber space. Thanks for that. He's perked up so much since people responded, that he's determined to start writing down stuff and he's putting together some news clips and albums for the Hidden Years Archive Project. Love 'n peace in these strange times - David and Franny

3rd Ear Music Company est. 1969 (Pty)Ltd. The Hidden Years Music Archive Project
P.O.Box 50633
Musgrave 4062
Durban
KwaZulu-Natal
South Africa
email: [email protected]
The Contents of this Letter/Fax/eMail do not constitute a contract & the views expressed herein are not necessarily those of 3rd Ear Musicians & Funders
All Material (p)© 1969 - 2004 David Marks / 3rd Ear Music (Pty) Ltd reg: 89/06695/07