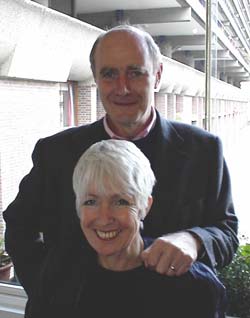 Robert & Robyn Wilson, owners of London's famous & fabulous Bleeding Heart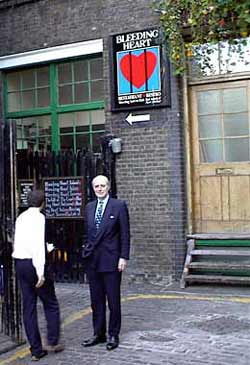 Bob - Bleeding Heart Yard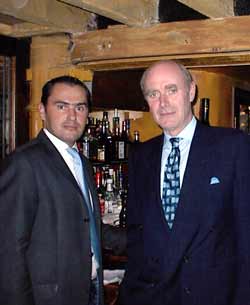 Maitre D Jean-Paul & Bob Wilson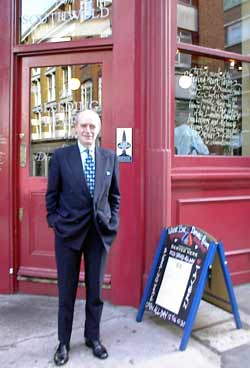 Bleeding Heart Tavern

Robert & Robyn Wilson, owners of London's famous & fabulous Bleeding Heart Restaurant & Bistro donated 5 000 Pounds to the HY Project in January 2003. We thank them for their generous & kindly contribution. Those of you who are in London should do yourselves a favour and make a point of visiting the Bleeding Heart Restaurant, Bistro, Tavern & Crypt. Booking is essential - details below.

There will be more about Robert Bob Wilson in The Hidden Years Story; but briefly, his connection to 3rd Ear Music & the Durban music scene was significant. Bob was a motivator & mover for many Durban musicians in the 60's & early 70's. He was one of the founding members of the Natal Folk Music Association, participating in & helping produce a number of those legendary Annual Folk Festivals. Bob came out to Durban from Glasgow as a young journalist & worked for a number of years with the Argus Group - The Daily News & The Sunday Tribune. Bob initiated the Totum at the Palm Beach Hotel - which Brian Finch & David Marks ran for a number of years; joined later by Welshmen Richie Morris & Brian Gibson. Bob was responsible for a number of very good folk, jazz, rock & cabaret clubs, most notably the Switch on the Berea & The Mayfair Supper Club. He married New Zealander Robyn - also a journalist - in 1972 & left for London soon after that.

BLEEDING HEART YARD (Notes by Robyn Wilson)
The Yard was sonamed following the murder of the 17th Century society beauty, Lady Elizabeth Hatton. The widowed daughterinlaw of Sir Christopher Hatton, (onetime "dancing master" to Queen Elizabeth 1), Lady Elizabeth was rich, young, and very lively: Amongst her many conquests were the Bishop of Ely and the Spanish Ambassador, Senor Gondomar. On January 26, 1626, she invited Bishop of Ely, the beaumonde of London, to a ball in Hatton House. Halfway through the evening the doors swung open and in strode the jilted Senor Gondomar. He grasped Lady Hatton by the hand, danced once around the ballroom, then together they disappeared into the night. They never returned.

The assembled partygoers assumed the couple had kissed and made up but no. At dawn the body of Lady Hatton was found in the courtyard behind the stables "torn from limb" with her heart "still pumping blood onto the cobblestones". From that day forth the Yard was known as Bleeding Heart Yard. Charles Dickens, whose Plornish family lived within the Yard, speaks of the yard's gory history in his novel Little Dorritt.

THE BLEEDING HEART RESTAURANT opened in the cellars below the Yard in 1983 THE BLEEDING HEART BISTRO in 1996. THE BLEEDING HEART TAVERN, on the corner of the Yard, which first traded in 1746 was restored in 1998.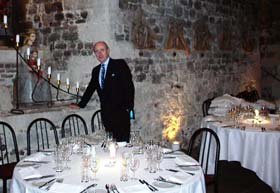 Bob Wilson in The Crypt


THE CRYPT IN ELY PLACE
The 12th Century Crypt, which seats up to 150 in Medieval splendour, is situated in Ely Place next door to Bleeding Heart Yard. It was the setting for the wedding celebrations of Henry VIII and Catherine of Aragon in 1531 which lasted for three full days and nights.

Plan to visit London & have an unforgettable experience eating out? Here are the Bleeding Heart's details:

BLEEDING HEART RESTAURANT
Fine food and "one of the finest wine lists in the World".
Bookings Tel: 020 7242 2056. Fax: 020 7831 1402
Lunch and Dinner. Monday to Friday.
Our Private Dining Room, which seats up to 50 is available every evening. The entire premises are available for private functions on Saturdays and Sundays for up to 125 people.

BLEEDING HEART BISTRO
Good food, good value, great ambience
Bookings Tel: 020 7242 8238. Fax: 020 7831 1402
Lunch and Dinner. Monday to Friday.

BLEEDING HEART TAVERN
Spitroasted food and Adams Ales on draught from our Tavern which dates back to 1746
Bookings Tel: 020 7404 0333. Fax: 020 7404 2727
Lunch and Dinner. Monday to Friday.


THE CAFE AT THE CRYPT - (For those working in the area)
Eat in. Or we can deliver to your desk.
Orders Tel: 020 7242 8178 Fax: 020 7242 8179
Monday to Friday.

THE CRYPT
This magical, Medieval 12th Century Crypt where Henry VIII married Catherine of Aragon in 1531 is available for private lunches and dinners for up to 150 people.
Bookings Tel: 020 7242 2056, Fax: 020 7831 1402