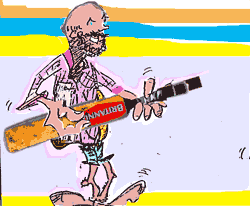 Sketch by David Marks (p)© 3rd Ear Music 1985.

I've only just fathomed the connection between Cricket and Music, although I'd been spanking the plank and swinging willow since 1958. For me it goes back to my early Rock & Roll daze with The Boys Band (1961 to 1963) and Witbank Technical College circa 1958 to 1962. Maybe it has something to do with the Cricket World Cup in Africa.

Before my first guitar there were the live music concerts of the Kwela Kids back home in Johannesburg - when Jeppe was a 2-way Street - and LM Radio through our secret Crystal Radio sets under boarding school blankets, and my electric loving Cricket Bat. The guitar and Bat were both bought - at different times - by a meager weekly currency accumulated from shaking flavoured coloured milks and designing coke-floats at Costa's Corner Café - before or after Rugby or Cricket on Saturdays. At that time - 1960 - the one instrument I could play, the other I couldn't. I was just a stroke away from another Rocky's Rock 'n Roll fantasy.

Even back then you could tell that the British were sore winners and bad losers. They had already won the Boer on paper, anyway, so why would they insist that the Union of South Africa play Rugby in Winter and Cricket in Summer? Isn't this called match-fixing? The English paid dearly for this. Well in the Eastern Transvaal at any rate. We even had some MacNicol's and MacDonald's at school - from White River plantations - who not only refused to speak English. They couldn't. English was not popular in that part of the flat world.

The country was just moving out of the English Pound, Shillings and Pence era into the Universal metric money mode - when we school boys were constantly reminded with every dry crash tackle on the dead dusty red and brown rainless Eastern Transvaal (Mpumalanga) Winter fields that the Boer War was no over yet. Whereas Cricket, the other compulsory inherited colonial sport was a rainy season Summer event that you cannot play in the rain; performed out on the lush green Kikuyu outfields and matted cement pitches on Tuesday and Thursday afternoons, with matches over 2 rainy weekends on Saturdays where club members (only) enjoyed 3 cornered soft cucumber sandwiches and tea and the players played battleships. The English were otherwise. The whole world was driving left handed on the right, but they stuck to their own rules, right handed to the left. At least we were no longer forced to stand for God Save the Queen after Bioscope.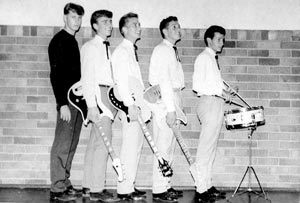 The Boys Band First Pose 1961 - Note the hand-made Bass & Lead Guitars - parts ordered from the back of a Marvel Comic Book (l-r) Cecil Cliff Parker, David Marks (Bass) Peter The Dart Farnham, Jannie Hank B Maree - sans Glasses & Johnny Stix Kombouris.

The English may not have given us raw Rock 'n Roll as we knew it, but they did give us the Cricket Bat; which is very much like a guitar when you're a dreamer; it's certainly far more effective than the old Air Guitar that the Welsh used. You can string 2 school ties together and it felt like a guitar - no strings attached! And when you wheeled your arms around, shaking your head and flapping your legs together at the knees, squinting into the mirror with the Hi-Fi beaming behind, you almost looked like some famous rock 'n roll guitar player.

Having graduated from the first Cricket team and a battery driven 5 amp fused plastic turntable - at 78 Revolutions Per Minute - my Cricket Bat rock & roll guitar skills, according to my Brylcreamed hostel locker mirror, were good enough to get tested out by spanking the plank for real.

My chance came with The Boys Band in the Summer of 1961. The fact that I couldn't play a real 4 -string home-made bass guitar had nothing to do with it. Our Band Captain Peter Farnham and our lead guitarist with the thick black horn-rimmed magnifying glasses, Jannie Hank B Maree (who hand-made my Bass Guitar in the workshop from the parts ordered from the back of a Marvel Comic Book ) gave me the weekend to learn.

Besides I knew the words and the tunes to all the Rock songs LM Radio ever played. Backwards! Every young bee-hived lady that I used to dance with or twist to at those Saturday night garage parties, could vouch for that. I got scent & lacquer on my lips; she got an ear full of soppy damp love lyrics.

By the time I had joined The Boys Band my dancing daze were all but over; musician's were just too cool to Bop. Besides it could mess your hair up, and with nearly 2 years of career Cricket Bat experience, I was an expert. Finally I graduated from those garage dances - where the parents lined the walls like creepers to watch out for necking - to real live sessions where we were left alone through sheer volumes of sound, to do our own thing. Summertime became anytime of the year every first Saturday Night of the new month where we would wield the electric planks in The Boys Band at those weird and wonderful Moth or Methodist Church Hall Rock 'n Roll Sessions.

My friends Ronnie Lamb and Mervyn Van Rooyen - who had snuck away with me from Witbank for one Easter weekend in 1961 - had just been stunned by Jeremy Taylor's Ballad of the Southern Suburbs over the Rand Easter Show loudspeakers. It was banned on state radio but became the biggest all-time selling original SAfrican song ever. My own songs started pouring out. Tunes about life behind bars in boarding school; about the Masters and Matrics and Die Engelse gevaar; love poems to beehive love affairs and dirges about some white farm boys who, for Saturday night entertainment, punched blacks off their bicycles while we were out jolling.

These sort of songs didn't quite cut the grade with any of the rock bands I ended up playing for. Not the sort of music they were looking to break out into the charts with. And they certainly wouldn't have matched the mood of what the dancers in Witbank and Springs wanted to hear.

The Boys Band played on and Buddy Holly, Eddie Cochran, Cliff Richard and The Shadows ruled over the ether. LM Radio was our window to the world and I didn't even have to change instruments - just plains.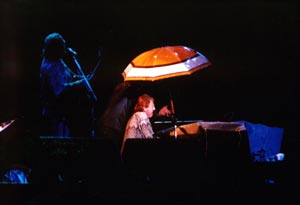 Graham Nash Singing in The Rain. Westridge Park Durban, 1996. Photo by Richard Shorey.

When 3rd Ear Music started getting back into the wide world of concerts - some 30 odd years after the cultural & sport embargo - it just so happened that one of our first international Concert Tours that we produced, was with a trio of old (?) Woodstock friends - Crosby, Stills and Nash; and that tour just happened to coincide with the English Cricket series in South Africa 1995 / 1996.

Stephen Stills fell & broke his nose in the hotel shower - President's Suite - after that amazing Westridge Park Durban Concert, in the driving rain. (We were told that prior to the RSA engagement Stephen had got into a backstage argument with Elvis Costello and broke his nose in concert somewhere. Neither confirmed, nor denied. Poetic justice for the Rock hero?)

A puzzled and bemused Stills spent some time recuperating watching ODI Cricket from his hospital bed for the first time. He eventually caught a live game, South Africa vs. England - from Terry Rosenberg's McCarthy Box in Durban - with Graham Nash trying to explain the rules of this lengthy and complex sport to a short attention spanned baseball bred Canadian guitarist. He was eventually suckered into the game, even if he didn't quite come to grips with the strange rules and terminology. Throughout the SAfrican tour, Stephen proudly donned the green red and gold Proteas stripes on stage.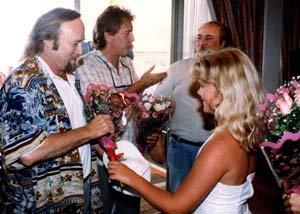 Stephen Stills Welcome to Durban with Flowers from Rose-Lee - 1996. Photo by Illa Thompson / Sharlene Versveld

But back at boarding school when there were still 8 balls in the over and we fast bowlers could drag our back foot over the popping crease half way down the pitch - as long as that holey back boot didn't leave the ground - we could only listen to Rock music in secret; under the boarding school blankets for fear of death, should a prefect or a Matric ever catch you grooving to the devil's own. Some of us managed to rig up or acquire our own Crystal Radio Sets.

My first Crystal Radio was laid on me by my day-scholar friend and brain-child sparkie Mervyn Van Rooyen. (When it worked - Oh Boy - all my life I'd been-a-waiting! Tonight there'll be no hesitatin'.... ). This being a technical college, making these tiny electronic gadgets (and some 2 years later our first electric guitars) in the school workshops, was not that difficult - between technical school curriculums. That crystal set with a tiny ear-piece would snap, crackle and pop into life between LM Radio, Radio Moscow or New Delhi, in the freezing cold hours of a Witbank winter's night. But through all that noise and static this was Hot Rock Heaven! The muse and the music has been shuffling our feet and scrambling our minds ever since. Different strokes?.....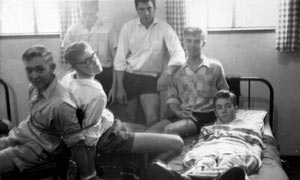 Boarding School Hostel Inmates kidnap House Leaders - 1961 (l-r) John Campbell, Irwin Cohen, Ian Howard, Bill Jelliman, David Marks & Mervyn Van Rooyen under the blanket.

LM Radio was our secret meeting and hiding place in the late 50's early 60's. It was where young Afrikaners and Rooinekke alike, could communicate on equal terms. (We English speakers were no match for the Afrikaners on the Cricket Pitches or Rugby Fields of the Transvaal). But here we were - liberated by Rock 'n Roll and Folk Singers - having just grown out of Tree Houses and Springbok Radio afternoon breakfast serials.

Jungle Oats presents another enthralling episode of Hop Harrigan...... South Africa never had TV remember (we were apparently the last country on earth to get it in 1975), so we were a mind-theatre and radio controlled driven generation. People, parents and politicians could say whatever they liked or whatever they thought they had too - but we were in a world of our own. Together at last! Millions of teenagers whose language we couldn't understand and whose cultures and class didn't matter. This was Rock 'n Roll!

Maybe that's why SAfrican musicians in exile did so well on the international music scene, later in the 60's, 70's and 80's? They became Global mind-theatre players and producers that made an impact on the international commercial world of Rock 'n Roll and Jazz - well, at the end of the Rack daze at any rate - and they couldn't even pay their rent from here.
...more about Mutt Lange - Hocus 1975 and Clive Calder >>

Just a tiny taste and all of us - Afrikaner and Rooinek alike - became hopeless Rock 'n Roll addicts. The Matrics and Masters' greatest fears were realized; the soul of the White Nation - especially some of us in the first team Rugby and Cricket squads - was up for grabs! Just when they had thought that we were saved by selection - bam! Bee Bop A Lula and a Wop-Bop-A-Loo-Bop-A-Wop-Boom-Bang! My Cricket Bat at the ready.

These were the pre-Dylan and Beatles Daze, by some years. Radio DJ's were the gurus of the 78 & 45 Revolutions Per Minute and they took their responsibility and respect for listeners and musicians rather seriously. Unlike today's PC & power crazy Desk Jockeys who seem to hate music and musicians, and who get paid to call the tune and act deaf, dumb and violent on behalf of the desperate and dying commercial Record Industry.

LM Radio employed a bunch of eager merchants who were always willing to share and dispense all sorts of audio goodies; keeping us satisfied by laying anti-Christian National Education forbidden fruit on us. A young John Berks; a nervous David Gresham; a smooth cool Michael Meyer - long time friend and musician himself; the all knowing station Master and LM Radio bossman David Davies - a rock revolutionary in a tie; the sexy sounding Dana who could switch between Afrikaans, English and Portuguese like a Ballerina. And then there was every SAfrican musicians' hero - the ever effervescent Clackie MacKay.

These LM Jocks were the rock rebel hero disciples who were walking the plank for us from a pirate Rock Radio Station across the South African borders and turning our world on with recorded music that the authorities claimed would ruin our lives. For them, they were right on! These Jocks in turn influenced a generation of DJs Oscar Renzi (RIP), Alex Jay and Treasure Shabalala included.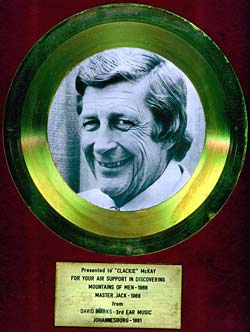 LM Radio's Clackie McKay (RIP) Gold Disc for his contribution to finding Mountains of Men 1966 and Master Jack 1967.

(Incidentally, it was Clackie who defied, first Gallo & then Teal Records, by turning both B sides over & plugging my underground Gold Mine Cricket Bat folk tunes instead of the A side pop covers. Mountains of Men. Was the first - released the day Tsafendis put an end to Verwoed in the chambers of parliament - 29th September 1966. It got to number 17 on the Rock and Pop LM charts a month later, recorded by Des Lindberg & Ian Lawrence. Nick Taylor, Keith Blundell and many others followed. But still I wasn't playing in the Rock Bands that could do that sort of stuff. Then Master Jack by Pop band 4 Jacks and a Jill stayed at number one on the LM charts longer than any other song in local pop history. Many versions in many languages would follow, but the other two local recordings of note were by Nick Taylor and Mexican Trini Lopez. Clackie pushed them all. One wonders today what's happened to DJs choice and free will? Freedom of expression and choice? Well without it what young Tennis Racquet Rocker or Hip Hopper is going to prove a point.

Meanwhile, back under the late-night Witbank Hostel blankets when most normal boys should have been fiddling with their organs, peeping at dirty pictures smuggled across the border by the Portuguese Mofioso, we pop addicts were being taken for a night ride flight of fancy through the international rhythms and blues by hit star soul searchers. An addictive nightly diet of the best Rockers the world had to offer; the signal to noise ratio made not a crackle of difference.

Fats Domino, Sam Cooke, Little Richard and pre GI Blues Elvis - and let it never be known to the Boys in the Band - a bit of Pat Boone on the side. Having never heard of Chuck Berry as a Rocker - we only knew about the magic of his songs through the Mickie Most covers - Mickie was the local hero. But so good and strong were those 12 bar school-girl rock ' blues tunes, that not even Mickie and Gallo Records, try as they might, could screw em' up for us in the studio. (Mickie, incidentally went back to Britain to become one of the most successful Rock and Folk record producers of the 60s.)

Then there were the ware (real) city SAfricans - The Silhouettes, The Giants, Johnny Kongos and the G-Men and Jeremy Taylor with a little bit of Magic Penny Whistle and Sax in Little Lemmy Special and Maskandi Jazz guitarist Almon Mamela - who 20 years later, was to help me produce and record a batch of great SAfrican musicians.

The closest I had personally got to a real hit at that time - 1961 / 62 - was when a Matric or a Master caught me sneaking in through the hostel fanlight after having dropped my last few tickies into the Juke Box down at Costa's Corner Café; just so's I could get my fix and cry with Roy Orbison, travel with Ricky Nelson, dream with John D Loudermilk or sway to Johnny Kongos against the clang and clatter of the bumpers and bells in the 5 Iron Naughts and Crosses.

After Cricket or Rugby and before Bioscope on a Saturday, I'd spend all of my spare time in between batting practice, milk-shaking and coke-floating. I so desperately needed the money. And as we all know, junkies will steel anything for a fix. (I hear that nobody is allowed to employ any child under 15 anymore? It is a criminal offense punishable by law and defined as child slave labour? What's going to happen to Bob a Job and weekend gardening for hundreds and thousands of children who need the work after school? And to day it's not about pennies for Rock 'n Roll it's about cents for food.)

My hard-earned sweet-shop corner Café cash would go right back into the Juke or the Pinball and I'd give the small change to Mr. Berman at the record and bicycle shop around the corner, until I'd managed to save up enough for the latest Rock 78.......

That's the sound of the man, working on the chaaaiiiin gang...well dontcha know - that's the sound of the men, working on the chain gang. All day long they go....Oh. Ah. Sam Cooke RIP!

See how close Cricket & rock really are? So what really went haywire with the Cricket and Music connection between 1967 and 1994?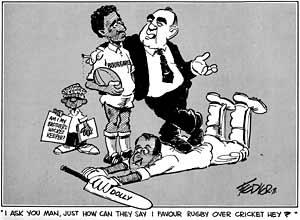 Dov's Dolly- With thanks and permission from our dear friend, Dov The Master Fedler.

John Vorster! He who stumped and stunned many young potentially patriotic musicians and cricketers, by preventing Basil Dolly D'Olivera from touring his own homeland with the proposed MCC Tour of SAfrica 1967. That was it! Musicians that I knew began loosing their revolting scoundrel patriotic edge.

As sad as it may seem, it took events such as the Dolly Affair to wake many young people up. The 1966 / 67 Limehill and Stinkwater forced removals - just two among many at the time - did not make the same sort of impact as did that MCC Cricket fiasco. This was about the time when some of us were just beginning to see the light in the city coffee bars and township shebeens; mixing politics with sport and everything in between. It seems strange that in this day and age, we still don't want to know what really happens to ordinary people until it's too late or until it interferes with our sport. Nothing seems to have changed. Mugabe's forced removals and land grabs are taking place around the Cricket World Cup stadiums of Harare and Bulawayo - and the game goes on? Imagine where in the world South Africa would be if England had told Peter Hain back in 1967, that we shouldn't mix politics with sport. The same crusade the Peter Hain is on to day goes unheard. Is an evil white regime any better or worse than an evil black one? Pretty patronizing I would say!
John Vorster's land grabs seemed to convince his supporters that it was for the best; designed to improve the lot of the poor helpless Natives? Our government support of Robert Mugabe suggests the same old thing in reverse; only this time 4 million people face starvation - the cricketers have to fly food in from South Africa. Any opposition to Vorster's moves was considered treasonable - a communist plot hatched by traitors; opposition to Mugabe's moves are a colonial plot supported by coconuts! Go figure! Maybe there's a lesson to learn here - if we want too? These human rights abuses were highlighted by Cricket; it turned a formally apathetic sports public into Rock rebels; at least it made them more aware of the situation in the country. It played into the hands, hearts and minds of any boy who kicks or hits a ball. What's happening today?

St Helena Tumbles - News Clip

In 1967 my wonderfully Linseed oiled and played-in Slazenger Cricket Bat had just the right amount of red-dings in the meat of the body with the pig-skin toe and a newly threaded rubber-sprung handle. This was going to be used for one thing from then on. Revolting Rock 'n Roll. Eastern Transvaal and Free State Cricket Trials be damned. And soon I was spanking for the Jammtaries in Welkom and Harry Poulos' Privilege & The Drive with Davy James at Tiles in Durban. My Cricket Bat went with. Just incase!

So it seems that the musicians I got to know in the mid-60's had what our school masters would have said was a negative influence on me. Outside of the commercial barroom balladeer and cock-tale lounge circuit, most SAfrican musicians that we worked with would start supporting any foreign team that played the white Springboks - not openly, perhaps. As far as we were concerned South African sport no longer existed and they deserved to get beaten. So too most of South Africa - until 1990. I suppose that little private protest - for what it was worth - is not unlike what our obligation to the people of Zimbabwe should be at this time. For Vorster read Mugabe and then check Sir Bob Geldorf's Aegis Trust for Zimbabwe.
eMail: [email protected]
Website: www.zimbabwefund.co.uk

Now, SAfrican musicians cancel gigs and sessions just to wake up at 4am to shout for the Proteas, Bafana or The 'Boks down the boob tube. You see, we do not mix politics with sport. They do! We just wanna play. It's good to be back in this strange, strange world!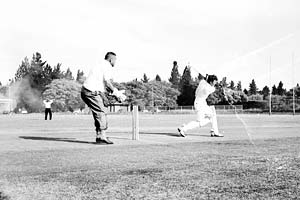 Oom Phil Ackerman RIP (Gold Mine Instructor, Cricket Coach father to Hilton and Grandfather of HD) towers over Wally Ridgard - CTO - in a friendly 1963; there were still 8 balls to the over and nobody wore a helmet.
(Draft extracts - Hidden Years Story by David Marks. Soon to be issued by Penguin Books)