The sad passing-on of two lost legends In one Country Worlds Apart: Keith Blundell and Alfred Temba Qabula.
QABULA RIP (1942 - 2002)
Alfred Temba Qabula was born at Flagstaff Transkei, in 1942. His grandfather was a transport rider, his father and his uncles were miners and sugarcane workers. Migrancy and influx controls ruled his area's and his family's life. Seventy percent of able-bodied men in his area subsist through migrancy.
Qabula was raised under harsh conditions as a child - he was orphaned after his father was poisoned and his mother wilted away very early in his life.
As a young man, barely 18 years old, he was caught-up in the Pondoland rebellion. He survived the conflict by hiding and starving in the forests with his friends. In those days death was stalking in the area and agriculture collapsed. 1964 found him on a train bound for Carletonville to start his first migrant contract with a construction company on the mines. For five years he lived in the compounds at night and worked as a plumber in the construction gangs during the day. In 1969 one of his foremen started a business at Redhill and lured him away to Durban. There, he "shacked-up" with his uncle at Amaouti in Inanda Reserve. It is no surprise that Qabula's poems, songs and praise-pieces are pained by the "hurt of migrancy".
His immediate family - a wife and three children - remained on the land. His heart, his feelings and his source of inspiration remained with them in their world of the countryside. As he announces in one of his poems the natural sounds and landscapes there are his sources of inspiration but also a source of resistance:"... From this criss-cross of sounds / and song / Delivered by your creatures / 1 / get inspiration / to sing / And also to write/ And also to ask my sisters and brothers/ "Why are you quiet?"... is there nothing that tickles you into action 1 from all this?"
Despite his feelings though, his experience is of an urban world of ugliness, harshness and noise where, "...we see the railway tracks / the highways, the buildings and factories 1 the structures ... we hear/the trains / the motor cars and machinery / the bombs going off / the sound of gunshot / and you refuse to ask them/ why they are conducting themselves like that/ You don't complain / when they are making so much NOISE. "
In 1974 he entered the noisy world of factory production at "Dunlop S.A." (Sydney Road). From then on he had to adjust to the demands of the mass production of rubber products.
Qabula adjusted to his job by creating a unique world: in his head. For the past decade he has been composing songs there about everything that affects his life and the life of others. He survives the working day by composing songs of redemption or resistance: 1 would see something that hurts, that causes me pain and then 1 would spend the working day making a song about it. "
In 1983 he joined the Metal and Allied Workers' Union (MAWU) and was part of the shop-steward steering committee which organised all the Dunlop workers into the union. That year, he participated in the making of the "Dunlop Play". In 1984 he started - dressed in a colourful costume - to perform his 1zibongo zika Fosatu" composition at union meetings. His performances initiated a revival of imbongi poetry in union gatherings in Natal and beyond. This oral poetry, thought by many to be a dead tradition or the preserve of chiefly praises, resurfaced as a voice of ordinary black workers and their struggles. Since then Qabula has written more poems, plays and projects within the Durban Workers' Cultural Local. He is now completing a book on his life experiences and together with Hlatshwayo and others he continues to orate his poems.

Professor Ari Sitas for Culture and Working Life Project

...read the lyrics to his song Death >>
(Alfred Temba Qabula)
(Flagstaff, Transkei, Christmas 1985)
---
From Capetown, we had to say goodbye to 2 music people - Beautiful Ilne Hofmeyr - Musician, artist & children's story teller & creator - after a long & courageous battle with cancer. To Owen Coetzer - a music media friend, journalist & champion of SAfrican folk music; for over 30 years Elliot Makhaya bows out after some 30 years of arts journalism with The World, The & The Sowetan - here is his piece on media bashing for 3rd Ear Music's Market Café, back in October 1976. In Durban we lost another soundman, musician & hotel balladeer of some 35 years on the road - Kevin Mason. To the friends & families of all - our deepest condolences; through their music they made light.
To the friends & families - our deepest condolences; through their words and music they will keeping making light.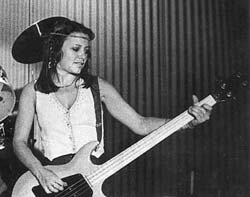 Ilne Hofmeyr - Bassist for Roger Lucey's Zub Zub Marauders - Chelsea Theatre Underground 1980.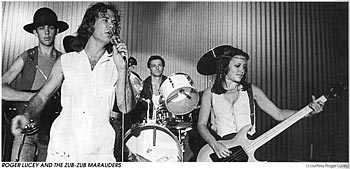 Elliot Makhaya - from my angle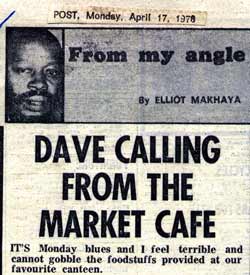 Elliot Makhaya - from my angle (Post)

It's Monday blues and I feel terrible and cannot gobble the foodstuffs provided at our favourite canteen. You see, in this business that I am Involved in - whether you are suffering from the morning after or not, you've got to keep the fires burning, news rolling and you've to bear this with a nagging editor (pardon me, sir). He Is bound to - because he needs copy for his newspaper.
While in this misery state of a hangover, my telephone rang and a voice boomed Into my eardrums, something like: "Look here Mr Makhaya, I sent you an invitation to the Market Theatre. Why didn't you turn up?"
This was David Marks, the man behind the Market Cafe.
Having this morning feeling a bit ruffled, I later realised the, guy was justified.
You see the Market Cafe is one of the few places around the Golden City which gives blacks more exposure in this competitive business, showbusiness, so to say.
After a week I got a letter from Industrious Dave and I wish to share the message from David with you.

The letter reads: "What Is it that seems to consistently keep our media people away from the "newly" done-out Market Cafe? It's all very well one or the other critic not liking a show, or a place '(or not even bothering to read the Invitations) but when the readers in question haven't even seen the place take change ... well ... not to mention that out of I5 Invitations (sent to the press and SABC and TV) we received one critic, not one RSVP ... and not a soul else... that was for the Bob Marley film / video."

"It's a little disheartening. Don't get us wrong, we greatly, appreciate the odd mention. But I am sick of writing this kind of note as I am of hearing: Gee... we didn't know you had this and that at the Market Cafe."

"If you're Interested, and have read this far without getting too hot under the white collar, we have a simple R1.50 cover charge which Includes the best Pizza In town and a cup of good coffee." (Served and prepared by the best actresses in the world - thanks Bev, Fran, Leonie & others). There you are fellas, I mean the media personalities. David has got a right to blow off his top. He Is quite justified. One thing I know about the Market Cafe is that it is not stereotyped. You get all kinds of entertainment.
How about those scribes, just for a day or two, forgetting about their operas, ballets and hop to this joint to go and learn a thing or two about mbaqanga, cothoza mfana or mbube ... it pays.
It's all things go at the Market.
Dear Dave we have learnt our lesson. Thank you, see You next Monday brothers and sisters.
---