Thanks to Derek Hannan, ex- CEO WEA & Tusk Records (SA), for these photos of Richard - pre-Tusk days, Johannesburg. It was Derek, who with Richard & Mike Oldfield, broke away from TEAL to form WEA Records (SA) in 1975.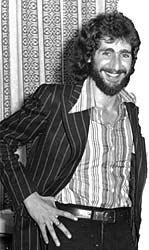 Ricardo remembered – flashy suits & shirts, beaming smile alight and a soul to match. 1975 WEA Launch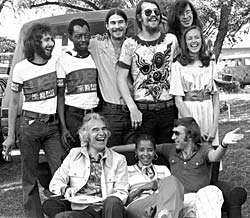 Richard Sassoon with The Dave Brubeck Family Band, Pam & Derek Hannan Johannesburg, Parktown 1978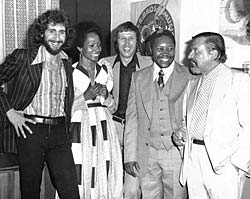 Richard Sassoon, Derek Hannan, Almon Mamela & Neshui Ertegen at the launch of WEA in Johannesburg, Parktown 1975

When I heard Richard had died this week, the first thing that came to my mind was that our society should have better ways of looking after precious people like him. He was hopeless at doing the boring things that make the world turn, the things that most of us are reasonably competent at doing - making money, balancing the books, living responsibly within middle-class social constraints. But he lived outside all of that - he was bright, sensitive, fragile, a voracious reader, a thrilling debater, an original thinker ... a true bohemian.

And over the past few days people who hardly know one another - people living in Australia, Los Angeles, New York, Nashville, London, Johannesburg and Cape Town - have been talking on the telephone about the one thing they have in common: Richard Sassoon. I know because I have been one of those people and already some of us have arranged to meet later this month. We all knew about one another because of Richard. He was as generous with his friendships as he was with his opinions, and it is a great testament to him that even after he has gone his influence is so strong that these strangers have been drawn together.

I have spent some of my happiest days with Richard. And I have had some of the most frustrating and infuriating passages of my life because of him. We once had a business together and on one glorious evening in New York we allowed a theatre producer to convince us we were on the verge of turning out a successful Broadway musical. We danced a jig of joy and I shall always remember the pleasure we shared in those heady, unrealistic moments, even though in the end it all ended in tears.

He was my first daughter's godfather. This, despite the fact that he spent the first few weeks of her life trying to persuade us - her parents - to name her Magda, after Joseph Goebals' wife. He also spent hour upon hour playing "shop" with both my daughters - and the most difficult task I had this week was to tell them that their lovely, mad, loony friend Richard was dead. Children loved him because he had a childlike quality that most of us have lost on our journey to middle age. It was that quality that made him so vulnerable.

Like so many who knew him well I loved Richard and I know I shall think about him constantly until my turn comes. Rest in peace, my friend.
---
Subject: In Memoriam Richard Sassoon
Aug. 23, 1949 - April 11, 2005
Paul & Dez Zamek writes from Nashville, Tennessee, US - 12th April 2005.
Dear Friends Richard Sassoon, our dear brother in arms passed away on April 11, 2005.
We have purposely included all email addresses - and not BCC'd anyone - as in our grief and sympathy, there may be friends amongst us with whom we wish to be in contact.
Richard, Richie, Ricardo...our dear friend and fellow traveller was a man of contrasts and paradoxes;
He loved and appreciated the finer things in life but was in no way materialistic... he lived a life of cluttered elegance.
He was both a seeker and a teacher ... he provoked you into thinking, most of the time taking a contrarian approach, yet always with a twinkle in his eye. Mischief was his guide. And we all loved to take that journey with him.
He was a dedicated family man yet he never married...his extended family consisted of all his friends who are scattered all over the world. He was a loving son, brother, uncle, nephew and a most trustworthy friend. He embodied everything that one hopes for in a friendship...loyalty, playfulness and consideration.
He was a friend of the universe yet he was a bit of a lone wolf...He was so very generous...we've all heard the expression that "He'll give you the shirt off his back?"...well Richard did exactly that and quite literally...our wardrobe is still full of those beautiful Cafe Shirts that Richard and Alan created in the US - and yet he could be a hard and tough teacher...tough love is what he gave. And we are all stronger for it.
He was a spiritual and religious man yet he had no patience for fanaticism of any kind. He listened to all points of view - from Gurdjief to Allah- and then he argued against them all!
Ours is not to question why Richard decided to take his last journey ... we are born alone and we pass from this world alone. Richard had reached a point where the promise of a better life hereafter was more appealing than the earthly plane. It must have taken an enormous amount of courage because Richard was a brave and solid person. We used to call him Richard the Lionheart...no challenge was too daunting and no task was too insurmountable. He devoured life and had arrived at the point where he decided to move on....and on his own terms.
Actually quite typical.
We will miss Richard so much... he was for Dez and me, one of our very closest and best friends. A kindred spirit of whom we will never again know the like... that is until we meet again.
We send love, strength and our prayers to you all today as we wish Richard God speed on his latest voyage.
Our thoughts are with Jan, Ronnie, Alan and their families, and with you all in our love for Richard.
May His Dear Soul Rest In Peace.
AMEN.
Paul & Dez Zamek
---
David Marks replies: 15th April 2005
Dear Paul - So sorry to hear this. Our condolences. Another one down...
It's strange, strange indeed - I was editing a piece on Richard (for my Hidden Years Book) a week ago. (He appears in a few chapters.) About us trying to get Human & De Nobrega (Radio 5) to programme John Oakley-Smith in 1976... what an experience!
You're right about his love of family. Ricardo was a famous family fairytale teller; Lisha (now 33 & a mother of 2 herself) heard some wonderful (scary) bedtimes stories when she was just 2 ...and he'd scare the living daylights out of little Dylan. Rumplestiltskin was his showstopper; totally his own version of course. (I wonder if Lisha & Dylan ever recovered?)
Seriously, Fran & I are so sad; and I so badly wanted to connect with him again; to help me colour in some of my book before I put it to bed. He had some telling record industry anecdotes. Do you perhaps have a recent photo? Maybe with all 3 of you? I have many from the early days... although, after our archive move, they are still in boxes somewhere.
Love from the Marksists....
PS - Come to think of it - it may have been him who gave us that name!
Marx, you're a bloody communist, he would jest and gesticulate, long lean lengthy arms winging the air, using Roger Lucey's banned 3rd Ear Music Road album (5 years or R10 000 fine, for possession) as a wing flap. W/O Paul Erasmus (BOSS) had been leaning on his desk for a couple of hours. Richard called me in and proceeded to read the riot act & stomp around the WEA boardroom table pretending to be angry & serious - lecturing me & smiling & giving the lampshade & the telephone the finger.... Fuck 'em all he whispered. And then promptly persuade Derek & Mike to part with a couple o' grand & half of the pressing costs so that we could do another record. Half a Live would inevitably get the old SABC archive Nail-File treatment. It was important to get those songs out there, said Richard.
3rd Ear sold about 11 copies of the Road album... the other 239 were either confiscated or given away. (Paul Erasmus said that after your Spotless Rock Concert at His Majesty's - which he too recorded by the way; only difference is I still have my tapes - he was instructed to raid Hillbrow Records & confiscate the stock. He thinks that quite a few of those copies went home with his fellow security policemen. He should know... The Road album is his favourite record today & even back then he got to know almost every song off by heart. Thanks Richard. RIP)