Dear friends:
Re: Commercial exploitation of Solomon Linda's Mbube/Wimoweh/Lion Sleeps tonight.
The object of this exercise is for you to add to any covers of this song that may be missing & to guess the song's earnings over the past 60 years in constant l999 dollars. I guess we're talking publisher's gross - after societies have taken their cut. Ballparks are inevitable, and a range of estimates would be nice, i.e. low to high. We will average the responses, and post the outcome.
The data below (provided by Rian Malan) is rough and incomplete, as you will see, but it's a start. Additions, corrections and comments are welcome.
Durban 2002
... read also: Rian Malan - Where Does The Lion Sleep Tonight? >>
---
Hits, covers and compilations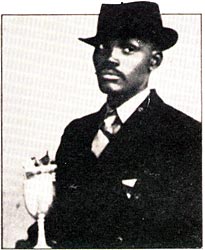 SOLOMON LINDA - Composer of MBUBE - Photo from MUFF ANDERSSON'S "Music in The Mix", Courtesy of the GALLO AFRICA ARCHIVE.
1) Mbube 1939 - Solomon Linda and the Evening Birds(Gallotone). Sold estimated 100,000 78s over a decade...
Early covers -
2) Tuxedo Swingsters, featuring Abdullah Ibrahim, early fifties.
3) Manhattan Bros. (Their live album for EMI, issued in exile in sixties)
4) Miriam Makeba's debut LP USA 1960, produced by Belafonte, featuring Chad Mitchell Trio. Made US Top 40. Title Miriam Makeba of King Kong Fame. "The most exciting new singing talent to appear in many years" - Time. Pirate version, desc. as "traditional."
5) Easy Walkers, according to Prof V. Erlmann of UTexas.
6) Wimoweh 1951 - The Weavers. Allegedly authored by the fictitious "Paul Campbell," but really adapted by Pete Seeger, who copied Mbube "note-for-note." Published Folkways, released Decca. Peaked at number 6 on Variety charts, and sold somewhere between two hundred thousand (Leventhal) and one million (Seeger) Subsequently appeared on at least 12 Weavers collections or reunions or Seeger solo albums.
Early covers -
7) Kingston Trio - track on 1959 album Live from Hungry I that peaked at number two and spent 178 weeks on US charts.
7a) Jimmy Dorsey - April 52 (Bandstand)
7b) Wilder Bros. 1955 (Erlmann)
7c) Yma Sumac, sultry "Peruvian" actually from Brooklyn.
8) Lion Sleeps Tonight -- The Tokens 1961. "By Weiss/Peretti/Creatore/Stanton." Immortal hit single, US number one for three weeks, topped charts worldwide, often in cover versions (see 7). Weiss says Tokens alone sold six million. Returned to US charts in 1995, peaking in 40s.
Beyond this point the list gets silly. Sales are anyone's guess, and hard information is almost impossible to obtain. Best I can do is highlight major artists.
9) Karl Denver - l962 UK cover, #1, four months on charts.
9b) Springfields (Top 20 British sixties hit, apparently)
9c) New Christy Minstrels
10) Yma Sumac
11) George Mitchell
12) Augmented Fifths
13) Davy Graham - British socialist folkie, quite big in '63.
14) Eric Donaldson - Love of the Common People LP 1972
15) The Tremeloes, plus several greatest hits comps.
16) Panharmonics
17) New Zealand Army Band
18) Jimmy Rodgers
19) Troubadour Singers
20) Klaus Wunderlich (cheesy German organmeister)
21) Robert John, peaked at US number 3 in l972.
22) Ladysmith Black Mambazo (at least four recordings - on some recent album produced by "British wanker," on Songs of the Tortoise with Gcina Mhlope, with Spike Lee and Mint Juleps, and special version for Coming to America, the Eddie Murphy movie.)
23) Soweto String Quartet (big in SA, UK and Australia)
24) Henry Jerome and orchestra
25) Thames Side Four/Davy Graham.
26) Bert Kaempfert. Lion version appeared on A Swinging Safari, '62, a huge LP worldwide. "One of the most successful records of its time," says Prof. Erlmann. Is this accurate?
27) Nanci Griffith (wimoweh)
28) Hugh Masakela
29) Sam Sklair (SA danceband)
30) Chris Barber
31) Chet Atkins My Favourite Guitars 1965
32) James Last (huge German danceband)
33) London Pop Orchestra
34) Ratton World Music Group
35) Aki Aleong/L. Twisters
36) England World Cup Soccer Squad 1986
37) Bill Marx
38) The Spinners
39) Glen Campbell 64
40) Roger Whittaker
41) Harry Stoneham
42) The Shangaans
43) Bobby Stevens
44) Brian Eno
45) Alan Tew
46) Robert Delgado
47) George Penman
48) Terry Lightfoot's Jazzmen
49) PJ Powers -- S. African Afropop, very big locally.
50) Tight Fit - this was the second-ever single from Clive Calder's Jive Records. Reached number one in UK (l982) and charted USA.
51) Mint Juleps (US stars of Spike Lee's a-capella documentary, with LBM)
52) The Rebops
53) The Sugar Beats
54) Main Attraction
55) Red Grammer
56) Groupo Alaska
57) Rigual M.
57) Arlo Guthrie "More together again," '94. Also "Precious Friend," '82.
58) Boys on the Block
59) Tyrone and The Clouds/steel band.
60) Ledernacken - German progressive band, ca 1990
61) Salif Keita unknown see web download
62) Mori Kante - see web download
From SABC cards ...
63) Mango Groove, SA pop band, huge locally
64) Kariba, obscure SA
65) Golden Heavies, produced by Clive Calder using session cats..
66) Funky Party 73
67) Murray Campbell & orchestra
68) Sound Power
69) Sounds Wild
70) Stereophonic 6
71) Harald Winkler, poss. German
72) 24 Goue Kitaar Treffers
From Allmusic.com - generally restricted to '90s releases
73) Kooky Crazy Classic Rock for Kids
74) Steelband and Calypso
74) Don't hang up - rock'n roll answering machine
75) Kid's Fun: games, songs and sing-a-longs
75) Teenagers in Love
76) Kingston Trio's greatest hits
77) 21 Rock'n'Roll Favourites
78) Goa Spirit, by Goa Spirit
79) Barnyard Beat
80) Great rock dance hits...
81) Retro Rock Dance Hits - new dance mixess...
82) Best of the Nylons
83)World of Holiday Hits
84) Main Attraction ('89)
85) Discovery Channel's Animal Planet
86) Lion King - original Broadway cast recording
87) Perfect Fit - Nylons album
88) Believe in music
89) Only rock 'n roll '70 to '74
90) I love rock'n'roll (hits of sixties)
91) Drew's Famous Kid's Birthday Dance Party
92) WCBS 25th anniversary
93) Simba's Favourites
94) Billboard Top R&R Hits
95) Nipper's Greatest Hits
96) Atlantic Hit 45s
97) Spike & Co, a capella
98) Stormy Weather
99) R&R Relix
100) Beat Goes On...
101) Folk Song America, vol 3
102) Sugar Beats
103) Eric Donaldson Cherry Oh Baby - maxi single? BMI.com
104) Soft Rockin' Seventies
105) Ace Ventura Pet Detective soundtrack
106) Robert John's Greatest Hits. (new version l992)
107) Super Hits of the Seventies "Have a nice day"
108) Pop History 1961
109) 1260 AM
110) Juke Box Jive
111) Decca Jahre (german)
112) Decade of the sixties
113) Reach out for Tremeloes
114) Seamless - Nylons
115) Jambo Africa - Bobby - son of Weiss (1994)
116) Both sides now - Tokens compilation
117) Oldies are now - Tokens ditto
118) All time greatest hits - Tokens
119) Best of B103 - Long Island's Oldies
120) Child's Celebration of Song
122) ....twelve Weavers/Seeger albums
122a)..at least two more Kingston Trio albums...
123) Roots of British Rock (written by "Denver"??????)
124) Mondo Exotica (96)
125) Western Wind Vocal Ensemble (94)
126) Roger Whittaker Live!
127) Very Best of New Christy Minstrels
128) Rockin' Jukebox
129) Rock'n'roll reunion, class of 62.
130) Nutter Mayf - on Going Skinny Dippin'.
131) Manu Dibango, Le Lion Est Mort Ce Soir, on waAfrika l994 (All music too)
132) Lion King movie soundtrack, later pressings - according to Weiss
133) Pow Wow, Le Lion Est Mort Cesoir, # 1 in France l993
134) Title unknown, number three Japan 1995 - according to Weiss, in US press interview.
Plus ...

135) They Might Be Giants
136) Phish (bootlegs only?)
137) Jimmy Dorsey (Live at the Edgewater, re-release late nineties.)
138) Woody Herman (?)
139) Lebo M - Rhythm of the Pridelands - 1995 - African music by Lion King arranger.
140) New SA version, 1999, heard on radio, artist unknown??? Could be...
141) Bayete, according to Linda's daughters.
142) Tulasiza ladies' choir - ditto.
143) West India Company - 1989 EG Records
144) REM - flipside of Sidewinder single.
145) Neil Diamond??????? Any takers?
146) Toucans - see web download.
147) Sandra Bernhardt??? Very obscure recording.
148) The Peter Pan Chorus - see www.songfile.com
149) Rapper Snow, sampled Lion in Mash up da nation, a track on his l997 album Justuss.
150) Easy Walkers Imbube -- per Prof Erlmann
151) Wilder Brothers l955 -- ditto
152) Stylistics 1978 -- ditto
153) Lion King the Musical - Japanese cast recording. (Allmusic.com)
From BMI.com database
120) A Child's Celebration Of Song 2 - Lion Sleeps Tonight (Mbube) - Ladysmith Black Mambazo , 1996 (repeat)
154) Robert John o Greatest Hits o Lion Sleeps Tonight (new version) , 1992 $7.97
155) The Lion King: Return To Pride Rock o Lion Sleeps Tonight - Lebo M , 1998 $13.57
156) Your Favorite Songs o Lion Sleeps Tonight - Robert Johns , 1991 $7.97
157) WODS-FM's 10th Anniversary: Best...60s - The Tokens , 1997$13.57
158) WOGL-FM's 10th Anniversary: Best...60s - The Tokens , 1997 $13.57
159) 30 Big Hits Of The Airwaves, Vol. 3 - The Tokens $13.57
160) Capital Lounge Series, l999 compilation (Wimoweh) Allmusic
161) Your Hit Parade - The Fifties Pop Revival. (Wimoweh) Ditto
162) HARP - some Seeger/Guthrie collaboration
163) Panharmonics 1991 (Screen ventures)
164) Best of the Best Classics Vol 1 (allmusic)
165)Absolutely Disney (allmusic)166) Your Favorite Songs ('91)
167) Zoo (allmusic).
169) Dave Newman (UK minor hit)
170) Spanish version, lyrics by H. Richmond under alias, recorded 1965 by?
171) Jungle Rumble Band - minor UK hit, heavily promoted, 2000.
172) NSYNC - Scandanavian markets release only. See Nordisc documents.
173) Helmut Lotti - his monstrously big Safari album 1999.
174) Yet another Danish Top Ten hit, 2000, according to data from Nordisc. Title unknown.
175) Track on "WHO LET THE DOGS OUT" CD, which sold five to eight million worldwide in 2001/2001. (Source G. Paynter, Gallo).
One presumes there are many more obscure covers in Europe and Australasia, plus many bootleg recordings in wilder markets. Additions welcome.
Additional sources of income -
Mechanical royalties
Every copy sold would have earned a few cents for writer/writers, the take rising considerably after fixed US rate was scrapped in the seventies. Accurate figures are impossible to come by, but we're looking at "eight or nine" hit single cycles, according to George Weiss, and at least as many major albums, plus scores of minor successes.
Movies
Lion Sleeps Tonight version...
Sandlot '93
Private Parts (biggish hit - Howard Stern) '97
Dead Calm '89
Matinee '92
Ace Ventura Pet Detective (huge hit plus soundtrack) '94
That Night '92
Lion King (huge hit) '94
29th Street, 1991
Brain Donors
Hot Pursuit
Bandit - 2002 Bruce Willis vehicle, according to Jay Savage.
Mbube - Ladysmith BM recorded a version for Coming to America, the 1988 Eddie Murphy vehicle. Mbube also used in Cry the Beloved Country, the mid-nineties remake, starring Richard Harris. Source Samro.
Wimoweh used in Dogfight starring river phoenix. 1991
Movie licenses fetch $25,000 to $100,000 in US, depending. Additional income in form of performance royalties for theatrical screenings outside USA - potentially huge, given Lion King and Ace Ventura's popularity. Beyond that, every TV showing in every market on the planet would trigger additional performance royalties.
Video
Movie producers usually secure video rights as part of the initial licensing deal. If Weiss managed to retain video rights, however, he would later have made a huge killing in video royalties, especially on Ace Ventura and Lion King, with every copy made triggering mechanicals. (Lion King video sales = 40 million.)
SYNC LICENSES - This list is pitiful. There must be more out there. Help!
TV
Friends (used twice, according to Phil Margo)
Burke's Law (ditto)
Discovery Channel's Animal Planet - theme for kid TV series, ongoing.
What a time that was - Prime-time CBS documentary on Weavers, 1989. Shown worldwide.
Do it a-Capella - Spike Lee documentary PBS. Theatrical release some markets
Is it art? - SABC TV insert, 1999
TV commercials (must be many more)
Burger King national US with Lion King tie-in (Weiss)
Embassy Suites hotels US (Margo's sister)
Sun City SA - TV promo theme, early nineties. Fee was about 150k dollars.
All-Africa Games promo SA 1999. Self.
Brit Lions Rugby promo, UK. Used repeatedly, according to Brit. Diplomat.
"Goodyear sync adv" - according to Gallo publishing statement??????
Adrian T. says it's the theme song of some tacky US safari park, heavily used in TV promotion.
Lion Sleeps Tonight is the theme song of jungle. Com, "Britain's largest retail website." As of March 2000, it was being used in radio ads on 270 stations.
Lion King Broadway musical
Only non-Elton John song in the show, which has played to packed houses on Broadway for three years and now has five satellite casts - LA, West End, Toronto, Tokyo and Osaka. Brabeck twins estimate that a single song in a hit Broadway musical earns circa $1000 a week in composer royalties. Alternative formula of six percent of gross divided by 12 songs comes to more than double that. Multiply by six satellite productions over many years......
Jan 2000 - Lebo M comes to SA to recruit African singers for two additional casts. SAFM describes Lion as "the most successful musical in Broadway history."
Airplay
US-based Val Pak and 106.9 FM publish an annual Top 500 Oldies list, "determined by listeners who respond both online and to an annual mailing of over 100,000 Val Pak mailers." Tokens 1961 recording of Lion Sleeps Tonite slotted in at number 7 in l998. If this is accurate, performance royalties must be huge.
For comparison purposes: BMI gives out "Million-Air" awards to songs that have been played a million times, equalling 57 years of continuous airplay. Lion is an ASCAP song so it's not rated. But let's look at the songs immediately above and below it on the l998 Val Pak Oldies hit parade. Dock of the Bay, at number six, has racked up 6 million airplays. When a Man loves a woman has four million. So let's allocate Lion a theoretical five. Result: around 285 years of airplay in US alone.
Total earnings ...?????????????????
Lion version has been owned since 1992 by George Weiss's company Abilene. Weiss had this to say in l995, just after Lion King bonanza. "The song lives a magical life. It's been a hit eight or nine times before, but never like this. It's going wild! The way this happened, it was magic, it was beautiful, it was destiny. I have to say God smiled at me."
What does such glee mean in dollar terms??? Answers to David Marks...details tk.