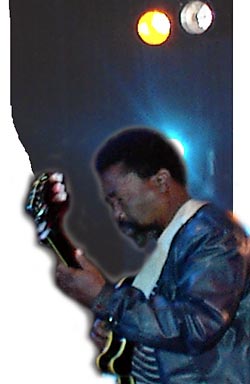 We were hoping to send out a good-news note this time, only to hear of the tragic news of Sandile Shange's accident on Saturday evening. He was at a gig in Morningside, Durban, when he left on his scooter to fetch a jack-plug lead for his guitar.
Sandile Shange:- The little man was a giant in Jazz; no bigger than his guitar, he was larger than life; where almost everything was a great pleasure & a massive surprise - met with a wry sense of wit, humour & timing!
Another great musician exits without his work being completed; what makes this really sad, is that after 30 years on the road, Sandi was preparing for his first formal solo studio recording. One of many that were never to be. Sandile featured in many bands since the 60's and became a unique township jazz-jive stylist. A remarkable guitarist who wouldn't compromise - which is why he would never lower himself into commercial studio production work. He played magic with his guitar & his music, his way; and that's how he made his name, if scarcely a living.
Sandi did feature in countless, festivals, concerts & clubs & he did record with numerous groups in concert & in the studio. Among his many notable performances - some recorded - were those with Darius Brubeck in various combinations & bands at clubs & functions & at Centre for Jazz at the University. He also recorded the sound track & title theme for the Vuleka Radio Series of Sharp Zinto in 1994.
3rd Ear Music has always treasured Sandile's live recordings - especially those that we made with the legendary Shange Brothers for the Soweto National Jazz Festival at Jabulani Amphitheatre in 1974. And of course who can ever forget his solo tricks & ad lib jams in Guitars For Africa with Johnnie Fourie?
As we always told you when you mounted that scooter of yours, guitar strapped to back; Hamba Kahle Sandile!
---