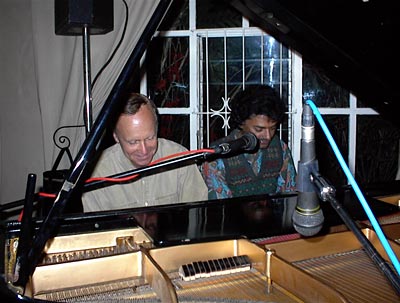 The Hidden Years Book - Terry Rosenberg with Melvin Peters
The Hidden Years Book
-
Terry Rosenberg
has agreed to help fund the 3rd Ear Music Hidden Years Book. Terry, who has been one of this country's most active 'back-room' workers, who has helped steer this country (and the kZN province in particular) through some remarkably tough political & economic times & changes. Terry has been renowned and respected as a businessman & sportsman for many years, but not too many people in the world of business & politics have been aware, that among its many talents, he is also a musician of note who wants to do all he can to help local musicians & music. Terry has been playing gigs recently with
Alan Judd
&
Dan Chiorboli
. His patronage of 3rd Ear Music & the Hidden Years Book has not only assured a start on a remarkable piece of Hidden History, but it also includes the synopsis for a proposed British TV Documentary on the SAfrica's Hidden Music Years that
Keith Huxley
is working on in Cape Town.
Preview of the book:
PA History Sound Safari
Wedgies from Woodstock to Soweto. David Marks let's you peep into a draft chapter of the Hidden Years Story. ...read the story >>
---
If you have any comments about this article,
please drop us a line
.