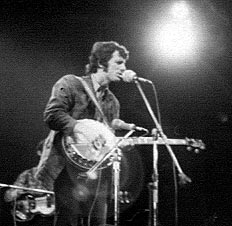 John Hartford
The
SA Rock Digest
says a sad goodbye and pays tribute to the Blues master, the Batand the Stingray. The legendary, hugely-respected blues elder statesman,
John Lee Hooker
, died in his sleep on the 21st June at age 83.
Barry Jarman of the legendary (and still active) SA pop group The Bats, passed away last week; and Eddie Boyle, who was best known as the bassist for SA rock group Stingray, died on stage during a live performance at the Blues Room in Sandton on the 19th June. Our condolences to all Barry and Eddie's family, friends and fans.
From Brian Currin - SA Rock Digest # 111

RIP - JOHN HARTFORD
By Richard Haslop from the Bruce Millar show on SAfm - 20th June 2001
(David will post a few anecdotes on his meeting with John Hartford at the Newport Folk Festival, USA 1969 - in the next edition - John was involved with the USA Artists' boycott of the Holiday Inns - along with Len Chandler, Pete Seeger, Don McLean & others.)
Article:
I wouldn't usually use this slot to do an obituary of a folk musician, but when that musician wrote a song that, according to the huge music licensing company, Broadcast Music Incorporated, has been played on the radio more than six million times, and has been recorded in more than 400 different versions, and he also happens to be a favourite of mine, I reckon he has a History worth telling.
John Cowan Harford was born in New York, but his father, a medical doctor, moved the family to St Louis, Missouri, when John was just a baby. By the time he had reached his teens, John had become proficient on both banjo and fiddle but, more importantly, perhaps, his hometown's situation on the Mississippi engendered a love of the river, its lore and its culture that would pervade his life and influence many of his recordings. Going nowhere career-wise, he moved to Nashville in the mid '60s and became a radio DJ. His songs came to the attention to Chuck Glaser of prominent country act the Glaser Brothers. Glaser's brother Jim would co-write the first of Gary Puckett & the Union Gap's hit singles, Woman Woman, while another brother, Tompall, was one of the original '70s country outlaws with Willie Nelson and Waylon Jennings.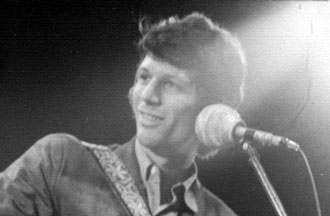 John Hartford
Signed to RCA-Victor, Harford had a "t" added to his surname by Chet Atkins, and was John Hartford from then on. His debut album sported sleeve-notes by Johnny Cash who ventured the opinion that Hartford ''is great, but doesn't know it ... his music and lyrics are unlike any I've heard. He is himself and will not be told how to write or sing, because he has only his own world.'' Hartford's own comment was instructive, and foreshadowed the approach he would adopt throughout his career. "Had I not made this record," he said, "I would have still made these songs and sung them to my family, my friends, and then softly to myself I reckon." His second album, 1967's Earthwords And Music, featured the song that would ensure the degree of financial stability that would enable him to follow his musical heart. Hartford claimed to have written Gentle On My Mind in 15 or 20 minutes after seeing Dr Zhivago. He told people that the film had made him want to drink Julie Christie's bathwater. His own version caused a minor rustle, but Glen Campbell's cover took off, reaching both the country and pop charts. Interestingly, given the song's later status as a pop standard, it only just squeezed into the US Top 40, stopping at No 39. More impressive was Dean Martin's No 2 slot on the UK charts in 1969. Both Hartford's and Campbell's versions won Grammy Awards and, among the hundreds of artists who recorded the song were Elvis Presley, Bing Crosby, Frank Sinatra, Aretha Franklin, Lou Rawls and a slew of pop and country singers including Hank Snow, Tammy Wynette and the aforementioned Tompall Glaser and Waylon Jennings. The song's success persuaded Hartford to move to the California, where he became part of the cast of both the Smothers Brothers and Glen Campbell TV shows, mainly playing and singing, but doing a little acting, too. He was offered further acting work, but decided to return to Nashville. Already in his '30s he didn't want to become known, he said, as a failed actor who turned to music.
While out west he had played on the Byrds' groundbreaking country-rock album, Sweetheart Of The Rodeo. He refused to compromise one iota musically, building an impressive, if somewhat left of centre career as an old time fiddler and banjo player who wrote memorable songs that almost nobody got to hear. Nevertheless, he led several new converts to bluegrass and traditional music, sucking them in with easy to like songs like Granny, Won't You Smoke Some Marijuana, and then keeping them interested when the real stuff came along. His live performances were the stuff of legend as he clog-danced on an amplified piece of plywood to his own banjo or fiddle accompaniment. He even learned to play Duelling Banjos on his cheeks, and many better-known folk, country and bluegrass performers have testified to the impossibility of following Hartford when he was on song.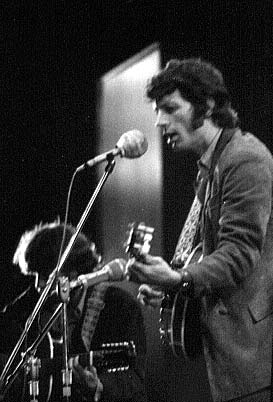 John Hartford
Among his many solo albums, three '70s releases stand out especially - Aereo Plain, featuring old time music genius and one time Bob Dylan session player Norman Blake, country and jazz fiddle player Vassar Clements, who some might remember featuring in the Robert Altman movie, Nashville, and veteran dobroist Tut Taylor; Morning Bugle, on which he employed former Miles Davis bassist Dave Holland; and Mark Twang, which won a traditional folk music Grammy.
Hartford's fascination with the Mississippi led him to become a riverboat crew member and then pilot, an alternative trade that he plied for a number of years and which inspired many of his songs. He also acted as curator of an impressive collection of riverboat memorabilia. Listeners who saw the Mississippi: River of Song series on TV last year will have encountered Hartford in his riverboat guise.
He linked up with bluegrass brothers Doug and Rodney Dillard for one album, and, just a couple of years ago, with Mike Seeger, folklorist and banjo playing brother of Pete, and mandolin wizard David Grisman for an album entitled Retrograss. This record featured songs like Hound Dog, called Hound Dawg after Grisman's nickname, Bob Dylan's Maggie's Farm,
Chuck Berry's Memphis and Maybelline, Sittin' On The Dock Of The Bay, and the Beatles' When I'm Sixty Four alongside several bluegrass standards, and was nominated for a Grammy.
Most recently he played on the superb soundtrack album to the Coen Brothers film, O Brother Where Art Thou, and the accompanying D.A.Pennebaker directed musical documentary, Down From The Mountain. He was employed a few years ago to do voice-overs for the magnificent Ken Burns television documentary on the American Civil War. He was also a notable music historian and was writing a biography of old-time fiddle player Ed Haley, parts of which can be read on the John Hartford website. Banjo legend Earl Scruggs recalled how a young John Hartford once came to visit him while he was recovering from an accident. Apparently Hartford had a little note pad with him. He said, 'If you don't mind I'd like to ask you a few questions.' Scruggs didn't mind, of course. Hartford then proceeded to ask him eight pages of questions about the banjo.
After fighting cancer for more than twenty years, Hartford finally lost control of his hands earlier this year while playing in Texas. Apparently he had to sit for his final show, with his fiddle cradled in his lap. During the last few weeks of his life his home came alive with musicians, singers and storytellers. He died earlier this month at the age of 63. Here is John Hartford, with his most famous song. Gentle on my Mind...
---
If you have any comments about this article,
please drop us a line
.