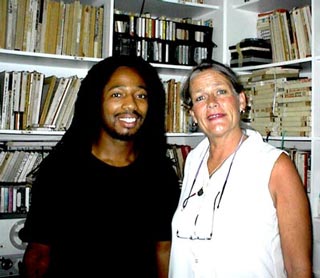 Victor Thabiso Pooe and Fran Markantonatos - Join the Hidden Years Music Archive Project on a part-time basis for the year 2001.
Thabiso Victor Pooe
is currently studying for a Bachelor of Music in Music Technology at the University of Natal, Durban - He is a trumpeter who was a student at FUBA (Federal Union of Black Artists) in Soweto & Johannesburg and has performed with a number of Big Bands: Darius Brubeck, Ezra Ngcukana & toured Europe with Sekulu.
Fran Markantonatos is an expert on most of the Hidden Years Archive musicians & projects - loved & known by all that the Archive beholds. How did we get her? After 15 years if Speech & Drama Teaching thousands of children (10 years at Gordon Road Girls' School & 5 years on the road & at sea in Durban's Northern Townships) Fran decided to give it a long needed break & review her priorities - her love of Music & her contribution to 3rd Ear & friends over many years. Welcome to both!