The Market Theatre and Café Tribute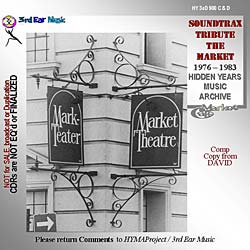 MARKET THEATRE TRIBUTE Research CDRs Front Sleeve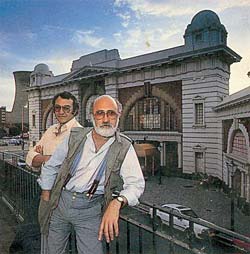 Mannie Manim, Barney Simon & The Market Theatre – Photo Gisele Wulfsohn – Style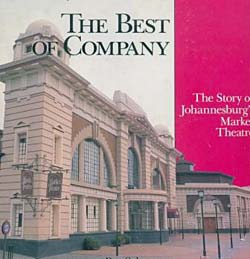 Market Theatre Newtown - The Best of Company by Pat Schwartz photo by Ruphin Coudyzer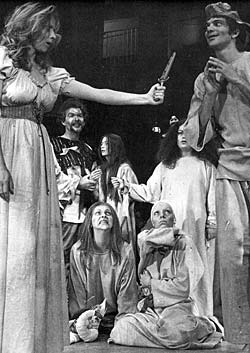 MARAT / SADE 1976 Sandra Prinsloo, Don McKorkindale, Leonie Hofmeyr, Vanessa Cooke, Sarah McNair, Bev Melnick & Peter Piccolo
Photo - Ruphin Coudyzer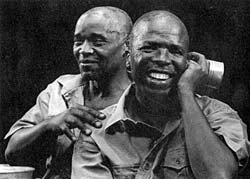 Winston Ntshona & John Kani – The Island 1977
Photo Ruphin Coudyzer
Barney Simon (RIP) - Ruphin Coudyzer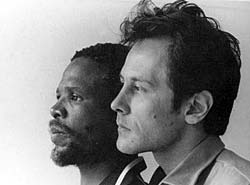 John Kani & Marcel van Heerden – Athol Furgard's The Blood Knot 1977 – Photo Ruphin Coudyzer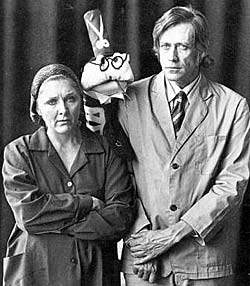 Diane Wilson & Robert Kirby – How Now Sacred Cow 1977 - Photo Ruphin Coudyzer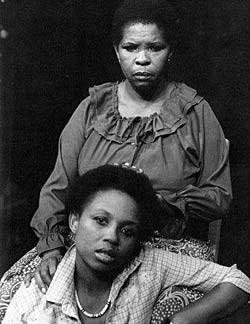 Market Theatre - Sophie Mcgina & Nomsa Nene 1978- Photo Ruphin Coudyzer
Barrie Shah makes a surprise appearance during 'The Me Nobody Knows' directed by Benjy Francis in 1977 Photo Ruphin Coudyzer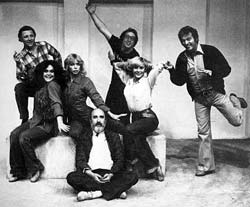 'Play it Again Barney! Simon and the cast of Woody Allen's 'Play it Again, Sam' Dale Cutts, Bill Flynn, Peter Elliot, Beverly Melnick, Sandra Prinsloo & Sybel Coetzee 1977 - Photo Ruphin Coudyzer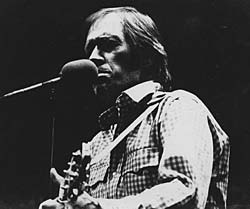 Market Theatre - David Carradine sings in Rodney's Charity Show 1978 – Photo Rodney Barnett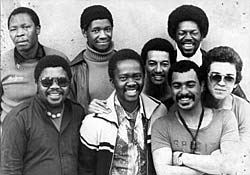 Market Theatre – The Original Spirits Rejoice 1976 played both the Café and the Theatre – David Marks Produced African Spaces for Marimba Music and Atlantic Records - Promo Market Cafe Photo by Tony Campbell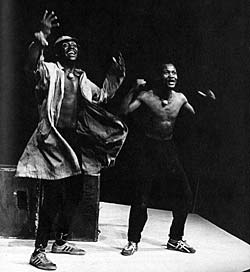 Market Theatre - Mbongeni Ngema & Percy Mtwa - Woza Albert - Photo Ruphin Coudyzer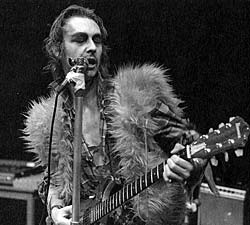 Market Theatre Upstairs - Jeremy Crutchley in Sam Shepard's Cowboy Mouth - Ruphin Coudyzer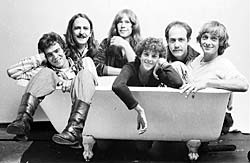 Market Theatre Upstairs & Café - 3rd Ear's Elastic Headband appeared in a number of musical tributes in 1977 & 1978 – David Marks, Neil McCallum, John Oakley-Smith, Caroline Blundell, John Von Neirop and Peter Haines - Photo by John Massey-Taylor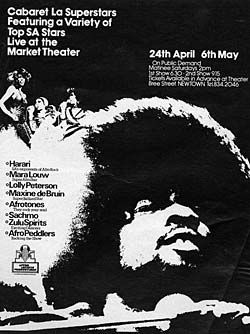 Market Theatre – At the start of the Disco Craze directors presented music and theatre collaborations. This Flyer from SA Cabaret La Superstars - 1980's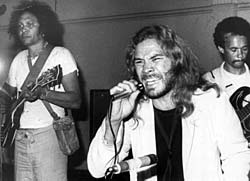 Market Theatre and Café - Steve Fataar (left) appeared at the Café & Roger Lucey (Centre) did a number of 3rd Ear Café shows in the main theatre as well - Photo Tony Campbell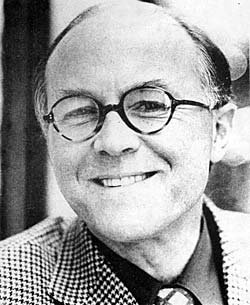 Market Theater - Donald Swann appeared courtesy of the South African Council of Churches in 1980 with Laurika Rauch, Mara Louw, Will Bernard and the Soweto Teachers Gospel Choir.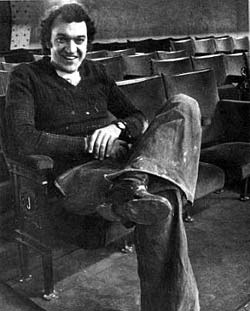 Mannie Manim – Market Theatre Director relaxing after a hard day's hammering, nailing & painting – July 1976 - Photo Ruphin Courdyzer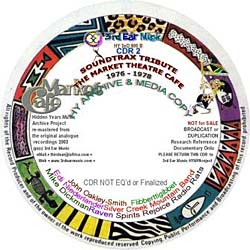 HY 3eD 900 Archive Media copy - Market Theatre Research Label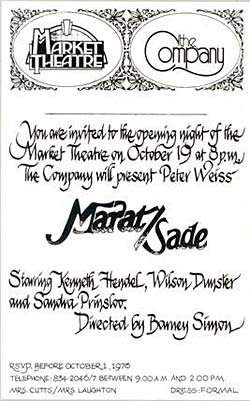 Market Theatre Marat Sade Program Cover - 1976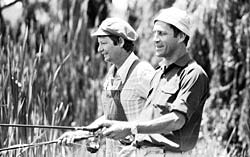 Market Theatre Ian Lawrence & Hal Orlandini Fishing Comedians 1975 - Photo John Massey-Taylor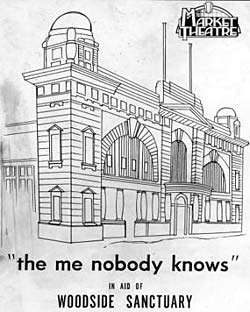 The Me Nobody Knows Program 1977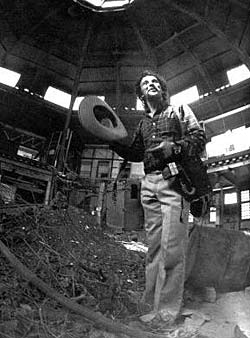 Rodney Barnet (RIP) Market Theatre and 3rd Ear Music Patron 1976 - In The Beginning
HY 3eD 900D DISC 2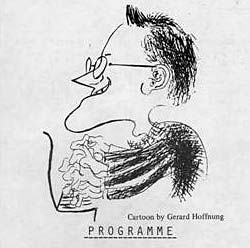 Donald Swann's Hand Drawn Program Sleeve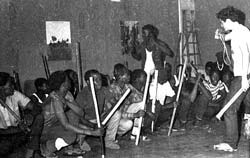 Johnny Clegg & Sipho Mchunu & Dancers waMadhlebe Rehearsing – Photo: David Marks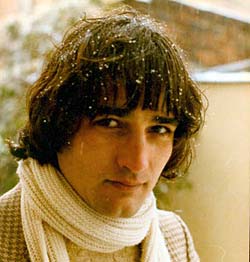 Stan James of the legendary James Brothers – appeared in his first major concert After The Thunder with Roger Lucey at the Market Theatre in 1983 Photo David Marks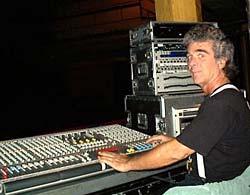 David Marks Mixing at The Market 2004 – A sound 30 years
The Market Theatre and Café Tribute – Plays Poetry Music 1976 – 1983
3rd EAR'S HIDDEN YEARS Research CDRs 3eD 900 A, B, C, D
Not EQ'd or Finalized – for Researchers and Students Only.
Ref: NOTES from THE BEST of COMPANY – The Market Theatre Story by PAT SCHWARTZ ®© AD DONKER 1988 – Text Titles and additional notes and research by David Marks ®© 3rd Ear Music 1976 - 2006
Note – The enclosed information - audio visual data and text – are copyright and are not for sale, broadcast or duplication without written permission from the rights holders. The enclosed information was collected & digitized by David Marks and made available specifically for The Hidden Years Music Archive Project & related research and documentary projects only. None of this information or material, audio or visual, was digitized by the UkZN students or through DISA with the NRF grant that was award to 3rd Ear Music in 2005. We have requested a forensic audit. (As at March 2008)
All cue sheets and production data & notifications to be sent to DALRO and SAMRO and copied to 3rd Ear Music. CDRs are NOT EQ'd or FINALIZED and when your research is completed please return to The HYMAProject / 3rd Ear Music.
Pat writes: What (The Market Theatre) offered was a sense of excitement and challenge. 'It didn't feel as though we were poor,' says Janice Honeyman, looking back at those penurious times. 'What we were doing felt so stimulating. We were doing it because that was what we wanted to do. We felt this was a haven, a place where you could actually come and say whatever you wanted to say in your own way. It was an open place. The way it evolved was very natural. All of us felt very "worthwhile". Mannie was at every show. He was extremely charismatic and somehow what he had taken on and was doing was a huge thing to have done. There was a lot of excitement of doing new work, of having opportunities that one wouldn't have had. There was a supreme and courageous optimism. We were such a small group of people really and I don't think anyone of us had any doubt but that it was going to work. That feeling infused the first productions with a positive force. There was no doubt that we had to do it and the kind of energy we had was almost tangible. Nothing was too much trouble. A funny thing happens here which doesn't necessarily happen anywhere else. When you do a production, you will go to infinite lengths to make it work. You somehow get into it more and if you have to!
Sandra Prinsloo, one of the country's leading actresses, jumped at a chance to work with Barney Simon, thoroughly enjoyed the experience and Simon's 'fresh approach' and considers that her performance as Masha was probably one of her best ever. Her experience with Simon in The Seagull led to her leaving Pact in order to work with him again in Marat / Sade, the production chosen to open the complex officially on October 19, 1976.
By then Manim was able to offer an almost munificent R60 or R70 a week to some of the leads and felt 'very grown up and a little like an impresario'. Those playing the lesser roles, however, were stuck with R40 so it was not surprising that the cast parodied a line from the play turning the cry for 'revolution NOW' into a demand for 'paychecks NOW'. The low salaries considerably complicated Barney Simon's task as director. The actors still had to feed themselves and their families and many of them could only achieve that by moonlighting, which they did in a variety of ways.
The result was that the rehearsal period for Simon, trying to put together the ambitious and complex production with its cast of more than 30, was something of a nightmare. Much of his time was spent waiting for enough actors to arrive from their occupations so that a section of the play could be rehearsed. Fortunately, his years in Dorkay House, working with people who had fulltime jobs and irregular lifestyles, had taught him two things - immense patience and an ability to work on one corner of a theatrical jigsaw when the pieces were available. Day one of rehearsal is imprinted on Callie Bristow's memory. Simon, she recalls, taught the cast a 'rousing, anthem-like song of hope' and marched them around the complex singing it. The workers in the cold storage room heard the voices swell and fade as the singers moved around the building. 'It was all highly emotional and very theatrical'.
Typically, with Simon's endless quest for veracity, the theatrical inmates of Charenton were not allowed to get away with simply playing 'crazy'. Simon called in an adviser trained in psychology. 'I was afraid that with my time-table being as fragmented as it was I wouldn't be able to guide "the patients" as I would have liked to. I was afraid of the damage that unstructured hysteria could do,' he explains. 'So I asked a psychotherapist to make a list of basic psychoses and their symptoms - she gave us nine - and let each performer choose his or her own. She became absorbed in our process and sat in on many rehearsals as a reference point. I thought she was invaluable, bringing "sanity to the insanity".'
So it was that a terrifying reality was achieved. It was a particularly chilling experience for Prinsloo who joined the cast late. 'They had all slowly been going through the process of being treated as patients. When I came in 1 was thrown straight into the paranoid role in which sleep was the only escape from fear. On the first day I worked for four or five hours and I ended up in a heap behind a pillar sobbing.'
Both Prinsloo and Honeyman remember being sent out into the streets in their roles (the former as the paranoid narcoleptic Charlotte Corday, the latter as a cross-eyed introvert obsessively rolling bandages). Both headed for the nearby abattoir and Honeyman, then a vegetarian, remembers most Vividly her first (and last) view of the offal pool, the sight of which had her not only looking crazy but being violently sick in the street. Prinsloo's recollection is of dozens of people in bloodied coats taking their lunch hour and parting like the Red Sea at her approach - except for one who followed to ask if she was alright. 'I wanted to tell them that I wasn't really mad; then I remembered that I had been told that that's exactly what mad people do.'
The striving for realism took its toll. Every member of the cast was affected in some way says Prinsloo. 'Even the smallest part was so meticulously worked through and so important.' The result was an unusual degree of scratchiness that came with the realisation of 'how close one is to madness.'
The opening night of Marat / Sade – with the theatre decked out as a market, clumps of straw covering the rubble and fruit and vegetables in profusion - was filled with drama, intentional and unintentional; on the stage and in the foyer.
The play opened with Danny Keogh, attached to a chain, climbing down from the back balcony level, rushing terrifyingly forward towards the audience ... and cracking a rib in his effort to stop when the chain didn't hold as it was supposed to. He played out the rest of the performance in agony.
The sense of reality, and parts of the text, proved too much for some members of the audience. One of those who left in great anger was Francois Oberholzer who threatened to complain to the censors about 'raw, blatant blasphemy'. 'I didn't like the production because I thought it was sacrilegious,' he recalls. What finally drove him from the theatre was the sight of an actor on his knees reciting The Lord's Prayer to Satan. Oberholzer laid a complaint with the chairman of the Publications Appeal Board, former Judge J H Snyman, but, after an investigation, the Board declined to act and the play went on.
It was never a huge box office success. The Market as a theatrical venue had not yet established itself and the searing violence of the theme was, perhaps, a little too hard for South Africans to cope with, caught as they were in the shockwaves of their country's own incipient revolution. The critics however, were, in the main, impressed and excited by both the production and the venue.
'This production, inaugurating the new, domed Market Theatre, is stunning theatre,' wrote Robert Greig. 'Barney Simon's treatment has startled and stimulated me afresh,' was the feeling of an uncredited writer in the Rand Daily Mail. 'Barney Simon and his actors have undertaken a huge task with the production of Peter Weiss's play, but the production was worthy of the imposing new Market Theatre,' said Michelle Venter. 'Congratulations to The Company, whose opening performance in the Market Theatre was of a theatrical standard seldom witnessed in this country,' wrote Renate van der Ness.
The gala opening of the theatre was hailed by the then Artistic Director of Capab English Drama, Peter Curtiss, as a 'great step in the development of "alternate" or "avante garde" theatre in South Africa and a major event in South African theatre as a whole. Marat/Sade, he wrote, was 'an auspicious beginning for what promises to be one of the leading forces in serious theatre in this country.'
The first year of productions in the complex gave a fair indication of the path The Company hoped to follow - a representative selection including the classics, contemporary imported offerings and local works in both English and Afrikaans with casts black and white and some children's theatre.
Leaving aside the inaugural productions which were considerably more lavish than most of those which followed, it also established what Janice Honeyman thinks of as the 'Market style, something that's indefinable in a way' but characterised by paring down - minimal sets, minimal costs and sometimes minimal casts. 'Let's look at it and see if we can do it with six' is a phrase, which has often greeted some of her more ambitious concepts. I think the doing without in some ways is often the most inventive way of doing things and somehow the ingenuity required to do it with nothing is Market style,' she says.
The Seagull was followed in the Upstairs by Arthur Miller's The Crucible, with its message for all times and all places; director Benjy Francis brought Fugard's The Bloodknot back to Johannesburg and Pieter-Dirk Uys shook audiences rigid with his powerful bilingual God's Forgotten - a futuristic look at a nightmare South Africa which, in the light of the events of June 1976, seemed rather too close to the present for comfort.
Samuel Beckett's Waiting for Godot followed. The final production of the year was another Pieter-Dirk Uys, this time his satirical review Strike Up the Banned, which Uys remembers playing one night to 'four Portuguese who understood no Afrikaans and very little English.'
In the main theatre Marat/Sade was followed by Cape Town writer Fatima Dike's Sacrifice of Kreli, presented by a company called Sechaba - a forerunner of the dozens of embryo companies which in the years to come would make their debut on one of The Market stages. After Kreli came Janice Honeyman's colourful, ebullient children's production Adventures of a Merry Madcap based on the Tyl Eulenspiegel tales. During the run the entire cast went down with German measles, caught, they believe from one of their audiences - spottily and feverishly, the show went on. The year ended with Trevor Griffiths' award-winning play Comedians and The Company's first bad brush with the censors.
On December 24, 1976 a Rand Daily Mail banner proclaimed 'Shock ban stops play'. The night before the audience, arriving at The Market to attend a performance of Leonard Schach's production of Comedians, had been turned away from a play considered by the Directorate of Publications in Cape Town to be 'obscene, harmful to public morals and blasphemous.
The play, a black comedy, with its exploration of the meaning and reasons behind people's laughter, dealt with the training of a group of stand-up comedians in the provinces and had been voted play of the year for 1975 by eight British newspapers. Its nine-performance run at The Market had been seen by more than 3 000 people, one of whom had stormed out, offended, and laid the complaint which led to the play being seen by a committee who had recommended to the Directorate that it be banned.
It was three days before anything could be done - the timing of the banning meant the theatre was dark over the Christmas period. On December 27, one of the strangest performances in The Market's history took place. Comedians played to four members of the Publications Appeal Board and, in an attempt to create some sort of normal atmosphere in the auditorium, an invited audience of about 100.The next day, Advocate Ernest Wentzel argued the appeal in Pretoria at a hearing that lasted four and a half hours. Evidence was given by director Schach and by Francois Swart, artistic director of Pact Drama, called in as an expert witness. Members of The Company who attended the hearing remember more clearly than anything else the fact that their counsel's shirt cuffs were undone and flapped dramatically at each gesture. Leonard Schach's memories are concentrated more on the content of the argument. Particularly he remembers that the appellant's definition of slang as 'paucity of vocabulary' was challenged by the opposition as the argument of intellectual snobs.
The fate of the play hung on a limerick that the Appeal Board deemed 'filthy' and, in the attempt to find a replacement, the appellants were offered access to the Appeal Board's collection of banned books of limericks. In the end, though, it was felt that Griffiths would not allow any substitution and the original limerick was included with the offending word changed to a euphemism which, says Schach, the censors found more 'palatable' while the public spent the rest of the season inventing 'worse interpretations than the author's original single word'.
Some of the more ludicrous arguments in the case centered on just how many repetitions of the word 'fuck' were acceptable before the play could be passed (Schach remembers that seven were allowed, others believe the final figure was an alliterative 14).
On December 29 the Appeal Board reversed the decision to ban the play subject to the imposition of a 4 to 18-age restriction and the changes and excisions already mentioned. Comedians re-opened that night. Contrary to the popular belief that a banning reversed automatically means a rush of audiences to the theatre, the play did not attract lascivious hordes and the cancelled performances and resultant box office loss did nothing to help the shaky position of The Company's funds.
A similar problem was faced in 1978 when Spike Milligan's The Bedsitting Room was tried for blasphemy. On that occasion, the hearing was held in the theatre after a Saturday night performance attended by the Appeal Board, and was argued by Raymond Tucker making his first and last public appearance on that stage. His performance was clearly well received. The appeal succeeded and the play was unbanned unconditionally.
May 1977 brought a different kind of investigation and another slice of offstage drama to The Market. In that month one of The Market's resident directors, Benjy Francis, mounted a musical entitled The Me Nobody Knows. Francis and his cast of 12 young people reworked and localised the American musical which originally grew out of the writings of 200 children living in New York's ghettoes.
Francis considers The Me to have been one of the most important productions he had worked on up to that point. It was, he felt, reflective of his vision of The Market as 'an important space in which to present a view of this South African world in a fresh and analytical fashion. The idea of getting artists of varying backgrounds to come together and create a spirit of togetherness was very important.'
In one of the interesting juxtapositions that sometimes happen at The Market, The Me occupied the stage in the big theatre at the same time as Barney Simon's Afrikaans production of The Trojan Women was playing Upstairs with an all-star cast of popular television actors. The resultant foyer mix was almost as fascinating as the productions themselves - The Me bringing in the young, the students, the fringe and Vroue van Troje drawing conservative audiences from as far afield as Bloemfontein who made an outing of it, bringing with them their sandwiches and thermos flasks.
The Me Nobody Knows featured the first large-scale non-racial cast to appear in the complex and it brought the theatre and its uncertain status in terms of the Group Areas Act to the attention first of an official of the Department of Bantu Administration and later of the Group Areas police. Investigations were conducted which left a number of people feeling distinctly nervous but the efforts of a sympathetic policeman uncovered an amendment which for a while made the theatre's status legal. In a report dated May 10 on his meeting with Mannie Manim, the policeman wrote that The Foundation 'has at no time carried out a policy of confrontation and has not resorted to news media to promote this (the non-racial) aspect.
The proportion of clientele,' he observed in that uniquely South African terminology at once so bland and so insulting, 'consists mainly of persons of the white group, followed by the Indian and Coloured groups. The Bantu is a very small proportion. When plays are in process it does occur that Whites, Indians, Coloureds and Bantoes attend at the same time. All entrance fees are the same for all races. All casts which are not of the white group are paid for their services and are thus employees of the producing body (white casts Included).'
The obsession of those responsible for the Group Areas Act with questions of toilet facilities and change rooms gave rise to one of the more amusing moments of a less-than-amusing tour of inspection by members of the Group Areas Board. When the question arose as to whether the racially mixed cast shared dressing rooms, the response from an unusually tolerant if somewhat bemused inspector was 'there are some people who like that sort of thing'.
So The Market continued to open its doors (and its cloakrooms) to all comers, tenuously protected by what appeared to be a 'grey' area in the very black and white act.
The next moment of decision in the complex's status came some years later when all theatres in the country were told they could apply for permits to admit racially mixed audiences. The Foundation's Trustees decided against applying for any kind of permit and carried on with the status quo.
To apply did not necessarily mean to get permission and with the permit came a humiliating injunction to count the numbers of different members of each race who attended each performance. People were not going to be admitted to the complex on sufferance, the Trustees insisted, but as of right. Similarly, after much discussion, no Group Areas permit was sought in 1980 to enable the newly opened bar in the complex to apply for 'international status' allowing all races to drink together. Ultimately, the 'international status' was granted without the provision of the Group Areas permit.
The Me Nobody Knows was also to bring to The Market its first internal political crisis. Opening as it did in May, the play's run included the first anniversary of the June 16 Soweto uprising, a day on which a national stayaway had been called. As Francis remembers it, the black youths in the cast wished to support the stayaway while 'the white kids wanted the show to go on because that was the way to express their feelings'. That year it was decided to play on June 16 but since then The Market has closed its doors on the anniversary of Soweto day.
Similar problems were to arise several years later when members of the cast of Sophiatown insisted on obeying a three-day local stayaway call, dosing down four plays and a film festival. A policy decision has since been taken to close The Market's theatres only on days of national stayaways.
'Unfortunately the Western ritual of the theatre has broken down,' observes Pieter-Dirk Uys. 'The show doesn't always go on, you cannot fight the political realities.' Director Lucille Gillwald believes you can. She seriously questions the principle of closing theatres for political reasons. 'A non-profit organisation like ours should set out clearly what going dark means and how valid that is in terms of what our purpose is,' she believes. 'We ride on a long tradition of three and a half thousand years ... can we actually put traditions of theatre on the shelf and hope we can pick them up intact afterwards?' she asks.
---
RESEARCH CDRs 3 & 4 3eM HY 900 C & D – Technical Notes, Titles & Credits
Section 1 & 2 Theatre - Tracks 1 to 9 (01a to 02e)
Tape HDD 884 12" Reel 83 (22 Oct 1976) Transferred Sept – Dec 2006 MARAT SADE was the first Market (main) Theatre production. At the time, pretty risqué, given it's revolutionary theme; set in an madhouse / asylum in France 4 years after the French Revolution. What has made Peter Weiss play & Company production so prophetic & inspiring is that it was unintentionally booked & rehearsed before our own 1976 revolution & presented in that same year. In Nov 2006 the tapes are being digitized and it's as if the script could have been composed by the many poor who expected this country's liberation to free them from poverty and political corruption & crime, and who, in effect would be considered insane for suggesting that "we want our revolution now!" The play featured a live orchestra; the sound was reinforced by rifle & dynamic Mics direct to the mixing desk & out onto a 2-track ReVox tape deck at 7.5ips.
Track 01 - Time 0' 44" (01a) Marat Sade We Want Our Revolution NOW
Track 02 - Time 1' 21" (01b) Marat Sade Part Overture
Track 03 - Time 1' 42" (01c) 02a 884 - Dale intro to the Asylum
Track 04 - Time 4' 16" (01d) 03a 884 - Marat Sade Wilson intro to Marat
Track 05 - Time 1' 16" (02a) Marat / Sade We Demand - Ron Smerczak
Track 06 - Time 0' 26" (02b) Blatant Pacifism - Dale Cutts
Track 07 - Time 0' 48" (02c) Marat is Whipped - Wilson Dunster / Eddie Calvert
Track 08 - Time 1' 11" (02d) Marat must suffer - Wilson Dunster
Track 09 - Time 2' 32" (02e) Marat / Sade - Part Overture Middle
Sections 3 & 4 – Comedy Satire Theatre & CAFE Tracks 10 to 13 – (03a to 04c)
12" Reel Tape HDD 850 / No 44 Market Theatre - 3rd Ear Music helped the MTF to sound & record many shows between 1976 & 1982. COMEDIAN of the YEAR was a fundraiser & featured: Terry Lester, Joe Parker, Hal Orlandini, Ian Lawrence, Mel Miller, Len David, Cy Sacks & Paul Andrew (David Marks stopped the tape in Paul's part....) Compere was Gordon Mullholland & the pianist Dennis Willman.

Track 10 - Time 6' 57"(03a) Comedian Show – Cordon Mulholland, Cyril Green (by Phone?) IAN LAWRENCE
Track 11 - Time 2' 27" (04a) Strike up the Banned - PCB Een Jaar Oud – Pieter-Dirk Uys & Rikke Sennet
Track 12 - Time 1' 46" (04b) Strike up the Banned - Madam & Nimrod
Track 13 - Time 1' 26" (04C) Strike up the Banned - The Weather 1977
Section 5 & 6 - The Company's Youth Theatre - Tracks 14 to 17 (05a to 06a)
THE ME NOBODY KNOWS -12" Reel Tapes HDD 885 17th May 1977 Market Theatre - Transferred to PC Oct / Nov / Dec 2006
Market (main) Theatre production produced by Benjy Francis. At the time, pretty risqué, given it's multi-cultural theme.
BASED ON THE BOOK OF SAME TITLE EDITED BY STEPHEN N. JOSEPH
DIRECTOR: BENJY FRANCIS
MUSICAL DIRECTOR: MICHELE MAXWELL
CHOREOGRAPHER: LYNTON BURNS
CAST: PAULA BOWMAN, BEVERLEY MELNICK, JONATHAN TAYLOR, NATASHA MARTIN, WILLIE ElMAN, LEONIE HOFMEYER, BARRIE SHAH, LESLIE MONGEZI, GLYN WI LLMOTH, EDMUND THENGANI, NOMSA NENE & SIPHO TOKWE
From The Market Theatre Programme Notes of May 1977
The Company is mounting the first musical to be performed in the Market Theatre, titled THE ME NOBODY KNOWS and based on the very well known book of the same title edited by Stephen M. Joseph. This play won the OBIE Award for the best off-Broadway musical when it was produced in New York in 1970. THE ME NOBODY KNOWS will be directed by Benjy Francis, and is a musical, which describes the thoughts and writings of children from the ages of 12 to 20 in the poor areas of New York. For obvious reasons we will transpose this setting to South Africa. It is a musical of joy and hope.
The cast will include the present top emergent young talent of all races in Johannesburg from 12 years old Natasha Martin and 15 year old Paula Bowman, who are already well established on the black cabaret circuits, to firm favourites like the dynamic Leonie Hofmeyr, Barrie Shah and Leslie Mongezi who both starred recently in BLACK MI KADO and GODSPELL for Des & Dawn Lindberg's CAT.
For the Company:
Stage Manager: Alan Joseph
Asst. Stage Manager: Elias Molombo
Secretary: Lorraine Greenberg
For the Market:
Theatre Manager: Judi van Eeden
Stage Managers: Patrick Miller Alan Joseph Michael Maxwell
Secretary: Carol Cutts
Technical: Ch One (Left) 3 X AKG N12 B / 2 x Senhauser Rifles / 2 Beyer M67 from the top down / 2 Beyer M67 Bot up / EV PE 51 Pressure Zone Plate on Stage / 1 AKG D202 - Ch Two (Right) 3 AKG N12B - 4 Beyer M500 - Vocals 2 x M500 & 2 x Toa Radio Mics - Recorded from the Aux outputs of 3rd Ear Sound's newly acquired Altec 12-20 mixer into my ReVox a77. The live sound from the 12-20 masters.
Track 14 - Time 2' 09" (05a) The Me Nobody Knows – Intro
Track 15 - Time 2' 23"(05b) The Me Nobody Knows - Barrie Shah – Dream babies
Track 16 - Time 3' 16" (05c) The Me - Cast Dreams Dialogue
Track 17 - Time 2' 55"(05d) The Me - Leslie Mongezi & Cast
Janice Honeyman's adaptation of The Merry Madcap based on the Tyl Eulenspiegel tales. Cast: Graham Clarke, Vanessa Cooke, Aubrey Ellis, Leonie Hofmeyr, Michal Irwin, Sarah McNair, Michele Maxwell, Ralph Mogridge, Rudi Trap. MUSIC by: Leonie, Michele & Sarah; Lyrics by Janice. Piano - Michele & John Oakley-Smith; Guitar - John.
Track 18 - Time 2' 17"(06a) The Merry Madcap Intro & Overture - Market Theatre
Section 1 – Poetry & Recitals - Tracks 1 to 4 (01a to 01d)
Track 1 - Time 11' 43" (01a) Barney Simon - Men Should Cry more often 1975
Rare Barney Simon performance – could not locate the Market Theatre Café outtakes. Here's Des & Dawn's Poetry Soiree in June 1975 - featuring BARNEY with ROBERT GREIG, ADAM SMALL, ESSOP PATEL, CHRISTOPHER MAGOTSI, ANTHONY FLEISCH, ROD McKUEN & COLIN SHAMLEY Recorded by David - 7.5ips ReVox
(Composer & Publisher: Barney Simon)
Track 2 & 12 (01b & 07) DONALD SWANN IN CONCERT - 27th Jan 1980 Main Theatre - Song No 7 & end from 12" Reel Tape HDD 853 - Transferred to PC 26 Aug 2006 Donald Swann was brought out to SA to raise funds for the Soweto Teacher's Choir by the Interchurch Media Programme. The Choir was invited to International Welsh Eisteddfod at Llangollen in July 1980 Thed concert featured Afrikaans singer Laurika Rauch, Soweto musician Mara Louw, Radio journalist Will Bernhard & the Soweto Teacher's Choir (Track 12 (06)). Rev Desmond Tutu stood up to join in at the end for Nkosi Sikele iAfrica – encouraging the Choir to sing another verse, with the packed theatre audience. The show was staged by Jo Dunstan.
Track 2 - Time 5' 44" (01b) Donald Swann - His Story Christo Muslim – Russian Chat & The Camel.
(Composer: Donald Swann)
(Publisher: Copyright Control SAMRO)
Track 3 - Time 7' 53" (01c) Chris Mann - The Hunger - Market Cafe 1976
Market Cafe Poetry readings - usually with a band; on this evening with Spirits Rejoice. renowned international acclaimed SAfrican poet and musician Chris Mann reads and recites his poems & stories. Other poets that appeared at the Cafe during the recitals were: Sipho Sepamla, Lionel Abrahams, Brian Cullinan, Robert Greig, Sol Rashid, Judy Johnstone, Stephen Gray & Simon Wynberg.
Track 4 - Time 10' 07" (01d) 01d - Sol Rashid with Spirits Rejoice backing - Anonymous House-Boy - Market Café - 6th Oct 1977
(Composer: Sol Rashid)
(Publisher: Unknown / CC)
Reel HDD 927 - Sol Rashid reads his poems with Spirits Rejoice backing. Badly oxidized tape (interference on Music / backing track Right / Track 2. Vocal on track 1 Left MARKET CAFÉ desk mix. Spirits: RUSSELL HERMAN - Electric Guitar & Vox; MERVYN AFRICA - Keyboards & Vibes; SIPHO GUMEDE - Bass; GILBERT MATHEWS - Drums; DUKE MAKASI - Tenor & Soprano Saxes; GEORGE TYEFUMANI - Trumpet; TEMBA MEHLOMAKULU - Trumpet & Trombone. This was a year (to the month) after DAVID MARKS had produced AFRICAN SPACES and introduced the Poets to the Cafe (Oct 1976 was the first poetry evening.)
Section 2 to 6 – Main Theatre 3rd Ear / Shifty Concerts - Tracks 4 to 12 (02a to 05)
Reel Tape HDD 918 transferred to PC Oct - Dec 2006 JULUKA Market Theatre - 3rd Ear Music 22 March 1980. Although 3rd Ear / David Marks had left the Market Theatre Cafe and were now running the Chelsea Theatre Underground & Le Chaim (with Tony Campbell) in Hillbrow, they presented a number of music events to raise funds for the MT Foundation in Johannesburg 1977 to 1980 JULUKA on the 22 March 1980: Johnny Clegg - Guitar & Vocals; Sipho Mchunu - Guitar & Vocals; Bobo Shelembe; Ngenge Ngubane; Bafosa Nkomo; Vice Mhlaba; Justice Khumalo (Bass) Gilbert Mathews (Drums) Patty Henderson (Flute, Vox, Perc) Recorded by David onto a ReVox from Simon Oates (Prosound) PA Mix.
Track 4 - Time 6' 55" (02a) Juluka - Woza Friday - Market Theatre 1978
(Composers: Johnny Clegg & Sipho Mchunu)
(Publishers: EMI / Jamloti / Look South / MINC)
Track 5 - Time 1' 44" (02b) David Marks Outro re Petition - Market 1978
Reel Tape HDD 918 transferred to PC Oct - Dec 2006 JULUKA Market Theatre - 3rd Ear Music 22 March 1980. David announces the following weeks event (Roger Lucey Tracks 6 to 9 HY 3eD 900D & Era Track 11 900D) and a petition to release all detainees. Outro JULUKA - nKosi Bomvu from Universal Men 1979 (CBS / DNW 2429 Side two track 1) Johnny Clegg - Guitar & Vocals; Sipho Mchunu - Guitar & Vocals; Sipho Gumede (Bass); Gilbert Mathews (Drums); Mervyn Africa (Keyboards); Robbie Jansen (Flute, Solo Sax); Paul Petersen (Guitar); Colin Pratley (African Drums)
(Composers: Johnny Clegg & Sipho Mchunu)
(Publishers: April Music SAMRO)
Track 6 - Time 4' 28" (03a) Roger Lucey - Storms & Fires - Market Theatre 1983
Roger Lucey in AFTER THE THUNDER- a Shifty Records show at The Market Theatre. Roger Vocals; Roger Bashew - Bass; Izzy Fataar - Guitar; Ian Herman - Drums; Gerry Selendis – Keyboards. Recorded by Lloyd Ross to 8 Track Fostex off PA Feed
(Composer: Roger Lucey)
(Publisher: 3rd Ear Music SAMRO)
Tracks 8, 9 & 11 (03b, 03c & 04) Recorded by David off the desk mix onto a 2-track ReVox @ 7.5ips May 1980 Transferred from DAT to PC (Check original analogue tapes for better quality?) Roger - Vox; Les Goode - Bass; Gerry Selendis - Keys; Jethro Butow - Guitar; Steve Spannenberg – Drums
Track 8 - Time 7' 12" (03b) Roger Lucey - The Other Side of Town – 1980
(Composer: Roger Lucey)
(Publisher: 3rd Ear Music SAMRO)
Track 9 - Time 5' 56" (03c) Roger Lucey - Dry Wine - Market Theatre 1980
(Composer: David Kramer)
(Publisher: 3rd Ear Music SAMRO)
Track 10 - Time 5' 18" (03d) Stan James - Cara Mona - Market Theatre 1983
AFTER THE THUNDER- a Shifty Records show at The Market Theatre. Roger Vocals; Roger Bashew - Bass; Izzy Fataar - Guitar; Ian Herman - Drums; Gerry Selendis – Keyboards. Recorded by Lloyd Ross to 8 Track Fostex off PA Feed
(Composer: Stan James)
(Publisher: 3rd Ear Music SAMRO)
Track 11 - Time 6' 02" (04) ERA - Manyano - Market Theatre 1980
This show featured ERA of AFRICA who supported ROGER LUCEY & his ZUB ZUB MARUADERS - ERA: Sam Mathola Qtsani - Bass; Bucs Tafu - Lead Guitar;Desmind Molothana - Keyboards; Temba Teaser Ngomozulu - Drums; Don Nesa - Trumpet;Gumba Pasia - Tenor Sax; Stompie Mavi - Trumpet; Zolo Sechaba - Vocals; Xaba Xaba - Tenot Sax - Recorded & Directed by David Marks; Rec Direct from PA to ReVox 2 TK Raindirk Mixer, EV Mics to 3M Scotch 176 Tape.
(Composer: Stompie Mavi)
(Publisher: Copyright Control SAMRO)
Interesting if bizarre anecdote - Hassan, Era's JHB promoter, locked ERA up in a flat in Braamfontein so that they would be late for Roger's gig because he wanted them and not Roger to headline. He resented the fact that David had billed Roger as the main act. While announcements were being made, Roger & his band darted around Hillbrow and Braamfontein searching for & eventually finding Hassan's flat. The band was locked inside and Hassan had made a duck. Roger broke the door down & got the band out in time for the gig - if a little frazzled & late but early enough for Era to start the show.
Track 12 - Time 3' 20" (05) - Soweto Teachers Choir - Nkosi Sikelele - Market 1980
See the notes for section 1 above – Donald Swann In Concert 27th Jan 1980 Main Theatre - 12" Reel Tape HDD 853 - Transferred to PC 26 Aug 2006
(Composer: Ernest Sotonga)
(Publisher: Copyright Control SAMRO)