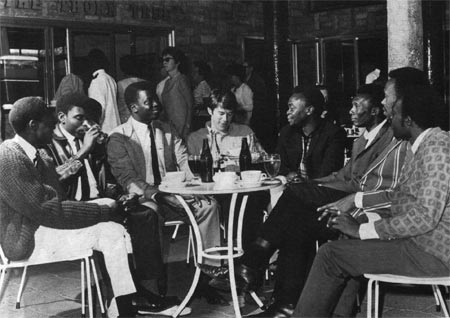 Jeremy Taylor at the New Stanley, Nairobi after a recording session with Prof Alphonse Kapinga et son Orchestre
Transplant Calypso – Words, Music & Story – Jeremy Taylor
(From his book – AG PLEEZ DEDDY – Songs & Reflections / JT 1992)
During the late sixties I took part in a weekly television show for Granada TV in the north of England. There were four of us in the cast, and we would ride up from London on the breakfast train, studying the morning's papers over porridge and kippers, and by the time we got to the studios around ten o'clock we had each selected various news items for comment. In my case that meant writing a song, or a monologue, or some sort of sketch. I also created a character called Loony Len who would recite misty-eyed and unintelligible Scottish poetry at the drop of a haggis.
It was on one of these early-morning train rides that I read of Dr Christian Barnard's first heart transplant operation. The tabloids and the medical profession waxed ecstatic. The fact that both the donor and the recipient came off rather badly from the whole experience seemed to escape people's notice. The point was that man, and science, were proving once again that you can't stop "progress", and that man's mastery of the laws of nature had taken another giant step forward in liberating us all from the inconvenient fact of death.
I was, and still am, uneasy about all this. I don't want to pretend that I like death, but at the same time it seems to me that without it life would have no meaning. There would be no wonder, no courage, no dignity - and no children, since you cannot go on populating a world where nobody dies.
Death is the unavoidable concomitant of sexual reproduction. I dare say science may yet engineer a return to reproduction by binary fission, or cloning, but personally I would rather let my kids get on with the future than try and hog it all for myself. One of me will have been quite enough.
... read more about Jeremy Taylor >>
Transplant Calypso
The other day I was feeling ill
I went to the doctor to get some pill
he looked at me in despair, said my friend you're badly in need of repair
now with this up-to date surgery
we get our spare parts from the menagerie
so if you'll kindly sit down a while I'll just telephone for a crocodile
I got the heart of an ape
the liver of a chicken
the blood of an ox
through a tube which they stick in
to me spleen
which I borrowed from a cow
I was human once
but I'm not sure now.
Walking down the street
me girlfriend I happen to meet
me heart went bom-diddy-bom
just like the ape that I got it from
me ox blood boiled, I started to moo
I was pawing at the ground,
what else could I do?
and when at last she walked on by
I said cockadoodle-doo and started to fly
Help me!
I got the heart of an ape...
Going out one night
me and a feller got into a fight
I hit him with a left then I hit him with a right
but somehow I just couldn't finish the fight
no matter what I did he kept coming at me
he was the stubbornest man I ever did see
it was in vain, I find out last
this feller's got the jawbone of an ass
and me
I got the heart of an ape...
Well in the end I was getting fed up
I said to this doctor, look man, I've had enough
All this animal junk won't do
Get me some organ that doesn't come out of the zoo
He said, what about this for size?
I tell you, I could hardly believe me eyes
I looked at this thing with dismay & suspicion
It was the brain of a politician.
I'd rather have
The heart of an ape...
(p)© Jeremy Taylor 1968 / Galliard 1970
From The Hidden Years Music Archive Project
3rd Ear Music KwaZulu-Natal, South Africa © 2004

3rd Ear Music Company est. 1969 (Pty)Ltd. The Hidden Years Music Archive Project
P.O.Box 50633
Musgrave 4062
Durban
KwaZulu-Natal
South Africa
email: [email protected]