Resolution adopted by participants in the South African Freemuse Seminar,
Johannesburg, South Africa 23 - 25 March 2001
As a result of the March 2001 seminar, participants resolved that a South African Freemuse working group was established.
The South African participants noted that aside from the core focus on music censorship as articulated by Freemuse internationally, there are circumstances and legacy specific to the South African context which need addressing and redress.
The primary aims of the South African working group will thus be:
1. To locate, safeguard and collate music materials, which have been rendered inaccessible through apartheid and censorship.
2. To continue the documentation of music censorship in South Africa, whether under Apartheid or beyond, and to do so in liaison with Freemuse internationally.
3. To tabulate a list of the existing archives and resources pertaining to the above subject matter, including 'work in progress' and 'under construction'.
4. To prioritize fund raising for the first working group meeting and to invite a member of Freemuse International to attend the meeting.
5. All the above are necessary to consolidate the issues which we have discussed, and to render tangible resources and materials available to feed into and / or support curriculum development, legacy, heritage work, and research.
Interim Structure :
1. A working group that will need to convene again before June 2001
2. The working group will brief Freemuse in Denmark and also seek guidance from that source to take the process forward.
3. The working group may seek to transform into a structure in the near future.
4. The MIDI Trust has offered to help facilitate on admin.
5. Making Music Productions' Reconnection will host a page on www.music.org.za website with the contact list of the working group, and links to freemuse.org
Unanimously adopted by David Marks, Ilse Assmann, Steve Gordon, Michelle Lowry, Jennifer Ferguson, Lance Stehr, Ray Phiri, Michael Drewett and Rosie Katz.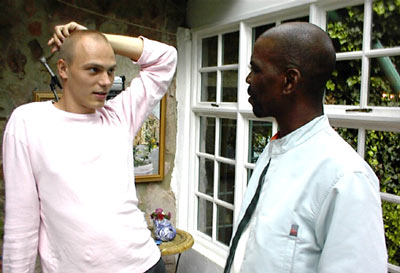 Jacob Valdemar (Denmark) and Ray Phiri (South Africa)
Who further resolve:
That since some participants had left before the proposal of this resolution, that this document be forwarded to all registered seminar participants, who may add their names to the working list, thereby supporting this resolution and registering their intent to be a part of the working group.

Freemuse South Africa Working Group, Johannesburg, 25 March 2001.
In Denmark:
KaosPiloterne
Mejlgade 35
DK-8000 Aarhus C.
Phone: +45 86 12 95 22
Mobile: +45 26 37 18 10
email: [email protected]
web: www.kaospilot.dk
In South Africa:
BAT Centre
BOX 6064, Durban
South Africa
Fax: +27 31 337 8035
Mobile: +27 083 695 1978
web: www.freemuse.org