Poetry Africa 2000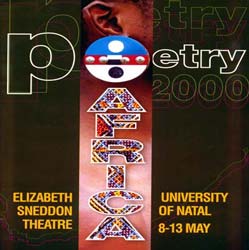 Poetry Is Good For Durban
Now available on a Double CD -Poems about Durban - Featuring some of the world's great living poets. POETRY AFRICA IS ONE OF AFRICA'S GREATEST LITERATURE EVENTS. THIS ANNUAL WEEKLONG FESTIVAL, IN DURBAN SOUTH AFRICA, FEATURES POETS FROM A RICHLY DIVERSE RANGE OF COUNTRIES AND CULTURES.
Poetry Africa 2000 IS PRESENTED BY THE CENTRE FOR CREATIVE ARTS, UNIVERSITY OF NATAL, DURBAN.
For MORE Information ABOUT THE FESTIVAL AND INDIVIDUAL BIOGS on the POETS go to www.und.ac.za/und/carts/poetry2001.html
THIS DOUBLE CD CONTAINS POETRY BY 18 POETS RECORDED ON Saturday 13th May 2000, THE FINAL NIGHT OF THE FESTIVAL at the Elizabeth Sneddon Theatre, UND Durban, KwaZulu-Natal, South Africa,
All poets were requested to prepare a short poem for presentation on closing night, about their experiences in Durban.
What you hear on this double CD is the result...some poets did their "homework" * others did not. All in all it was a MAGNIFICENTLY entertaining conclusion to a fine festival.
Roger Mcgough (UK); Rita Dove (USA); Zolani Mkiva (RSA); Susan Kiguli (Uganda); Prof Ptika Ntuli (RSA); Olga Sedakova (Russia); Kelwyn Sole (RSA); Thomas Tidholm (Sweden); Simon Vinkenoog (Netherlands); Francis Bebey (Cameroon); Dr. Benjamin Zephaniah (UK); Lisa Combrink (RSA); Desmond Egan (Ireland); Gus Ferguson (RSA); Otis Fink (RSA); Eric Hadebe (RSA); Phillip Hammial (Australia); Peter Kantor (Hungary)