Submitted for comment by Guy Spiller, David Marks & Steve Kinsler
Heritage Project that embraces: Natural & Hidden History, Indigenous Art & Culture, Unity, Education, Poverty Relief, Conservation, and Research

Creating Unity - The expression of our humanity - history and heritage through art & culture
The kZN South Coast is well known nationally and internationally for its beaches, surfing and sardines, but not much is known about its people and their history. Many local people are unaware of this and tend to stick to whom and what they know, thus remaining insulated from the diversity of people, cultures, art and history that are so unique and present on the kZN Hibiscus / UGU South Coast.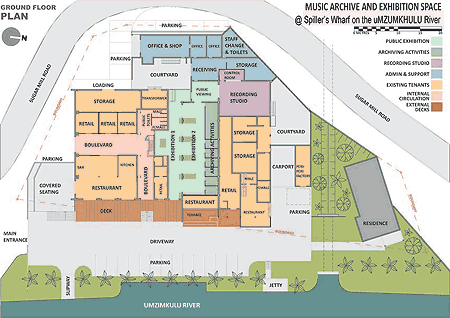 There is however, a growing understanding of the significant contribution that cultural appreciation can make to recognising and reflecting the humanity of all our people, in building a common identity, as diverse as we may be. Culture offers this hope by bringing the divisive wisdom of our past to bear on our collective future.
Legislation alone can never cure the inherent social disorders that prevail; such as the separation of our communities. A commitment to becoming a society conscious of the equality and dignity of each citizen is required by all South Africans and this project intends to assist in that process.
We envisage this project to take the form of a living, interactive archive, library, museum, aimed primarily at creating a repository that will reflect and express our "humanity and hidden history and heritage experiences" through art and culture; exhibition space and performance areas (see plans & schedule A) that will give expression to the many unique and various social and culture activities that still tend to take place in isolation along the kZN South Coast. This project will help us to engage with all peoples along the UGU, Hibiscus South Coast, and to help forge our own unique identity within contemporary South Africa.
This project should be of sufficient scale to generate interest as a "must see" attraction for local and international visitors to the coast – cultural tourists, researchers, local and visiting school children etc.
The Hidden History and Heritage Project Experience
The public face of the project will be an interactive archive, library, museum, located at Spiller's Wharf – see attached plans 1.A - ordered around the theme of Human Expression using art, music and culture to tell the stories, past, present and future, of this unique part of South Africa. Although informative and entertaining in itself, it is not about entertainment to fill space and time. Similar projects in many countries are as commercially viable as they are academically valuable and socially essential.
Over time satellite installations could also be displayed in the Port Shepstone Museum, the Margate Art Gallery and other established heritage sites.
The installations will be innovative and interactive, offering an enriching experience to locals, students, visitors and international tourists.
In order to budget and to formulate a plan that will attract sponsors, backers and funders for the installations (national and international Archive & Heritage Foundations, the departments of Tourism, Education, the DAC and SABC etc.) seed funding will be needed to:
Establish a board of representative trustees (Section 21?)
Explore the many existing 'hidden history and heritage' collections and artifacts that do exists and are ready to be exhibited (Schedules A, B, C)
Start recording and collecting the oral history that we are aware of in this area, on video and tape
Identify and film the 'hidden' archaeological and historical sites and cultural tourist routes that abound in this area
Identify and document the rich craft heritage of the area
Identify and document key areas of natural history
Examples of the type of content to exhibit & investigate are:
The Hidden Years Music Archive Project – a 50 year collection of music and related material (Schedule B) – audio, visual, recordings, photos, programs, posters; although not kZN South Coast specific, this collection is partially digitized and ready to display & exhibit; and besides being a catalyst to encourage local people to submit historic music material, it could also attract communities & families to this location & encourage them to store and deposit their artifacts & heirlooms for research, preservation & digitization.
Early humans and modern humans – the earliest modern humans in southern Africa survived on the southern and eastern coasts nearly 100 000 years ago. Fossils and stone tools are the physical remains of these intrepid "first people" and there are a number of naturalists & archeologists in this area, who have impressive & essential historic collections & recordings that need to be exhibited (See Schedule C).
Shipwrecks – besides the usual colonial interest in the cannons and other artifacts, the most interesting thing the shipwrecks left behind was people – their stories will be lost forever without an easily accessible central repository, such as an interactive living archive, library, and museum.
San or Bushmen – best known for the rock art they left behind. There are rock paintings in the Oribi (Gorge) as well as a archaeological and perhaps some oral history from that area.
Zulu – where many of the Nguni people settled; the birth of the Zulu's transition to the present, stories, customs and culture, reflected through art & culture & dance.
Indian – the history and culture of the Indian population in the area; a vast untapped and unexplored heritage that has been saved (remains hidden) in many homes and places of worship.
Struggle – the dark days of Apartheid. The oppression and violence. The continuity of social struggles; the need to express feelings; identify and reflect our successes & aspirations through art.
Colonial – the history of European settlement, the construction of the Port Shepstone harbour and inter-human and social relations with the indigenous peoples.
Natural history – the sea - sardines, sharks and whales. Rivers, estuaries and coastal forest and the impact of humans in the area; the history of surfing (e.g. the recent documentary: The Zulu Surfers)
Industry – sugar, lime, tourism and fishing, farming; conflict between nature and survival.
Craft – highlight the age old craft traditions unique to the area, showing sourcing of raw materials, production and their original use
Avoiding Racial Stereo Types - A collective multi-dimensional and contemporary interactive living archive, library, and museum, would also help eradicate stereo-types, as activities and exhibits, would, as far as possible, not be grouped along old racial lines. It would be part of our mission and a process in itself, to find interesting themes of our commonality in each exhibit, presentation & performance – in films, audio visual recordings, recitals etc. To integrate the different people and environments, rather than re-invent history or strive to be religiously or politically correct. Often it is the stories that don't fit the stereotypes that best illustrate some of the colourful history of the area; for example, we have Henry Fynn and his descendants and within recent contemporary (hidden) history we have musicians, actors, poets and activists (the so-called "silent revolution") that the mainstream (media and social institutions) are unaware of.
The initial attraction phase could be the 3rd Ear Music Hidden Years Archives (Schedule C). This is a private collection of over 40 years of South African music and related events, from 1965 to date. Pre-1994, this collection was inaccessible in the mainstream because of its (real or perceived so-called) political content. Listening and looking back it is remarkable how well this collection of recordings tells many (contextual) stories of those strange often dark years.
Benefits (See draft plans – Schedule A)
National Mainstream (Media) Exposure.
An Interactive working archive, library, and museum, does not exist anywhere in South Africa; although the aim would be to encourage other regions (rural areas & small towns mainly) to establish similar projects. Material from the proposed videos and the HYMAProject Audio recordings could be edited into an hour long documentary for schools, libraries, tourists and the SABC etc. viewed (and sold?) on-site.
Exhibition and Performance Space for Hire & Collaborations

The UMzimkhulu River and the Spiller's Wharf precinct have long been identified by the Port Shepstone Council, UGU & Hibiscus Marketing, as a tourist attraction. The area lends itself to natural, laid-back, development without having to spoil the environment and without large-scale building and construction. The infrastructure (shops, parking) is reasonably well-established. There are a number of spaces (Schedule A) that could be hired out for events – conferences, exhibitions, launches, seminars, etc.
Heritage visitor sites – cultural tourism - poverty alleviation

By collecting the distinguishing features of the South Coast under one roof, art, cultural & tourism activities will create revenue and job opportunities for communities and foster empowerment and self-worth; this envisaged centre – with the relevant technology - touch-screens, GPRS, website contacts etc. – could be a focal point to revive the South Coast Hinterland Tourist Routes (Schedule D) and perhaps even the internationally acclaimed and (sadly) defunct Banana Express. These heritage sites, trails and routes will draw visitors to some of the poorest areas thereby spreading tourism to needy communities and attracting them to the centre.
In the short-term the project will create jobs during the development phase, and in the long-term employment will be created through the need for museum guides, archivists, recording (audio & visual) technicians, tour operators, bus drivers, accommodation, meals, and local guides at sites, oral poets, musicians and dancers.
Conservation
The oral history collection and documentation of important heritage sites in the area will ensure that important heritage is conserved for future generations.
Education
Museums that are used as 'working / living' inter-active spaces - can play a significant role in the context of education. They augment and complement the curriculum and classroom by forming supportive active and participatory partnerships with teachers. It is the intention that this archive, library, museum works together with local educational authorities to ensure that exhibitions and programmes connect with the school's history curriculum. Teachers will be motivated through a range of teacher materials and aids.
The development objectives embrace a commitment to serving a broad community. The project must provide a platform for cultural and cross-cultural interaction through a shared history, provide and disseminate indigenous cultural knowledge and systems to schools, universities, disadvantaged communities and the general public, and encourage intellectual literacy… in other words, an understanding of "cultural expression" in a material world that far too often negates, or even discourages intellectual pursuit for physical and material gain.
Rural schools can benefit from the heritage programme through outreach initiatives such as travelling exhibitions, visiting storytellers and guided tours to local heritage sites.

Financing the Archive, Library, Museum Project
Before a budget and time-line is presented, we have on offer:
the space @ Spiller's Wharf on the uMzimkhulu River (enclosed plans & schedule A, B, C) for an initial period;
the partially digitized HYMAProject music material for the initial exhibition to motivate for funds, sponsors or backers (Schedule B);
the display of a collection of South Coast archeological artifacts, rocks and tools discovered at various diggings in the area;
the display and presentation of a collection of internationally acclaimed South Coast bird-call recordings;
the display of art & artifacts and discussions with descendants of various indigenous, immigrant & colonial families;
the expertise among the active participant motivators of this project for a period of 3 months?? (schedule C – CV & Biogs)
Post this initial start-up base, what would be required is:
seed funding in which to prepare the initial motivational exhibit (6 A) and identify those who would manage the various phases;
a board of trustees (perhaps form a section 21 company?) to administer and manage the process, budget and finances ;
for this board to finalise & verify the Spiller's Wharf plans, ascertain the costs and present the budget to the various stakeholders;
to identify and approach backers, funders, sponsors and various IP & IKS stakeholders; i.e. DAC, Tourism, Education, SABC etc.;
to record local oral histories - audio visual material, in the field to begin with – identify communities, historic sites & tourist trails;
There are South Coast "stakeholders" (some whose heritage and roots go back many years and generations, and) who would hopefully contribute to the realization and success of this unique project.
Business – Sugar, lime, tourism
DAC (National and kZN)
Ugu
Hibiscus Coast Tourism
SABC
SAMRO
THE HERALD
THE FEVER
THE SUNDAY TRIBUNE
Investing in Intellectual Property & Indigenous Knowledge
Conclusion - Coastal councils, tourism and marketing associations spend a lot of time, energy and money on the physical and economic development of the area, but nothing seems to be invested in our unique Intellectual Property and our colourful Indigenous Knowledge Systems. We should, as a matter of urgency, encourage investment in this cultural and historical capital, before it is lost forever.
Perhaps we could learn from the USA – where despite its rampant and corrupt materialism (and politics… one and the same?) - corporations and governments understand the human potential and creativity through "cultural expression". Almost 75% of the US GDP is derived, not from industry but through creativity… dreams - IP and IKS – patents, science, technology, film, music, art, theatre, computer programs etc.
South Africa's investment in our human resources & potential is, by all accounts and modern standards, lacking. The South Coast can show the way; we do not have the environmental destructive industries that the larger cities have; our natural & human resources, our 'cultural capital', are vital in order to maintain this part of the world as an eco / tourist friendly destination. To do so we should invest in these dreams – i.e. our future; plan now, & use our diverse experience and unique wisdom of the past.

Active Participants & Motivators of the Project
CV & Biogs attached:
David Marks (Archivist, Music Producer, Composer, retired Musician)
Guy Spiller (Film & Documentary Maker & Amateur Archeologist)
Steve Kinsler (Architect & Designer – expand??) WE NEED A CV STEVE
Those who are aware of the initial Hidden Years project, include:
Selvan Chetty (PS Activist)
Geoff Nichols (International Authority Bird-Calls & Naturalist)
Sandile Ngidi (Editor, Author & Publisher)
Glenda Fletcher (Amateur and respected South Coast Archeologist)
Dr. Yvonne Hutskinson (World renowned Zulu Musicologist)
Pauline Duncan (Political Activist & Former Mayor of Port Shepstone)
Disclaimer - This message may contain information which is private, privileged or confidential and does not necessarily reflect the views of the project's musicians, sponsors or funders. It is intended solely for the use of the individual or entity named in the message. If you are not the intended recipient of this message, please accept our apologies and notify the sender thereof and delete the message. Neither the sender, 3rd Ear Music nor the HYMAProject musicians shall incur any liability resulting from information or views expressed herein.

South Coast Heritage Proposal Page PAGE 1 of NUMPAGES 7
(Draft Statement / Motivation for Comment & Edit)

GUY SPILLER [email protected]
STEVE KINSLER [email protected]
DAVID MARKS [email protected]