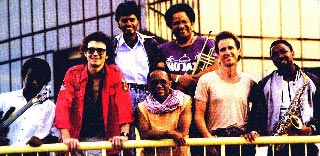 The Jazzanians
(Left to Right) Victor Masondo, Darius Brubeck, Melvin Peters, Lulu Gontsana, Johnny Mekoa Andrew Eagle & Zim Ngqawana
The University of Natal's international reputation for good jazz started in 1988 with the JAZZANIANS - the first South African student band to perform at the International Association of Jazz Educators Conference in the USA. The band made an impressive impact - appearing on two US national television shows and its non-racial nature anticipated the new road South Africa was beginning to take.
The JAZZANIANS were a diverse group of talented individuals under the direction of Darius Brubeck, the majority of whom have since achieved high profiles in the music world. The band was known for its compositions & performed all over South Africa, producing a music video & appearing on various TV shows. People still ask about the JAZZANIANS - "where are they now".
Although not on this CD, original JAZZANIANS Kevin Gibson (drums), Lex Monde Futshane (Bass) & Rick Van Heerden (sax) also contributed greatly to the spirit and the strength of the music and the band. I would like to thank them all for meaningful and happy memories.
Andrew Eagle: Leads his own band in London, where he is head of Clinical Psychology at a major hospital. He continues to compose, play and sing South African inspired material.
Kevin Gibson: Internationally known drummer based in Capetown; tours with prominent artists for example Johnny Clegg and Zim Ngqawana.
Lulu Gontsana: Based in Jo'Burg; tours internationally and domestically as South Africa's 'house-drummer' for leaders like Abdullah Ibrahim, Jack Van Pohl, Jonas Gwangwa, & Zim Ngqawana & is also a permanent member of Brubeck's Afro-Cool Concept.
Victor Masondo: Jo'burg musician, composer, arranger and producer for TV and top artists, e.g. Miriam Makeba. Also works with gospel groups and 'popular music' artists.
Johnny Mekoa: Attended Indiana U on Fulbright Scholarship for a Master of Music degree, returned to found and direct Gauteng Music Academy; on SAMRO and South African Association of Jazz Educators Board; playing credits include Gwangwa and Ibrahim.
Zim Ngqawana: Internationally recognized composer and leader of own quartet "Ingoma" ; lives in Johannesburg but often tours in Europe and the UK; 3 CDs as of 2001, "SAN SONG"; 'ZIMOLOGY' AND 'ZIMPHONIC SUITES'
Nic Paton: London computer programmer/analyst but still composing poetry and songs. Has created a home studio for ongoing interest in music generally
Melvin Peters: Earned M.Mus. Degree at Natal, taught jazz at UDW, still lives in Durban where he is freelance musician. Stints overseas at Harvard U., Univ. of Gothenburg and cultural exchange tours in UK and USA; recipient of several awards as leader and soloist.
Rick Van Heerden: M. Mus. from UND, teaches music at St. Andrew's College and Rhodes University in Grahamstown, now working on Masters Degree in philosophy.