Mbube - Letters, Links & Feedback – more interesting comments on King Solomon's song Mbube – The Lion will not sleep peacefully in this jungle tonight… so too does Damien Margo son of the Token's leader Mitch Margo… the band that had the huge 60's hit
Editors note: - Mbube - Why does this Lion Song Safari means so much to so many? In Time magazine's letters recently a Chris Preen (from Capetown), commenting on the Time article, about The Happiness Gene, says - unhappiness defines happiness, as surely as night defines day.
If the lesson & legacy of Solomon Linda's 4 chords 17 note 50 year hit song is anything, then it follows that the bad genes in people define the best in them, even if it takes a lifetime.... And if it isn't the person in question who turns from worse to better, then it must be her/his heirs & decedents who inherit the jeans.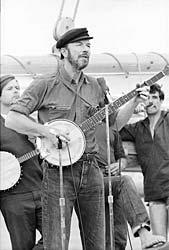 Pete Seeger sings on The Clearwater with the Hudson River Sloop Group, Newport Folk Festival July 1969 – Photo by David Marks

Rian writes - PS Pete Seeger's people asked me to set the record straight. I said, fine. I'd really like to do that, but in the end, it's the truth that will set us free, and we need to establish what really happened. I really do believe Pete was an innocent party whose chief mistake was to trust his publishers. But I wanted that confirmed, so I sent a long letter full of questions about things that happened long ago. There has been dead silence since. Save for a cryptic email from an old Buddhist rogue who once managed the Weavers and wound up owning a big share of Wimoweh and Lion Sleeps. He just said, "We're in tune, Rian. We saw the same movie." Old Pete is 87 now. Maybe this is where it ends.

(62) Victor Shiffman writes - Hi Again David, Thought you might want a copy of the label artwork from Solomnn Linda's Mbube recordings? FYI, I found this on this on eBay. Best, Victor
Blues Time Music Download & Blues Community
24 Mont-Royal West , Suite 704A
Montreal, Quebec, H2T 2S2
Canada
www.bluestime.com

Want a copy of Mbube? Here's a note from Rob Allingham of the Gallo Music Archive - Just for future reference: Mbube by Solomon Linda is available on 'The Story Of Solomon Linda', Gallo CDGSP 9. I always tell people to buy it through the One World mail order site - email:

[email protected]

. Regards, Rob

Herewith a letter from Damien Margo son of the original Token's leader Mitch Margo

(63) Damien Margo comments - My father Mitch and uncle Phil are original members of The Tokens, the group that made the hit The Lion Sleeps Tonight in 1961. They also improvised and created new melodic material on "the Lion", but never got credit for it! For some reason they are not cut into the deal. Sadly, The Tokens do not get publishing credit for this work. Some execs are getting all the money. Its no fair I tell ya! Some lawyer stands to make a bundle to help find justice for my father and uncle. Even a small piece of "the lion" would make such a major difference in my father's life. Best, Damien > See Mickey, Goofy & Donald Duck Under House Arrest in SAfrica >> – by David Marks

(64) Erik Glazier comments - Dear Sir,
I have just seen the television piece on PBS and am utterly dismayed at the music industry's blatant avoidance of this issue. Not only has the music industry turned a blind eye, but Disney? I cannot imagine such profoundly despicable greed. Mr. Linda's family do not seem as though they need much. I agree that their fair share would rightfully range well into the tens of millions for their father's song, but what is so incredibly outrageous is that the music industry and Disney, with their seemingly endless billions of dollars made from movies like "The Lion King," and so many countless others listed on your website, have yet to even offer a pittance to this destitute and well deserving family. I graduated with a Bachelor's degree in Music Business and although I don't have many ties to the business, the man who ran the music business program at The University of the Pacific, where I attended, is the only person I can think of. He spent many years working in the legal department of Sony Records and Casablanca Records, among others. I would like to know if I could somehow get a tape of the PBS special which I watched to send to him for his review. Please let me know what can be done to obtain a copy and if the Linda family has since been paid any kind of restitution for the use of their father's song. I did see at the end of the television show that Gallo and Decca have conceded future royalties to the family, however as of the original airing of the show, Disney was fighting the case on technical grounds. I would like to help in whatever ways possible.

Rian, if you are reading this email, I want to say that people like you inspire me in so many ways. I tip my hat to you sir, for your dedication to the Linda family. You are a lucky man to have been touched personally by those wonderful people.

Best Regards,
Erik Glazier
Bentonville, AR
David,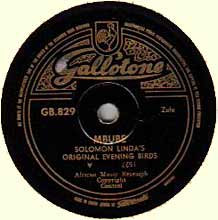 Gallo labels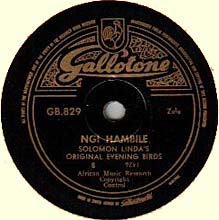 For copies of The LION'S TRAIL enquire @ Mbube - Undercurrent Films
Scott Murray Producer – Independent Lens
www.pbs.org/independentlens
dipsy.pbs.org/independentlens/lionstrail
(65) D. H. Kerby comments - Thanks so much for all the information; I especially don't want to miss Weiss' son's letter. Let's stay in touch. Best regards,
(66) Great! Thanks so much,
Julia
(67) Dear Sir/Madam FROM: "the4orths" I would be most appreciative if you might have an address where one could
mail a donation to Solomon Linda's daughters, or is there a website
dedicated to this cause? Also, do you have an update as to their
situation? Thank you for a wonderful documentary and introducing me to
the talents of Ladysmith Black Mambazo.
Please contact Hanro Friedrich, the family's lawyer, Yours Francois Verster Director, A LION'S TRAIL
(68) Julia Comments - Hi David, Thanks so much for your quick response. Our editors might be uncomfortable using it without express permission from the author, but I will talk to them about it. If you have Muff Anderson's contact
information, that would be great. If not, we may go ahead. Thanks so much for your help, and keep up the good work! Take care, Julia
(69) Patrick comments -This brought more than a few tears to my eye and had my heart pounding and my brain spinning with fabulous memories. This piece was written by someone who knows! Many thanks Dave and Franny for being exactly who you are. You are both giants among us all.
Much love Patrick
(70) Carol comments - I saw the Solomon Linda story on Independent lens via PBS. Reading this after watching it, just enrages me. It makes me ashamed to be both white and American. I am so sorry that this happened and is apparently still going on. I will not be able to listen to the song with pleasure anymore.
Ed writes - Dear Carol - we understand how you feel... but perhaps that's not how King Solomon would have wanted it. We've had our anger invoked since the late 60's when we first started making enquiries about why Solomon and a number of other songwriters were so short-changed. And they weren't all black incidentally. I was also one who apparently never got what was due to them. Nothing as huge as Mbube of course - but a few grand here & there would've helped.
As you know from the story, legally, many of us were not entitled to anymore than what we originally were paid, and what we signed for. The fact that we didn't really understand what we were signing has now become an issue. Most of us - a great many rock 'n roll & jazz & blues composers pre 1970's / 80's - were just happy to have our songs played, heard & sung. Besides, songs were our calling cards; that's how we really earned a living - live gigs, appearances & so on. That's how Solomon Linda & His Evening Birds - and countless musicians survived here in Africa.
It's no excuse I know, but now when next you listen to the tune, be comforted by the fact that it has started a huge international re-think about the morality of music copyright & publishing and that many composers will benefit from the result of this sorry Mbube affair.
I enclose herewith a note sent to us by the son of George Weiss, Bobby Weiss. It says it all. We aim to post it on the website soon. Can we also post your letter?
(71) Matt Bower comments - a few u might of missed who covered "The Lion Sleeps Tonight"
Jimmy Cliff
The Four Season
Paul Simon (maybe Garfunkel)
The Beach Boys
Village People
(72) Cecil Martinez comments - Hi. I live in San Francisco, CA, in the U.S. I saw the documentary in Independent Lens, PBS last night and could not help feeling enraged, angered, and powerless. Mr. Weiss has got to take a deeper look into his soul and do the right thing. Otherwise, I feel really sorry for him because he must have a tough time looking at himself in the mirror, knowing that he has no goodness in his heart. Does anyone know Mr. Weiss' email address? We should all send him our comments on this outrageous exploitation that has spread over decades and continues with Linda's daughters and their family.
I pray for Mr. Linda's daughter and for the hope that one-day justice is made.
At the end of the documentary, I saw that the recording company that originally started this exploitation had agreed to pay some royalties from future sales to Linda's daughters - this is not enough! Reparation calls for at least a public apology and for the money already "stolen" to be paid back - even if it was decades ago! May all of them find please within their hearts one day.
(73) Someone comments - so...when will it be rifle time?
(74) Samantha comments - Quality
(75) comments - I'm aware that the documentary "A Lion's Trail" has been shown in various parts of the world, including Canada. Have you any idea when it will make it's way to the US? Or, better yet, become available on video (preferably DVD format)??
I'd really like to see it.
(76) Tony Newlove comments - I disagree about Malan's treatment of Seeger. In fact he says clearly that Seeger honourably tried to ensure that Solomon Linda received a fair share, and accepts Seeger's assurance that he made no money on royalties. His article clearly blames those despicable people who took advantage of Linda's lack of education, and subsequent 'owners' of the royalties who were quite content to plagiarise a great tune but hid behind a framework of legalism rather than just help Linda's family. I hope Linda's family can take a few of them to court.
Rian Malan Writes - Pete Seeger's people asked me to set the record straight. I said, fine. I'd really like to do that, but in the end, it's the truth that will set us free, and we need to establish what really happened. I really do believe Pete was an innocent party whose chief mistake was to trust his publishers. But I wanted that confirmed, so I sent a long letter full of questions about things that happened long ago. There has been dead silence since. Save for a cryptic email from an old Buddhist rogue who once managed the Weavers and wound up owning a big share of Wimoweh and Lion Sleeps. He just said, "We're in tune, Rian. We saw the same movie." Old Pete is 87 now. Maybe this is where it ends.
(77) Dan Penwarm comments - I have to say I'm not really surprised to hear that those who made millions from Mbube seem unwilling to "cough up the dough" as it were for Solomon Linda's children. Money, it seems can buy happiness though not, apparently, a conscience.
(78) Garth comments - Dear Dave, A few thoughts on the Mbube debacle: how can anyone say that being ignorant, or worse still uneducated and ill-informed be an excuse for having your basic rights infringed as Solomon Linda has. As for the Corporates involved, they should collectively hang their heads in shame. If ever there was a case for international copyright arbitration this should be it - it will send a signal that the law does not tolerate the theft of intellectual copyright, no matter your social standing / roots / origins. Best Garth Chilvers
(79) Amanda comments - great!
(80) Cecil writes - Yes, of course you can post my comments. Thank you for sharing Bobby Weiss' letter with me - i find it very interesting. I will keep looking up new developments in this issue in the hopes that one day I find good news.
Thank you for your work.
3rd Ear Music / Hidden Years Archive wrote:
Dear Cecil - thanks for this. Can we post your letter on the website with the others? We enclose herewith a confidential (for now) eNote from Bobby Weiss - son of George & a letter I sent to a young lady who had the same concerns as you. Hope it helps. Regards David
(81) Fred Clemens comments - I'm aware that the documentary "A Lion's Trail" has been shown in various parts of the world, including Canada. Have you any idea when it will make it's way to the US? Or, better yet, become available on video (preferably DVD format)??
I'd really like to see it.
Also, do you know of anyone who might have a (clean) copy of the original Solomon Linda record (78) for sale?
www.bobshannon.com
(82) Rolanda comments - My first and only thought is outrage and disgust at these 'white' men who have not just profited nicely, but received obscene amounts of money for what was never theirs to lay claim to. How can the deals be 'perfectly legal, drawn up by respectable men'? If Linda was not aware they were taking his creation and any future profits he may be entitled to? How can they sit at a hearing squabbling over the ownership and the monies, when they know his family continues to live in poverty? That is beyond outrageous. Worse - why does this continue?
Linda's 1939 session recording is proof of his original work; his family should get a substantial amount to help their community. They ARE entitled, but more importantly - where has the money gone? Where are the bank deposit statements that show there was money from 1961? Why does no one have to answer this question? Pete Seeger has not been portrayed in this article in a negative light. He is the only one to have shown moral conscience. These men however and any others associated with such obvious and outright plagiarism must find it hard to sleep at night. They have their own conscience to deal with for now. It will be lovely to see their smugness when all this does become a media circus, as i'm sure it will. George Weiss, Howie Richmond, Al Brackman, Luigi Creatore
(83) Peter from Oz comments - G'day, - I have a customer with a tape (1/4" reel-to-reel) containing what sounds suspiciously like a recording of an LP of a wonderful a'capella group singing "Mbube" and 12 other songs. I have been recovering the original audio, and we're trying to find out who the group is! Unfortunately the tape is unlabelled, and is at least 15 years old (in 2004), possibly 20.
I would like to try and find out who is actually singing if that's not impossible. The first two songs are "Mbube" (with an unusually long jungle noise lead in - bird noises done by the singers) and "Love Potion #9" (I don't know the names of most of the other songs), and there is even a live version of them singing "Duke of Earl". They also perform an unusual rendition of "Up On The Roof".
I don't know if you can help, but I would appreciate it if you could even point me in the right direction. So far, I've been looking at discographies on Amazon and searching the web, but I can find no match for these particular songs (I'm reasonably sure it's not Ladysmith since I can't find a matching album, but this does sound good enough to be them). This one recording is haunting me, and I'd love to be able to help this customer out. Luckily, I've been able to recover nearly all the songs, so 1 out of 2 ain't bad, I guess!
I have every faith in you...
Kind regards, Peter Melbourne Audio Recording Service
(84) Carol Young Comments - I saw the documentary on TV about a year ago and would really like to purchase it. Apparently, SBS did the documentary. I am not familiar with SBS Could you possibly tell me if this amazing story is on DVD?? Thanks so much.
For copies of The LION'S TRAIL enquire @ Mbube - Undercurrent Films
Scott Murray Producer – Independent Lens
www.pbs.org/independentlens
dipsy.pbs.org/independentlens/lionstrail
(85) Jonathan in exile comments - Lengthy, funny and quite fascinating article, the longest I have read on music lately, but the bottom line is the spirit of the song, wherever it resides in men's hearts, it can't be political or financial, as those cannot enter one's real soul. The music is similar to music I grew up with in South Africa, I like to call it floor polisher music, when our black housecleaner would wrap her curly headed baby in a blanket about her back, and on her tired hands and knees, went to work polishing the floors with a a big floor brush and a tin of cobra floor wax, humming to herself the strains of black jazz that blared loudly from our old valve radio in the lounge. seeming to draw energy from this oneliner type music, she would polish the floors and her baby would gurgle with happiness at the rythmic motion, "wimmowe" will always remind me of those days, good and bad.
(86) Kevin comments - I'm doing a paper on this song for a Business Law class and this article has been a great source of the information on the flow of the song. Also the part about it never been copyrighted by Solomon or Gallo is quite useful.
(87) Demetrius Romeo comments - Australian band from the 50s/60s (still going in occasional line-ups featuring at least one original member) the Deltones had a local hit with the song - probably following the Weavers/Tokens version. Definitely the first version I was familiar with, growing up in Australia in the 70s. The band was signed to Festival and EMI for much of its career, but I do remember a TV advertised compilation featuring the song, released on the now defuncty J&B label in Australia.
Fantastic, informative site.
(88) A. D. Baylis comments - Not sure if this is of interest, but Kapp Records (US) released, in 1958/1959, a mainly instrumental recording of Wimoweh by Bill Hayes and the Buckle Busters, writing credited to (only) Pete Kameron. This recording was also released by London Records in the UK.
(89) Ken Cavalier comments - As a legal consultant, I read with interest the comments on the lawsuit against Disney and others on behalf of the estate of Solomon Linda.
Mickey, Goofy & Donald Duck Under House Arrest in SAfrica – by David Marks
As a practicing entertainment law lawyer in Canada I am amazed at how little understanding of reversionary copyright law there seems to be in the countries where it has never existed. Let me just quickly explain that no matter what agreement Solomon Linda may have signed to assign his copyright to anyone else in the 1960s, that agreement was null and void 25 years following his death by the operation of the "Dickens provision" in South African copyright law.
This reversionary copyright provision was inserted into the Copyright Act of the Great Britain near the beginning of the 20th century because of the outrage caused when the works of the posthumous Charles Dickens were generating huge profits for the publishing companies while his family was reportedly near destitution. As such these provisions passed into the Copyright Acts of the former members of the British Empire. In the U.K. itself in about 1956 the reversionary rights provision was repealed (presumably because the provision was seen as too paternalistic, overriding the freedom of the author/artist to freely contract).
However, after the Empire became the British Commonwealth in 1931 or so the repeal of this provision in the U.K. did not mean an automatic repeal elsewhere. This means that in countries such as Canada and South Africa reversionary rights continued to exist. In fact in Canada such reversionary rights remain part of the Canadian Copyright Act to this day and a recent case involving and reasserting them had to do with the copyrights associated with the works of author Lucy Maud Montgomery of Anne of Green Gables fame.
Through no deception or fault of the author who assigned his or her rights the ownership of the copyright reverts back to the estate of the first owner of copyright 25 years after that person's death unless they have transferred the rights by operation of a bequest in a will. Now the original assignee, say a publishing company or production company, had the right to authorize license use for the first 25 years after the death of the original owner of copyright, but following reversion they have no such right.
Under the common law principles of Nemo Dat, they have no good title to enter into the agreements with Disney or anyone else on behalf of the estate at that point. In other words, as was intended by the provision in the first place, the estate has the right to renegotiate the use of the copyright and all who would use the copyrighted material have a legal obligation to get the estate's permission. One might well argue that the legal advice available to Disney did not include due diligence concerning the risk posed by reversionary copyright (if Disney wants to sue the law firms that drew up its agreements with the publisher) or that Disney should sue the publisher for selling or licensing that which it did not have the right to sell or license to recover its costs.
But it is clear statutorily that the owner of the copyright has the right to pursue compensation for infringement of that copyright. It is ironic that the company that has protected its own copyrights with such vigour for so many years would balk at its own responsibilities to the current owner of this important intellectual property right. However, I predict that Disney will not be the only company using the copyright of deceased authors, composers, performers or artists in countries where reversionary rights exist or have existed without incurring considerable exposure to legal liability for infringement. As for assignees and lawyers responsible for due diligence in such agreements, I would suggest careful vigilance.
Ken Cavalier LLB PhD LLM Candidate
David Marks replies - Dear Ken - Thank you for your comments / input. Much appreciated. Would you have any objection me Cc'ing this to a few people who are involved - by interest / default / design? And hope that they in turn inform / advise the Ntsele representatives / attorneys? Would you mind if we posted this on the website?
(90) Ken replies: David, nice to hear from you. Of course I have no objection to your reuse of my comments or posting it on the website. I am very much involved in the study of the law of copyright and the issue of reversionary rights is near and dear to my heart just now. I hope my comments can foster some useful debate. Thanks again for your kind words.
Ken Cavalier LLB PhD LLM Candidate
(91) Rian writes - Dave – Thanks for this v. interesting. (Ken Cavalier) This is the legal theory on which Dean's case is based. The relevant clauses of Imperial Copyright Act are extremely esoteric and seem largely forgotten. Disney lawyers were certainly ignorant and had apoplexy when they dug up the ancient yellowing text. Will forward to Dean, who will be thrilled to hear from a fellow enthusiast.
Regards Rian
(92) David Meizner comments - I wondered why the last few paragraphs of the article published in Rolling Stone omitted from the on-line version? Were they found to be inaccurate in some way or does the omission relate to the legal attempts to secure payments for Linda's family?
(93) Rian Responds. Dave – thanks for forwarding Bobby's (Weiss) note. Very interesting. I updated the Lion story for Keyan Tomaselli, who's doing a textbook about culture and copyright. A lot of new stuff has emerged since the start of the court case, and there are mistakes in the Rolling Stone version – not my fault, since none of the RS people would talk to me. But mistakes are mistakes and should be corrected. Are you interested in changing the text on your sight?
It astonishes how many people are logging on to your site and commenting on the story. Seems to have acquired a life of its own. And now there's another documentary in the works, too.
Re: Corrections by Rian Malan - The first part – Story about Music – stands more or less unchanged. All the changes come in parts two and three – Story about Money, and Moral Considered.
The narrative is cleaner and simpler and much closer to accurate – especially if you include the footnotes, in which I deal with the complicated and tedious bits. Footnote about changes at BMI after WWII are particularly interesting, I think. I won't argue if you can't put these changes on your site, but since yours is the version that people are now reading, it would be good to make it as accurate as possible.
(David Notes: We hope to make the changes in this edition. Thanks Rian)
(94) Dave Williams comments - Very interesting article, I came across it when searching for information on the Gallatone label. You may be interested to know that there are 2 issued takes of Mbube on the Gallotone label; one of these is without the piano and banjo accompaniment.
(95) Sybil Chabane comments - I hope you can help me. I'm trying to locate a copy (pref DVD, but video ok) of the film "A Lion's Trail" directed by Francois Verster. Can you tell me if it is available commercially, and how to get a hold of it? Thank you very much.
For copies of The LION'S TRAIL enquire @ Mbube - Undercurrent Films
Also visit:
Scott Murray Producer – Independent Lens
www.pbs.org/independentlens
dipsy.pbs.org/independentlens/lionstrail
(96) Rob Allingham from the Gallo Music Archive responds - Yes, in fact there are three issued takes but only the common one has Linda's final improvisatory phrase that would later become the principle melody of 'The Lion Sleeps'. Cheers, Rob
(97) Frankie Valens comments - I did notice that someone was mistaking me for Richie Valens. No, I am not Richie Valens. I was not the original artist on the "Lion Sleeps Tonight." I have recorded it on an album called "Frankie's Back." Check out www.frankievalens.com and listen for yourself. I do oldies concerts across the US - [email protected]
(98) Undercurrent films' director françois verster writes david marks has compiled a very large discussion forum on the subject - responses to the film, to rian's article, on the progress around political moves, rights being returned, etc. Probably by far your very best source on information about the song!! you can also probably contact david directly at the email address here; He would most likely be very keen to help.
Also - it would be very good if you can have links to articles on the disney lawsuit (there were very many you can also get in touch with hanro friedrich regarding this) and on the richmond organisation's recent decision to give back income on "Wimoweh" to the family.
Scott Murray Producer – Independent Lens
www.pbs.org/independentlens
dipsy.pbs.org/independentlens/lionstrail
(99) Noella Mutanda comments – Hi, I first heard this song last year!!! (Believe it or not) And it was accidental!!! I had borrowed a CD from my kid brother and I think this song was in that CD by mistake. I like singing and I took an immediate liking to the beats and the sounds that go with the song.
It is interesting to read the song's history and yeah, the poor man who composed the song should have made millions. Am not surprised at how he died. In Kenya, (that's where I am from) the writer and singer of the world known Malaika died a pauper four years ago. Many musicians worldwide sang the song and even claim to have written it. That aside is it possible to get lyrics to the song...i only know the first two lines and the rest is humming!! Regards Noella
Editors Reply- Thanks for that. If you go to the Mbube Letters, Links & Feedback - just click on the front page & you'll get there - then scroll down & somewhere there are record numbers / details as to where you can get a CD. We do not have the lyrics up on the site - we should get them in English. At the moment they are only in Zulu.
Is there any chance that someone could write us the story of Malaika? It is also one of Africa's most covered tunes - I've even recorded it with a number of musicians over the past 30 years. (Recently on a live gig with Simba Morri, from Nairobi.) There's always confusion when filling in the credits. Any info, photos, anecdotes about that song would be helpful. Maybe we can help someone do the same thing for Malaika as was done for Solomon's song & his daughters?
(100) Kelly Torres comments - Hello, I'd like to know what exactly uyimbube, which as far as I understood, is the correct spelling of "owimoweh". Can you tell me what is the meaning in English? It's very important to me to know that, because I'm researching the use of this work in A Raisin in the Sun, by Lorraine Hansberry. Thank you all, Kelly
(101) RTS (USA) comments - It seems to me that Raymond Tucker is hiding something. Why wouldn't he let the Malan see the files? That just seems rather fishy after Malan secured a letter from Linda's daughters.
(102) Ed Butler (UK) comments - I'm a UK journalist commissioned to update readers to a UK magazine about the Mbube case. I take from what I've read here that money is now coming in and the daughters can expect to earn (eventually) a considerable sum - although perhaps not what their family truly deserves. Could you give me the latest? When exactly did the revised copyright rules come into effect granting the daughters a regular income? What are their terms? And just as importantly, what exactly are you planning to do for other similarly deprived songwriters? (Could you name a few worthy examples?) I applaud the good work. Thanks very much, Ed.
(103) Folks, this is just to let you know that you're running a big thingy. Great
website, excellent information. This is very, very good stuff! I'll be back again
and again and again... Wolfgang Sonnen
(104) Joseph Miako comments – hello I am doing research on record album ,the call of the wilder bros, featuring Hayden Causey, Barbara Wilder, Allen Breneman.
This album is signed by the six artists on the cover. Please let me know if you have any information or other contacts that you may have. Otherwise thanks, hope to hear from you. Our best wishes, The Wilder Brothers.
(105) Mandi Laing from Macmillan Publishers writes - Good Day. I am writing from Macmillan Publishers and we are publishing a school education book called Arts and Culture Grade 7 LB - we cover a variety of musicians throughout time and would like to find out if we could use the picture of Solomon Linda on your web page, we would obviously require a hi-res image and would be willing to pay for it and credit who ever it should be credited to.

Please advise who I should speak to if you are not the correct person!
Kind regards, Mandi Laing Artwork Controller Macmillan Publishers
(106) Jonathas Sucupira comments - All I can say is, totally unfair...
(107) Tom De Paul comments - In the first page of this amazingly comprehensive and informative article you state that ".... with 3 centuries of continuous radio airplay...." 3 centuries is 300 years; I think you meant 3 decades.
By the way, Barry Manilow performed "The Lion Sleeps Tonight" in his 1984 summer concert tour, accompanying himself on the bongo drums and commenting at the end of the song, "I bet you've never seen a white boy do that...."
Thanks for the great article.
(108) From Adri Malan (Who must be a publicist for attorneys Spoor & Fisher) - Latest on the Mbube case. Read press release below (issued on 2 July 2004).
(*Editors note: Please note – When Adri Malan refers to the Music Industry, he in fact means the Record Industry; the music industry doesn't come into the picture here & has had nothing to do with the exploitation of Solomon Linda or theft of the song Mbube. Point? Our top legal experts & the media cannot / do not distinguish between the Record & Music Industries in SAfrica. To them, making music & producing a product is one & the same thing. Sad really. Is it any wonder that this sorry episode never seems to reach a conclusion?)
Ace copyright lawyer at Spoor & Fisher, Dr Owen Dean, has been awarded a court order authorizing him to attach legendary Disney trademarks pending resolution of a copyright dispute. The Disney icons; including Mickey Mouse, Donald Duck, Winnie the Pooh and many others; will be detained until issues surrounding the earnings of an equally legendary pop song are settled.
See - Mickey, Goofy & Donald Duck Under House Arrest in SAfrica – David Marks
Dean's client in this landmark case is the estate of Solomon Linda, composer of a Zulu tune that forms the basis of The Lion Sleeps Tonight, one of the 20th century's most lucrative and enduring pop songs. Although Linda's contribution to Lion Sleeps Tonight is openly acknowledged, the ill-fated migrant worker never received credit as a co-composer and died a pauper in 1962. Starting in the early seventies, his destitute family received a trickle of royalties from the American owners of the Lion copyright, but Dean's legal team claims these amounted to a pittance; way under one percent of the song's earnings in the 1992-2002 period, according to attorney Hanro Friedrich.
In 2001, Friedrich arranged for a colleague in Los Angeles to open negotiations on the family's behalf with Abilene Music, the New York-based company that administers the Lion Sleeps Tonight copyright. Abilene's response gave no comfort to the family. A subsequent attempt at quiet diplomacy by *South African music industry figures came to nothing.
A year later, the case made its way into the hands of Dr Owen Dean, widely regarded as South Africa's foremost copyright lawyer and author of a doctoral thesis on the historical aspects of South African copyright law, including the Imperial Copyright Act of 1911, which was in force throughout the British empire in the year when Linda recorded Mbube, the song in which The Lion Sleeps Tonight's central melody first appears. Dean immediately realised the implications: in terms of the Imperial Copyright Act, ownership of Mbube reverted to Linda's heirs 25 years after his death, thereby revoking all existing deals and requiring anyone using Linda's music in Commonwealth territories to negotiate new agreements with his estate.
This insight forms the basis for the audacious legal strategy set in motion this week, when a judge authorised Dean to attach Disney's trademarks in South Africa.
I have no axe to grind with Disney itself, Dean explained. In fact, I assume they don't know much about Solomon Linda and the way he and his family have been treated. But they are using his music in the Lion King musical, which is running to full houses all over the world while Linda's daughters work as domestic servants, live in shacks and struggle to feed their families. As far as we're concerned, this both illegal and profoundly unfair, so we're detaining Mickey, Donald and all the others until proper justice is done by the Americans.
As far as Dean is concerned, the provisions of the Imperial Copyright Act apply in all territories that were once part of the British Empire. He is therefore eyeing a similar action in the UK itself, with Australia, New Zealand and Canada likely to follow. Also in the crosshairs are all record companies and artists who have recorded or plan to record new versions of The Lion Sleeps Tonight without negotiating appropriate permissions with Linda's estate. We simply want a fair deal for the family, said Dean. If this can be achieved by negotiation, so much the better. Ends.
For more information, please contact:
Dr Owen Dean
Partner: Spoor & Fisher
Head of trade marks and copyright
Tel.: +(27)(12) 673-1269 email: [email protected]
(109) Paul Zamek (USA) writes - Hi Dave, I thought that you may find this interesting...it was an item posted on the HITS website...a widely read music industry website. www.hitsdailydouble.com All the best, Paul.
SLEEPING LION WAKING? The family of the South African writer of "The Lion Sleeps Tonight" are proceeding with a lawsuit against Disney claiming copyright infringement for the company's use of the song in both film and stage productions of The Lion King. While Disney claims it licensed the song properly from U.S. publisher Abilene Music, lawyers for the family of Solomon Linda, who wrote and first recorded the song in 1939, argue that under British laws in effect in South Africa at the time it was written, the song's copyright should have reverted to Linda's family in 1987, 25 years after his death. Although "Lion" is said to have generated some $15 million in revenue, Linda's family lives in poverty outside Johannesburg, according to Reuters. Should the family prevail, however, the South African court will award them revenue from the local use of Disney trademarks, such as Mickey Mouse. (7/7a)
(110) Joan Moore (USA) Comments - This is amazing that you remembered us after a couple of years. Thank you so much for your information, memory, and follow-ups. I noticed the comment at the very bottom from the offspring of the Tokens (who's original recording we want to use on the safety play DVD), Damien Margo. This is just so fantastic!
(111) Francois Verster (Director of Lion's Trail – the Mbube documentary) - Hi David. Hope all is well - the saga continues! And let's hope this time something changes. Just as a matter of correction: I made a short magazine insert on the story (before I really knew the half of it) in 1999 for a SABC3 programme called BUT IS IT ART? - The piece was simply called THE STORY OF "MBUBE" (this was the piece from which the Carte Blanche insert borrowed heavily; they licensed some of the interview we did with Pete Seeger from, presumably, the SABC archives). It did take around three years from there to get money for A LION'S TRAIL, and I tried both locally and internationally, but it was actually SABC3 who committed first (and not the BBC) - the National Film and Video Foundation followed, and BBC4 only came in on the deal later, together with NPS, CBC and others. Technically, the film is a SABC / Lion's Trail / BBC co production. Best regards, Francois Verster (Undercurrent films)
(112) Maryanne Jelenc comments - An amazing history of this song! I was wondering if you had the lyrics for the Mahotella Queens' version of 'Mbube'?
(113) Toto comments - French singer group powwow on album "Regagner les Plaines". I'm french and I just to see a TV doc on Mr SOLOMON LINDA powweb.free.fr/index_oeuvre.html
(114) Anton Teese (Oz) comments - Hi, my name is Anton Teese and I play music here in Melbourne, Australia. The "Lion" is very popular and I would like to contribute to the Solomon Linda campaign with some form of royalty when my student violinists or I perform the "Lion". Any suggestions? (Referred to Hannro the Ntsele Family attorney)
(115) Kevin comments - I'm doing a paper on this song for a Business Law class and this article has been a great source of the information on the flow of the song. Also the part about it never been copyrighted by Solomon or Gallo is quite useful.
(116) Duncan comments - Please I need to find the name of the disk something like,,, Swinging in Safari ,and who is author or reference to get it,,, around the 60s Thanks
Editors note: –The song was Tom Haak composed by Aaron Big Voice Jake Lerole (RIP).
(117) Julia Graff writes - Hello, I am a law student at the American University in Washington DC. I work for a publication run out of the law school called the Human Rights Brief. We are publishing an article on cultural rights and intellectual property, and were wondering if we could use the photo of Solomon Linda that is on your website. It looks as if it is from a book from Raven Press, but we are unable to find information about how to contact the publisher or the author. Any information you have about this would be most appreciated. Thank you so much for your time. Julia
(118) Scott Murray – Independent Lens writes - Dear François, Mark and Dan,
Following its broadcast last night, your film has received a great number of positive comments via the website, which I'm in the middle of posting now. I hope you'll have a chance to read through them later today at: www.pbs.org/independentlens/lionstrail/talkback.html
On occasion, we receive additional comments that were not intended for the Talkback section of the site, but that were submitted to us via email ([email protected]). I will share such messages with you by forwarding them on, making sure to including each author's email address.
Upon receiving the forwarded messages, it is of course your decision whether or not to reply. Some people will be asking specific questions, or may want to communicate a message to your film's subjects. Others may only want to say thanks.
Best wishes,
Scott Murray, Associate Producer ITVS interactive 415-356-8383 x225 www.itvs.org.
From Miles Davis to Billie Holiday, legendary jazz bassist and prolific amateur photographer Milt Hinton documented 20th-century America with his portraits of fellow jazz icons. Watch KEEPING TIME: The Life, Music and Photographs of Milt Hinton, premiering April 12 at 10:00 p.m. on Independent Lens. Check local listings at www.pbs.org/independentlens.
(119) Dear François and Rian, Would either of you be able to respond to this person? By the way, I watched the film again this weekend, and I must say "well done." It really is fabulous, and thanks to both of you for all your work bringing this issue into popular consciousness.
Best wishes,
Scott
(120) Philip Meckseper - Hey, I read all those interesting articles on your page about Solomon Linda's song, and as a student of musicology in Hamburg, Germany, I am going to do a presentation about this song and the related copyright issues within the scopes of a course about cover versions. Now I would like to know if you can tell me any latest news about the current status of the trial vs. Disney, or any other interesting new developments, e.g. if there were any payments made within the last 1-2 years, also I didn't really understand yet if this trial is only vs. Disney, or if other publishers are included already. Or will this be some kind of example, and if it is successful, other trials against other publishers will follow? I would be very grateful for any kind of information you can give. Thanks in advance & best regards, Philip Meckseper
Forwarded to Mbube Attorney Dr Dean Owen of Spoor & Fisher
(121) Joao Paulo comments - I'm a Brazilian fan of Solomon Linda song Mbube - and I'd like to know where to find the original Lyric of this music. I'll be glad if you help me. Sorry for my bad english. Thanks
(122) Ellsworth Young (UK) comments - There was a BBC radio documentary highlighting the plagiarism of Solomon Linda's work and the attempt by a legal team to secure royalties for his estate. Do you have an up-date on that issue as I would like to know?
(123) Yarda from Czechoslovakia comments - Amazing story and true life story too - thanks to Solomon Linda for his soul and to Rian Malan to letting us know... To be honest - I didn't know anything of the tune. Was coming across it from time to time, thinking it's a 70's hit (!) and then one day (today actually) I've decided to find more about it (just 5 months after the complete story been released - lucky me!) Sorry Solomon and thanks so much! / Promin Solomone a moc dekuji ! .. in Czech
---
also read:
Mickey, Goofy & Donald Duck Under House Arrest in SAfrica – by David Marks
On the Lions Trail Mbube - Letters, Links & Feedback - Part I >>


Other MBUBE links: Independent Lens