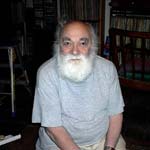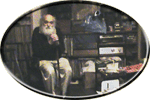 >> Ben Segal - The Bioscope Called Ben and the Obit
on the 2nd November our dear friend and 3rd Ear Music's mentor and founder, Ben Segal checked out.
...watch the video >>
...read Ben's Obituary on facebook >>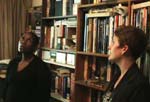 >> Precious & Dr. LiLa Lambrechts in Ben's Archive
DOMUS raised the (foreign) funds to transport David's 'physical' HY Archive collection (50 years & many tons of stuff) together with the massive BEN SEGAL collection and the JOHN GREGG music archive (both of which will form part of David's HY Archive Collection) down to the Cape from Johannesburg – where it had been 'resting' for the past 4 years at SAMRO; SAMRO rescued the collection for David, from the UkZN debacle in 2009.
...read also >>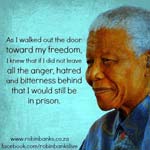 >> This edition is also dedicated to those who all made the transition, as it were, in 2013 - family, friends & SAfrica's Universal icon and inspiration, Nelson Rohihlahla Mandela (1918 to forever)
uMANDELA uMOSE WESIBILI by 14 Shabalala (RIP) >>
"Moses" - Mandela tribute produced by Lloyd Ross featuring James Phillips (RIP) >>
Johnny Clegg & Savuka with Nelson Mandela - Asimbonanga - 1999 >>
Jeremy Taylor sings Jean Bosco-Mwenda's Masanga >>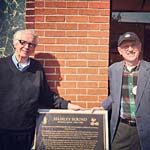 >> Bill Hanley – The Father of Festival Sound was honoured on the 19th October 2013, by the city of Boston in the USA, with a commemorative plaque erected for him and brother Terry, in Salem Street, Medford.
...John Kane's Last Seat in The House >>
If it were not for Bill and the Hanley Sound Company, the South Africa 'live' festival, concert and music industries would not have been what they are today.
David Marks was part of the 'live sound' revolution both in the USA (1969) and here in SAfrica, since 1970; Bill's Woodstock Bins and system enabled 3rd Ear Music and friends to present and record 'alternative / non-mainstream' music events – at clubs, concerts and festivals, all over Southern Africa.
>> 2014
There are plans to establish and develop a Music Archive Library Museums (MALM) in Pumula kZN. This proposed MALM would house and present the Hidden Years music and material that David has digitized over the past 20 years; a 'bricks and mortar shop-front' window and a virtual archive to the passing world – tourists, researchers, students, locals. This MALM would be one of two components to form part of the larger Hidden Years / 3rd Ear Music / David Marks music archive at the UoS / DOMUS where the un-indexed, non-digitized, bulk of the collection is being stored for students and researchers. Steve Kinsler has offered his Pumula property (CLOUDS HILL) at a nominal rental; the idea is for David to create an interactive art and craft centre; a self-sustainable, much needed job-creating art and craft outlet in kZN. The vision is to present unplugged / folk 'n Jazz 'n indigenous music events; a living arts, hands-on outlet with a book shop and music library, a coffee bar, display area and a 'hidden years' lecture venue, where indigenous music material, past, current & future, can be recorded shared and or sold. South Coast Tourism have offered to help raise awareness, and perhaps the necessary funds, to kick-start what could become one of many regional and rural MALM outlets throughout the country.
...read the pdf file >>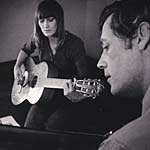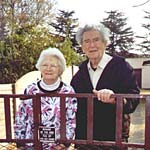 >> In February, a day after his 69th, David Marks' dear Mother Rose Lovell said goodbye at 90; then 2 weeks later, at 95, his step-dad Gerrasimos Markantonatos couldn't hold on alone any longer.
>> 12 October 2013, 3rd Ear's dear friend since 1964, folk-singer and actor, Maureen 'Mo' England said farewell;
...listen to Maureen England RIP >>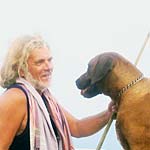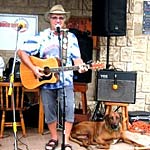 Frankie - David, Fran and the family's trusted faithful friend and companion had to leave… he was born on Madiba's birthday, 10 years ago.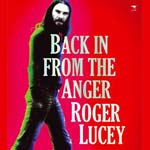 >> Over the past few years a number of researchers, authors and documentary producers from the USA, UK, the Cape and Johannesburg have visited David in Melville Beach, kZN, where he has shared his music material, photos, and personal anecdotes. This includes information, photos and data used in books and TV documentaries, including 'The Beatles in America', 'WOODSTOCK '69 revisited' and the recently issued ROGER LUCEY auto-biography, BACK IN FROM THE ANGER (Jacana Press)
>> Back in from the Anger by Roger Lucey >>
>> 3rd Ear Music / David Marks / Hidden Years Music Archive collection is unique; unlike most 'national heritage' collections, David Marks has personally recorded most of the SAfrican music material collected; at least 70% of that music and material was recorded and collected in 'townships' around the country. Income has been derived from most of the 'city' events, clubs, concerts and festivals that 3rd Ear Music and friends produced (when they were not free, as so many were) using the Hanley Sound System (in the 70's) and pre 1990, every event we promoted or produced was local / indigenous; these events enabled David to pay for the storage, rental and the material needed to record those occasions. Other than the sometimes generous, if sporadic and occasional donations from friends. It was only after liberation in 1994, that 3rd Ear Music ventured to invite music friends to come over and play in the New South Africa… Shawn Phillips, Richie Havens, Crosby, Stills & Nash, Kinky Friedman… and every 'foreign' tour, without exception either broke even or lost a small fortune… but the idea was to try and re connect with international music friends and establish the HYMAProject, not to make money.
...Donors >>
...read also >>
Another little known 'funding' fact, is that a major source of income (that has kept the HY Archive active since the late 1960's), has been generated from the royalties from David's songs, however meagre they've been; Master Jack has been the main benefactor / contributor / investor in much of SAfrica's 'hidden' music and related events, since 1970; this song continues, in this Strange, Strange World, to generate international 'music & archive connections', if no income.
Note: We need to save and share this HY Archive IP and spread the 'Indigenous Knowledge' contained therein; the MALM in Pumula would be ideal; no doubt it can, with initial funding become a viable, bricks 'n mortar structure where 3rd Ear Music will continue to present and collect indigenous music and connect to the outside world (and with other research institutions, such as the US / DOMUS) via the WWW / Internet.
Untie the past, rap up the present to safeguard our future.