The Hidden Years Music Archives Collection goes international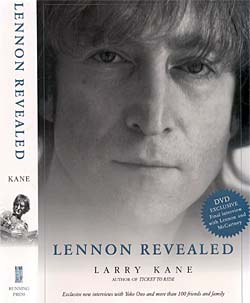 John Lennon - Revealed by Larry Kane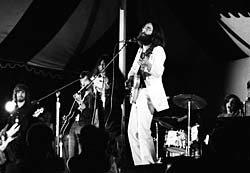 Eric Clapton (Guitar), Klaus Voorman (Bass - obscured), Yoko Ono (White Sheet & Cold Turkey), John Lennon (Guitar & Vocals) & Alan White (Drums). Live Peace in Toronto. It was a Rock 'n Roll Revival show, featuring The Doors, Little Richard, Tony Joe White, Bo Diddley, Lord Sutch, Alice Cooper among many. John Lennon & The Plastic Ono Band were only a rumour until late that afternoon when thousands of 'Devil's Disciples' on Iron horses formed the Limo cavalcade to bring John & the Band into the stadium attended by some 75,000 Canadians & others. This was David Marks' first live mixing gig for Hanley Sound of Boston.
(Photo by David Marks)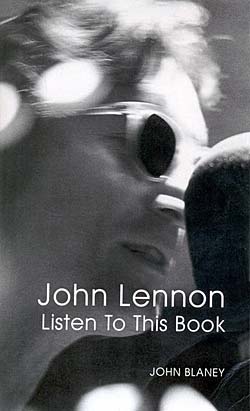 John Lennon - Listen to this Book by John Blaney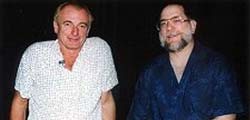 Alan White with author Mike Tiano - The Secret Beatles Drummer >>
Hidden Years Music Archive Photos taken from the sound-mixer at gigs – in the USA & SAfrica - are being featured in various international publications; as stills for TV / Film documentaries, in biographies, academic studies books & websites. They aren't particularly great photos – usually very grainy given the distance of my mixing position from the stage & that I only use 35mm black & white film in natural light. I never use a flash. (Link to the 11th Gallery). My camera, an MX Pentax has been with me since 1969, and is used purely as an instrument for documenting or capturing the moment, rather than for any artistic or creative endeavours. The photos illustrate my notes & the many thousands of songs & singers & bands that I've had the privilege of working with (and for) since 1962.
From the early SAFMA & Natal Folk Festivals & Township events in the 60's & 70's, to Woodstock & Live Peace in Toronto & The Rolling Stone's US tour in 1969. From the first 3rd Ear Music / SAFMA / NUSAS 1970 Free Peoples Concerts to the Stadium gigs & Union gatherings & then to my last Splashy Fen production in 1999 – these "desk shot" photos seem to be coming into vogue; or focus perhaps? Well, with the new digital technology, we can scan them into focus.
In the last 2 years particularly, there has been an international upsurge in interest for many of these "desk shots" now archived here in the Hidden Years Music Archive, Durban, kwaZuluNatal. A new generation of foreign Film & TV Documentary makers & authors have been delving into the 3rd Ear Music website where many of the HY Archive photos feature; we've been getting countless requests for these photos to illustrate a number of biographies, school projects & university Thesis.
Among the better known musicians & events that I had the privilege of shooting, and in which these photos feature, have been The Alan White & The Beatles a biography by Mike Tiano; (Alan was drummer for Yes, Clapton, Lennon & studio sessions with many other rock music legends); John Lennon - Revealed by Larry Kane; John Lennon - Listen to this Book by John Blaney; The Brazilian TV Production of Woodstock 1969 - Fazendo Show by Fundacao Roberto Marinho, etc.
There have been a few academic research studies, school & website presentations & even a text book or two. On the technical front of sound & bands on the road, concert tours & festivals, there's The History of McIntosh Amplifiers by Ken Kessler, that will feature some of these photos; but the author also relied on our universal African HYMAProject network to connect with a few lost & hidden history rock legends, such as Bill Hanley (Hanley Sound, Boston) & the late David Freese (Jefferson Airplane Manager), among others.
Chicago Film maker Richard Ball made contact with singer songwriter & folk legend, Jeremy Taylor, after 37 years. The result of this cyber-space African connection was a Chicago tour for Jeremy in 2005 & a return visit in 2006.
One can't help but notice though, that no SAfrican producers have made use of this unique HY Archive resource. Hopefully, with the announcement of the National Research Foundation grant through the University of kwaZulu-Natal, that local interest will soon be generated.
I know from experience that SAfrican Art & Culture is not big on hidden history - not unless it's been tested in the commercial mainstream or until it's too late. Then the producers tend to either rush over-seas in search of material or rely on whatever the local commercial record industry can feed them. (For history read retro or nostalgia! That's not what the HYMAProject is about.)
But here's a thought for young documentary makers: you too will soon be history - if you're lucky! And if your moment now is as good & as great as you claim it is, do what we did, and capture it for those who cannot be there, to enjoy. And in so doing future generations will also get a glimpse of what it was like to be around in your time, without necessarily having to top some or other chart or to bend down for some corporate suit or director to cast! Help us find & unearth some of our own hidden heritage & history treasures, rather than only dig what the Top-40 format imported – as great as it may be, that's their story. What is ours?
You'll be surprised just how informative, entertaining & maybe commercially viable, such a dig may be. And besides, it's a safe & secure ride into the unknown when you're partially prepared.
Like they say – if we don't know where we come from, we won't know where we're going! More especially given how overloaded & misleading the super information highway can be these days.