Earnest 'Shololo' Mothle (RIP)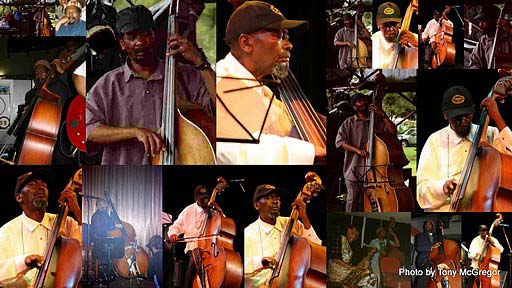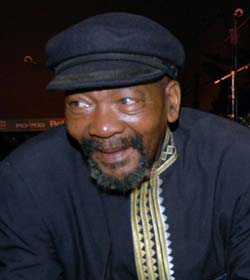 Ernest Mothle
Earnest Mothle - one of the nicest Jazz okes ever, who never complained, no matter the weird (township) gigs… sleeping back-stage or cramped in a kombi - Earnest always had a smile & a joke & an interest (or concern) for others... always on time, ready to work & play, under any circumstance. I met Earnest with Nelson Magwaza RIP (Drums) at Dorkay House, 1970 - with Mackay Davashe's Jazz Dazzlers, while working in the show Phiri - and because neither of them drank or smoked, in bands filled with partakers of all sorts of substances & attitudes, Earnest (with Nelson) were like a solid, reliable firing half-back pair to many an adventurous jazz team that I was privileged to produce in concert & mix for on tour through those 'hidden years'. Peace Ukuthula Khotso Shololo.
FACEBOOK 04.05.11 – In the wake of another hidden heroes' death – Earnest 'Shololo' Mothle (RIP)
David Marks writes - What makes me mad 'n sad (and so painfully verbose?) - as the music elders keep falling like unknown heroes or the unarmed warriors - is that an important era of SAfrican music history (from the early 60's to 1994) is going to be lost to us forever; that the generations (of musicians mainly) who follow are being criminally denied access to their own past, because, to quote the SABC and the commercial corporations – hidden history doesn't sell. Unless of course it is PC driven and digitally cost-effective… like the retro-reissues of 'stuff' that they may already have in the catalogue? We are building a bright rainbow future they claim. Forget the past. Well, for fear of being painfully / cringingly obvious (that which tends to escape those lost in their ivory - and ebony - towers), and going a little over the top, the reality is that no nation or culture can grow, create & survive without a past. Only suckers can survive in a vacuum. And the more that those (product manufacturers & advertisers) bleed us dry, and try to distort, recreate or reinvent the past to fit into a PC or product generated digital agenda, the less we become as a united nation. Most social endeavours - art & culture specifically – cannot & do not survive without the truth of history – as far as it can be remembered & told. If not, we end up with something like those weird self-interpreted word-of-mouth gospels that keep us apart & fighting each other forever. No but seriously - The only time that the mainstream media jumps into history, is when a popular, often legendary community musician - that they seldom, if ever supported in real-life - is dead & buried. Then suddenly they'll find the space in between Beyoncé & Paris Hilton to pacify the odd sad fan or follower.
This has been said often enough before, but I'm mad enough to repeat myself; its play-back time for the devil; those commercial record companies (and the SABC, incidentally) who made their fortunes off the back of the international anti-apartheid cultural embargo, at the expensive of our indigenous talent. We aren't asking for entitlement hand-outs… but, as the PC cliché goes, we do need a level playing field. These record companies and the mass media monsters (SABC & the so-called community and public broadcasting outlets... my ass) have the nerve now to take advantage of those years of international cultural isolation and our collective hidden histories, to cash in on our cultural ignorance & the great social & racial divide? The masses out there have been led to believe that music only began in 1994 - give or take the odd commercially recorded exiled hero. What are we doing to ourselves? Is this part & parcel of what is known as non-service delivery and corruption? So what can we do or say? Nothing?
Darius (& Cathy) were one of our very last lines of defence (at the Centre for Jazz & Popular Music Studies, UkZN) against this relentless mainstream media pop-idol and commercial industry onslaught. They reminded their students (and those fortunate or close enough to listen, hear) how those colourful, unique 'characters' & elders subtlety and effectively helped shape this so-called new-nation; nothing sensational, horrific or sexy to report. John Kane-Berman referred to it as 'The Silent Revolution'. So how come we hear nothing about it from those entrusted with our so-called
archive & heritage? Those billion rand funded edifices in the land of endless workshops & countless imbizos, indabas & conferences - such as the
DAC, SABC, NFVSA, NAC, DET, BEEEEEE etc.? Tragic! RIP Earnest, Allen, Lulu, Dolly, Sipho, Nelson, Syd, Johnnie, etc. etc. You will be heard, but how& when?
...read also The Jazzanians >>
3rd Ear Music Company (Est. 1969) / The Hidden Years Music Archive Project
(HYMAProject) (Est. 1990)
Website: Hidden Years Archive / 3rd Ear Music
[email protected]
3rd Ear Music is a member of the Southern African Music Rights Organisation
(SAMRO)
P. O. Box 50633
Musgrave Road
4062
Durban
kwaZuluNatal
Republic of South Africa
Cell (083) 359 -5610
Home & Office: (039) 684-6148
Fax: 086 648 1074